STAR ISLAND is a new futuristic fireworks (hanabi) experience that has updated Japan's traditional form of entertainment to one more than fit for new generations. In May of 2017, the very first TOKYO ODAIBA STAR ISLAND fused fireworks and leading edge 3D sound technology, wowing viewers with an unprecedented performance. Event organizer Shigeyoshi Sakamoto, the General Manager of the Alliance, Local Event Business Group, has helped bring numerous innovative events to the masses including, ULTRA JAPAN and RAGE.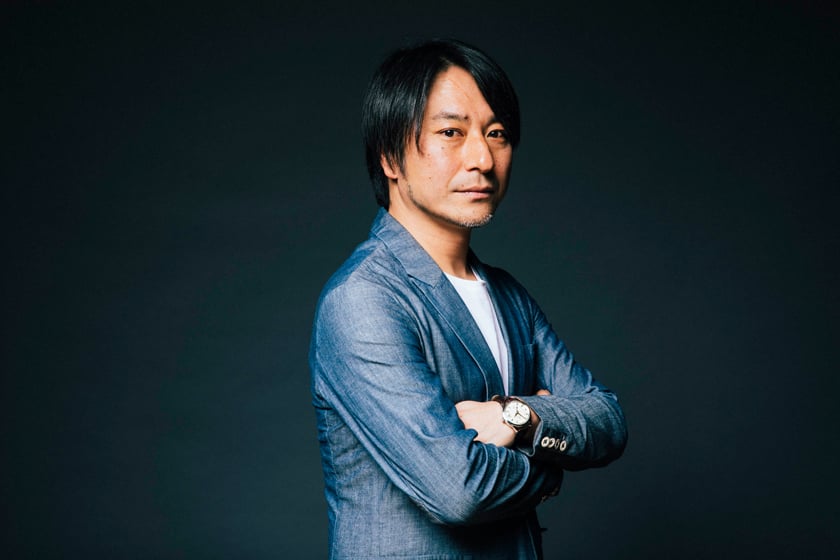 A one of a kind firework
musical featuring 3D sound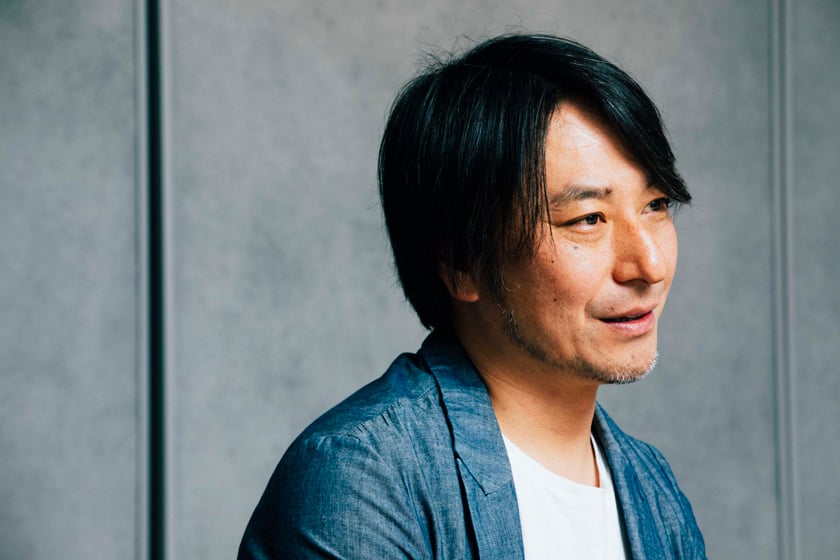 "Avex has always incorporated fireworks into our concert events, for instance our signature outdoor summer event A-nation. Almost everyone enjoys fireworks, and they work wonders for attracting people," says Sakamoto.
"We were fairly aware of the costs it took to provide such an event, but until STAR ISLAND, we had never really dug deep into what it took to create a fireworks show that charged viewers. The first ideas for the event came to shape after Kenji Kohashi, the Creative Director of ULTRA JAPAN first took notice of how the Odaiba Rainbow Fireworks incorporated music into their show, under the direction of the fireworks team Marutamaya Ogatsu Fireworks Co., Ltd. Marutamaya was also directing our firework finale at ULTRA JAPAN. We thought that if we could fuse music and fireworks together our own way, then we might just be able to provide a new kind of entertainment."
Indeed, firework performances that incorporate music are nothing new. But what Avex and Sakamoto aimed for was something that really "sticks out." Sakamoto commented on how meeting 3D sound designer Katsuyuki Seto through Kohashi played a big part in making that possible. The plan was to synchronize a mix of sounds using over 300 speakers with the fireworks. "There wasn't anyone who was as versed in supersonic waves as Seto was. To me, 3D sound was like the kind of vision you see when you close your eyes," says Sakamoto.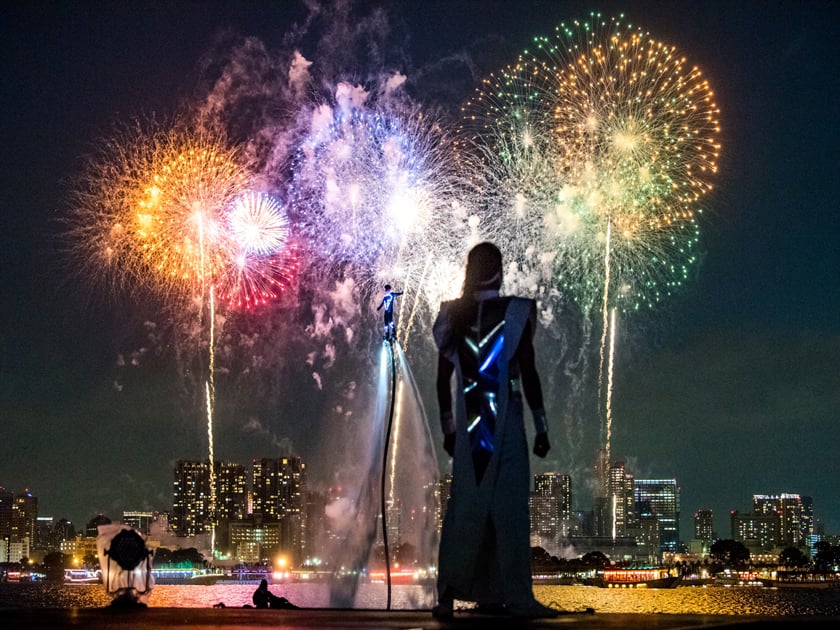 Photo by official
As for the STAR ISLAND venue lighting, we asked AIBA, a world level lighting artists to create just the right effect. And so, with a team of specialists who had the ability to create overwhelming, unique worlds, and with a band of trustworthy friends, Sakamoto set out to get production running. Talks of using virtual reality for a part of the videos came up during brainstorming sessions, but Sakamoto was a bit skeptical.
"I just thought that virtual reality would be boring. It could wait for later. To me, the value we wanted to provide via real live experience had to be overwhelming. Of course I think it's amazing and convenient to be able to experience things through virtual reality without actually being there, but as for STAR ISLAND, it just seemed strange to use virtual reality at the venue, when the venue was offering...'real' reality. I didn't want people thinking they had experienced the show when they really hadn't.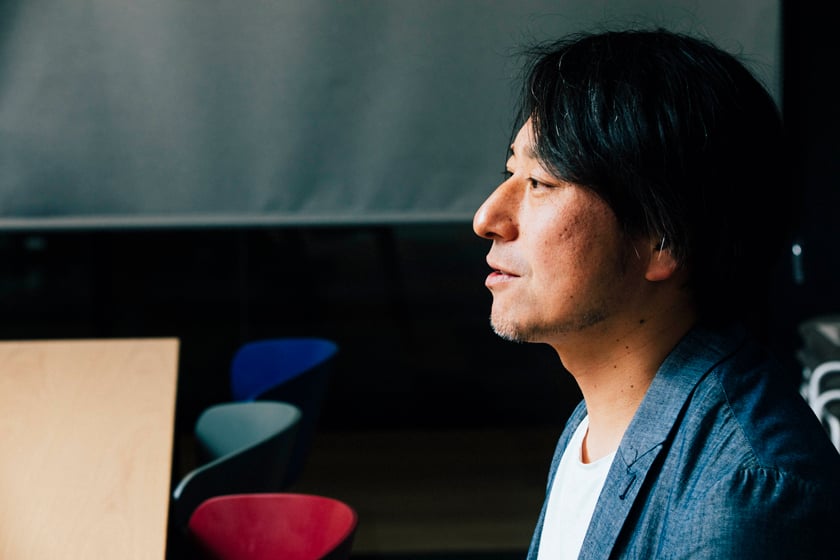 Bringing an edge to creativity by
coming up with something unheard-of
Needless to say there was a mountain of obstacles when starting to prepare for the event. Gathering over 10,000 people, in Odaiba, putting on a state of the art technological performance, as well as delivering a fireworks show — there were a handful of missions that needed to be cleared in order to make this happen.
"First there was getting it past administration. There are a lot of strictly regulated rules in Tokyo. Taking over an entire park that was administered by the metropolis is extremely difficult. Under normal circumstances, it would be impossible. We had to make full use of every possible connection we had and it was really tough negotiating and making all kinds of adjustments. Also, realistically speaking, there was the issue of money. I think trying to stay within budget is a great stance to have, with any endeavor, not only events. But nothing unheard-of ever came out of having that kind of stance. So for this event, I didn't want to just go to the extreme, I wanted to get rid of the extreme. So we thought, 'okay, what would be the most impressive thing we could do?' and debated over that. I didn't want money to be a limiting factor. I just wanted to do something out of this world."
With a new proposition to focus on — coming up with something unheard-of — the professionals on the production team put the issue of money aside and went to work bringing an edge to creativity, and STAR ISLAND is what they came up with. Those who attended were in fact stunned. But for those who put the whole event together, every moment leading up to that day was unnerving.
"More than anything, we were trying something we'd never done before, so I was feeling anxious all the time, and when the tickets weren't selling well in the beginning, I thought, "Man, do I have bad luck after all." We had many debates over whether people would actually pay to see fireworks, but since there were past examples of it happening, we thought we'd go for it."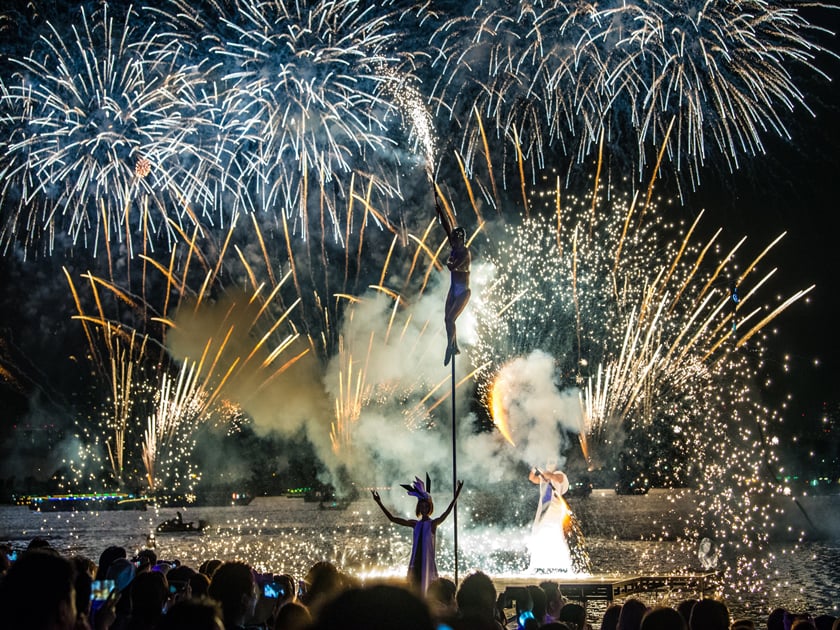 Photo by official
Regardless, Sakamoto had confidence that the event would be a success when they were still in planning mode.
"We were extra conscious about what our vision for the project would be. We thought that our goal should be to make STAR ISLAND an event that we could offer to the entire world. In fact, Avex has organized A-nation in Singapore before, so it wouldn't be completely unknown waters. But with STAR ISLAND, since the performance didn't rely on words, we would be able to develop and mold it into any shape possible. Basically, when it came to localizing it somewhere else, we'd be able to incorporate their local performers and even religions, so the level of freedom would be extremely high. Once we came up with this underlying concept, I could tell that stance-wise, as far as our vision was concerned, that we had it in the bag. So if we had any issues when forming the budget, I was like, 'I apologize, but we have this vision here, you see...,' and they were convinced."
Having Odaiba as the event's location was also a strong point when it came to backing up their vision.
"When I took another look at Odaiba as an event location, I was able to reconfirm just how great of a view it had. That's the only place you can see Rainbow Bridge and Tokyo Tower at the same time. Fireworks in other parts of the world are often paired with a great location, but in our case, I didn't go down that route. It just so happened that Odaiba had the same potential as other great firework locations throughout the world. I was confident that we would be able to expand the event to other parts of the world as a so-called "location entertainment" if we started with Odaiba.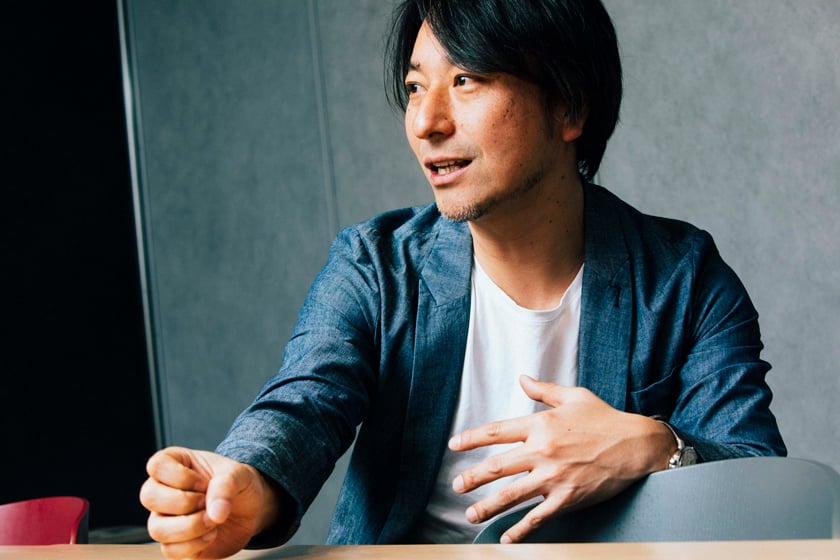 Artists have life spans,
but STAR ISLAND doesn't
"I see STAR ISLAND as more of a laboratory. Unlike SXSW (South by South West) or Slush Tokyo, large scale conference-like events whose themes and locations are clockwork, we wanted to experiment with entertainment. This was the underlying theme that we purposefully kept in our vision.
This kind of hidden theme within STAR ISLAND could also, in some sense, be taken as a signature element of Avex. And now that their first event was met with rave reviews, the team plans on coming up with new tweaks and developments.
"Last year we provided beds on the beach for people to watch the fireworks from. We also had locations where people could enjoy the show while having dinner. It might be cool to offer boat rides next time. We'd even be able to offer it as a return for people who invested in the event through crowdfunding. I have interest in that kind of platform building. We want to offer a new way of looking at fireworks, and we'd like to take it overseas at some point."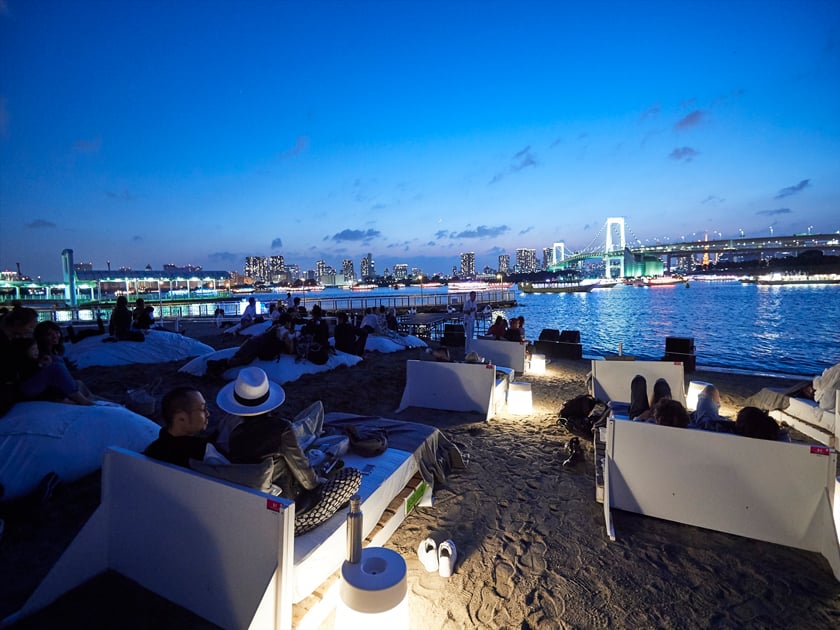 Photo by official
Sakamoto often has the opportunity to talk with techies. He says they always tell him that what they want is content. As for a content holder like Avex, this was almost like an invitation, a test to prove their true worth.
"I think it would be cool if we were able to present some tech for the entertainment side of things, not only tech for people's convenience. I'd like to continue creating new sets of values for entertainment that offer experiences that can only be had thanks to that particular technology. If we can do that, then the next thing we need to think about is making overwhelming and impressive content as well as a concrete vision to test out. I think what we need to do is terribly simple."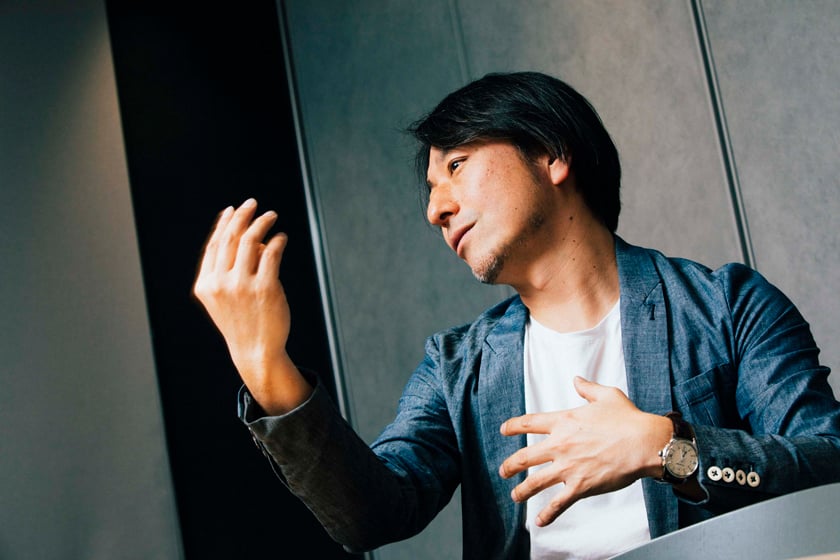 Regarding Avex's new catch phrase "Really! Mad+Pure," Sakamoto laid it out, explaining, "It means, 'Oh really!? But wait... isn't that kind of a given?' Something like that." But apparently his views and awareness has changed since working on STAR ISLAND. He used to have to work around many rules within previous projects, but with STAR ISLAND, all he was concerned with was about becoming #1. And not just #1 in a pre-established field, but #1 in an entirely new one. In the process, perhaps his team has offered a new standard for creatives in the entertainment industry.
"If the world is going to be taking notice of Japan in 2020, I want to put more focus on the value of things that are made in Japan. I'd like to inform the world more about our creations as well. STAR ISLAND is already receiving offers from overseas, and I would to continue doing this for the rest of my life. Artists have life spans, but STAR ISLAND doesn't. I would love for it to continue on, even after I pass away."
During the interview, Sakamoto's frequent use of the words "that would be boring," stood out amongst other things. Perhaps Avex's version of the right path, is very simple — creating moving experiences using new and intriguing forms of entertainment. In fact, this has already been proven to work; in the voices of those who visited STAR ISLAND last year and were blown away.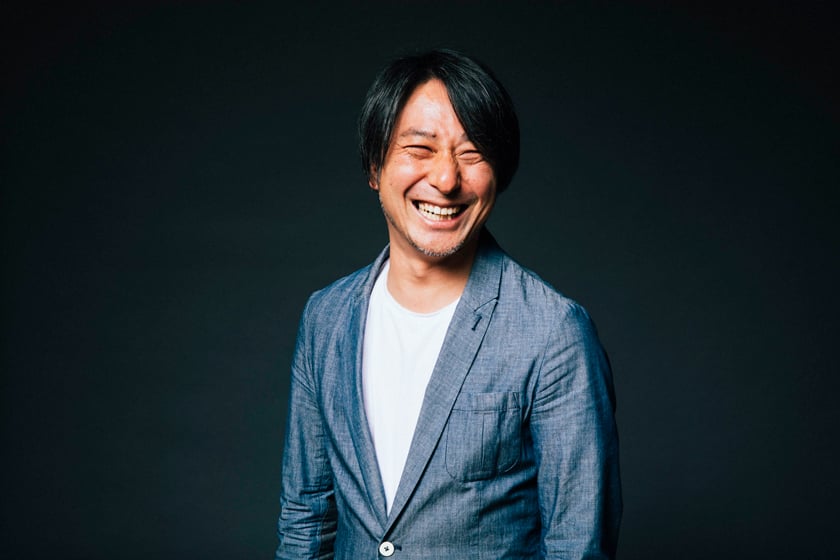 Avex Entertainment Inc.
Alliance, Local Event Business Group
General manager Shigeyoshi Sakamoto
Photo by Masato Yokoyama