AmPm, the Japanese masked music unit first debuted in March of 2017 with the single Best Part Of Us. The debut tune had people talking about it worldwide, and since then they have put out over twenty new ones. Seventy percent of their listeners are non-Japanese fans, making them one of the hottest up and coming Japanese artists in the world. Amongst the excitement, they have decided to sign with Avex. The duo had originally started their own company and took on marketing as part of their calling, so why tag-team with Avex? We sat down with them, Right and Left, and Daisuke Takase from Avex Entertainment to find out just that, plus what they think the future holds for marketing strategies and their hopes for the entertainment scene.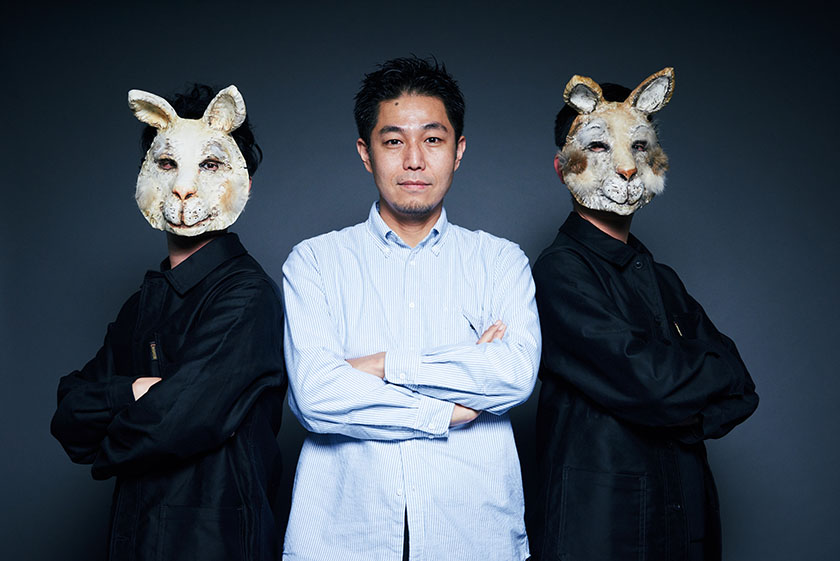 Resonating with an indies
mindset and feeling
the need to team up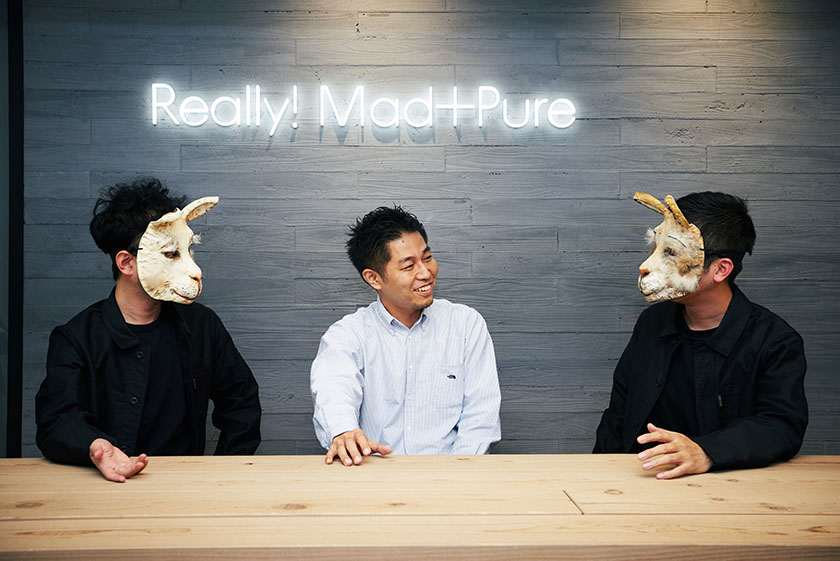 Not only has AmPm created a world hit with their debut tune, they have handled the remixes for world level artists such as Afrojack, R3HAB and Nicky Romero. They have also made guest performances at Spotify on Stage in Jakarta in 2017, the ULTRA MIAMI, ULTRA KOREA and ULTRA JAPAN, as well as GALANTIS and Jonas Blue during their concerts in Japan last year in 2018. As they became increasingly well known, they started to get featured in Japanese scene as well.
Takase "I came across AmPm when I heard some news saying that a Japanese artist was smashing it on Spotify. I didn't know much about Spotify this time last year, but I was pretty surprised to hear that a Japanese artist was really making it using subscriptions. Even at Avex we know that subscriptions will play an important part in business in the future of the industry, but we didn't know how to approach it, let alone make strategies. These guys went ahead and did it by their selves, getting results with their own hard work. I thought that we could learn a lot from them, well, that there was nothing but to learn."
Right "Our debut was in 2017, in May, and thanks to Spotify that song spread around the whole world. It took us nearly two years to get ready for our debut, but after we did, things took off a lot faster than we imagined. Since the ball certainly got rolling, we made more and more music, and promoted ourselves and had to get ready for our concerts. Since we had our own company, we had the choice of hiring new staff and scaling the business, but the demand for AmPm and things were kind of moving a lot faster outside of the company than they were inside. That's when we received offers from Avex and many other places in and outside of Japan. The thing is we're really not that fluent in English, at all, so we knew we wanted to go with a domestic enterprise."
It was around this time that AmPm heard about some surprising news; Bruno Mars had signed a contract allowing Avex to handle his music publishing management world-wide. Once the duo heard that, they thought, "Man, Avex doesn't mess around!" After several talks with the label giant, they felt something else very particular about them; they had the mindset of an indies label. Even if there were something they didn't understand or know how to do at a particular time, they think and try to work it out with you. That kind of spirit really resonated with the AmPm and is what ultimately brought them together.
Left "We were looking for a partner that was willing to be flexible and suit themselves to the occasion at hand, not just rely on their pre-existing model or boundaries. And Avex was the most outstanding in those regards. I particularly was thinking that if we weren't able to communicate with the label on the same playing field, mentally, then it wouldn't work out."
Takase added, "I've heard of famous overseas artists signing with a Japanese company and releasing in Japan, but I had never heard of a Japanese artist first make a name for themselves overseas and then do it in Japan... and with subscriptions. It may have happened in the past, but it's very rare." Leaving the boarders of Japan, AmPm had already made a foundation globally, and now it was time for Avex to spread their reputation even further. Or so you would think. In actuality, Avex and AmPm began with a much humbler and grounded vision for their future endeavors together.
Right "While we did want to make more of a name for ourselves overseas, we found a lot of musicians and members of the media would say, like, "We get that they listen to you outside of Japan, but how is your track record within Japan?" There are quite a lot of artists who have fan bases outside their home country. So, honestly, we knew we couldn't really use that as leverage. We felt that we would need some form of "localizability" if we were going to make it in Japan. We knew that Avex had a lot of experience getting the dance music of the world into the playlists and homes and clubs of Japan, and that they were very good at it. Our task at hand is to put emphasis on gaining a reputation in Japan, and that's what we would like Avex to help us out with the most."
Even with past experience and history under each of their belts, they are headed for new territory. They must join hands and feel their way ahead. Be that as it may, this sort of challenge is very like Avex, and they have the potential to bring AmPm to new heights.
AmPm's "magic trick"-
like promotion.
The trick behind their strategies.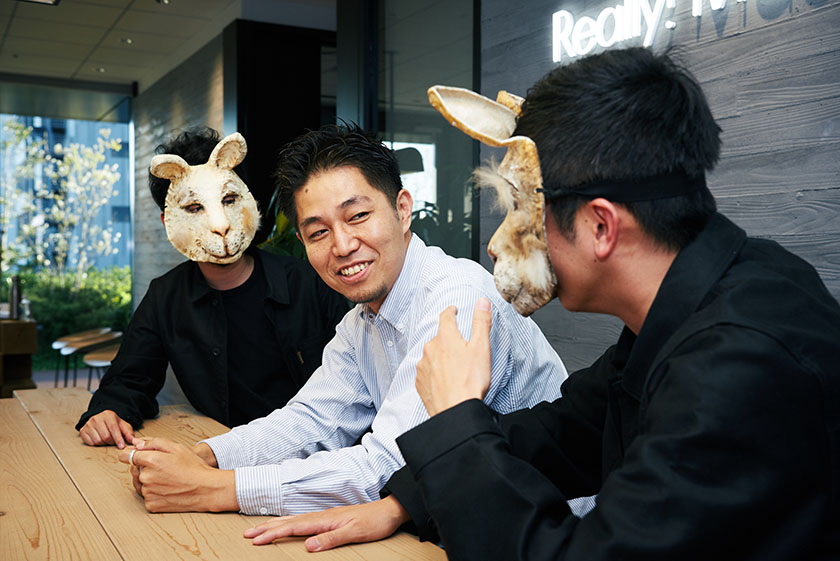 Even before AmPm teamed up with Avex, they were handling everything from music production and promotion at their own company. They took care of all of the aspects of being an artist themselves. They took action to counter the music industry without the help of major labels by using their own, as previously stated, indies mindset. Takase speaks of how he felt like he was watching a magic trick.
Takase "After I was assigned to work with AmPm, I studied up on the whole system of subscriptions and other things. These guys are one of the music groups out there that increased their plays by their own methods, and currently they've been played over 25 million times. They were this mysterious masked group from Japan that had become a hit on Spotify. It was like some kind of magic trick to me. Not only did they have this new strategy by utilizing submission media that we had little knowledge of, they were working hard underground. After I learned of the "trick" behind what I saw, it all made sense, but it wasn't something easy that anyone could pull off."
Right "I'm always sensitive to how fast things change in the music industry, not only Spotify. I had a lot on my mind and was on the move back in 2017 when we first came on the scene, but the rules have changed since then and keep on changing. Honestly, I'm still looking for that winning strategy out there. You'll think something will work tomorrow, and then you wake up in the morning and it doesn't. The rules have changed. That's happened a quite few times. But it's a strength to stay running and keep your eyes open for those new elements. I think it's really important to keep on acting on the ideas you come up with."
Right went on to add that one of the most important things for AmPm is to be what he calls a "super listener." It includes staying in love with music, in a pure fashion, and how much passion and importance you place on that stance. Rather than making some hopeful observation about where the future may lead, AmPam remained sincere and kept an open ear to the current music that overflowed around them. For them, this has been the key that got them where they are now.
Right "I think about how I would listen to music, about how I come across and get hooked on the music I listen to, and then I calculate backwards. If it were me, I'd click on this, or I wouldn't click on that. I look at things from above and analyze them. Perhaps we are using some kind of "magic," as far as the music industry is concerned, but from other industries, the methods are really pretty natural. Plus, they're not really that difficult."
Left "He is like the listener, whereas I'm more of the practitioner type. For a while now it's been a routine of ours to attend events and/or work in the studio. I listen to all kinds of genres, from latin, jazz, to hip hop in the club, all as if I were the DJ. We organize events, produce music and make compilation CDs with other musicians. My particular talent is being able to take the atmosphere of live events and infusing them into our own songs and events. The more events you go to, the more you pick up on things. There are tons of great small scale venues, like clubs and concert halls and I've been lucky to link up with a lot of artists I meet there. So that part of me, matched with the "listener" inside Right, I think that's our strength as AmPm."
On another note, Right has another daily routine that he has continued that helps reiterate their strengths.
Right "I keep five different time zones open on my smart phone all the time, and I see what playlists are being played the most and the different updates in different parts of the world. Basically I'm following music 24 hours. A lot of artists release their new music on Fridays, so from Thursday nights to Friday evenings I become busy as hell and often lose sleep. But there is a new discovery every week and I'm able to really feel what's going on in the world through music. I can't recommend it as a healthy lifestyle choice, but it could be helpful hint for those looking for playlist strategies or ways to enjoy music even further."
Takase "When I heard about that for the first time it was like a slap across the face. There is no longer a single, sure-fire way of gaining plays counts for an artist to rely on. I learned that they come along with facing the music, and crawling alongside it."
How Avex will help enhance AmPm after making this discovery will prove vital. Clinging to the success of the past would defeat the purpose of teaming up. Their relationship will go on strong if they are able to enhance one another. Takase made sure to not only praise the group's efforts where it was due, but to analyze the issues that lay before them.
Takase "They have their successes and the marketing knowhow that got them to where they are now. Of course we should keep utilizing that, but I think it will be difficult to obtain die-hard fans with that alone. They do have their songs in playlists with over millions of listeners, but even when their songs come on, from many listener's stand point, they're not actually "listening" to the song but merely "hearing" it. Though they have racked up a play count from playlists, that doesn't necessarily mean they remain in the listeners' minds as AmPm. In order for them to grow further as artists, we need to think of how to get people to remember them for who they are."
"AmPm is a notion": the unprecedented challenge.
Expanding comprehensive entertainment.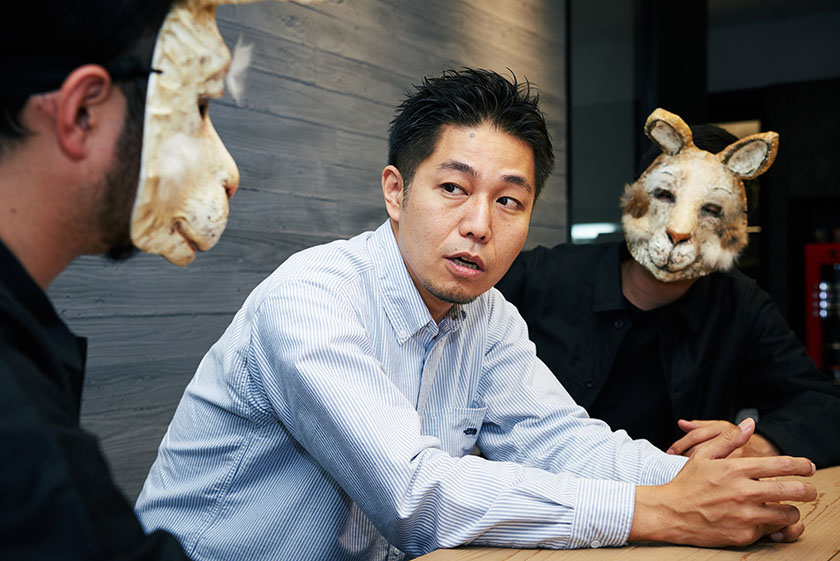 The teaming up of AmPm and Avex doesn't only point at the coming success of a music group, it also carries huge merits in terms of giving back to their home-bases.
Takase "I think you can definitely call them forerunners in the field of utilizing the subscription market to create a name for themselves. It is a challenge for me and for us to come up with a direction in which to go in. Plus, we're going to need two or three set plans in order to go bigger abroad after that. By making our way forward together through trial and error, we at Avex would like to gain the knowhow that is sure to come, in this particular field as well."
Right "Same goes for us. I mean, we're running our own company, and as we take the lead as AmPm, I'd like to be able to take what we learn, the good and the bad, and be able to pass it on to others. In those regards we have the right mentality for trial and error, and if we can actively help each other without holding back, I think the answers to a lot of our problems will naturally appear."
As for their knack for live entertainment, AmPm is still in the developing stages. On the flip side of this, you could say they are overflowing with potential. Last year, they participated in the ULTRA events held in Miami, Korea and Japan, and area that Avex has a lot of knowhow in.
Left "I think that things will work out if we focus on putting the concepts behind AmPm into words, and fuse that with the experience Avex has in live performances. Of course it takes time to put that all together. But the more we communicate, the more we grow and once we put that all in order, it should even be able to link up the various networks we each have. At the moment, our fans don't even really know if we'll be with a live band, or just DJing, or even what the hell we are. They're not able to grasp what to expect. I think we need to find our own form of expression and have our future fans going, "AmPm were the first ones to do that, weren't they!""
Takase "AmPm had their first live performance on April 21st. They will be performing at the GREENROOM FESTIVAL 2019 in May. It will be nice to show the event goers there what kind of performance it is we are going for."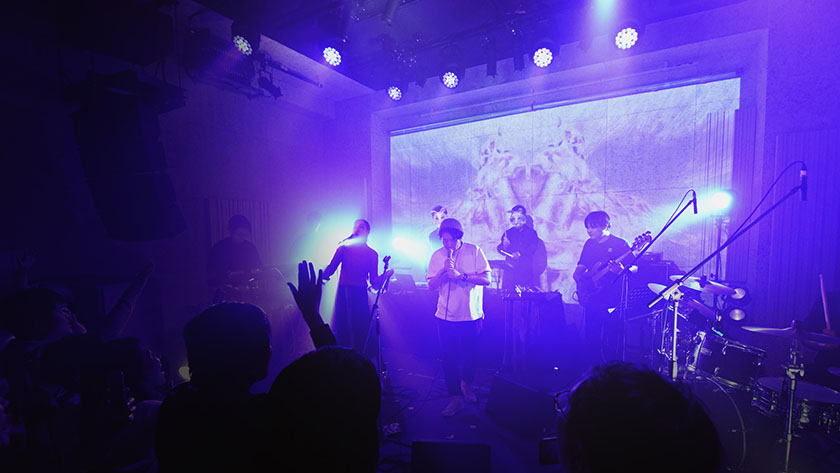 Left "I think one of the important factors people will wonder about is why we started music in the first place. To answer that, and this is one of the philosophies behind why we started our company as well, we hope that by hiring, or rather introducing musicians to the masses and the right people, it helps spread the culture of co-writing. AmPm is a DJ duo, but we're neither producers, nor do we make music. We wouldn't be a hit, or go viral with just the two of us, so we add in, say, a base, or a drummer, a guitar, or singer, or someone who is unheard of but really really cool, and we introduce them to the people. I think this method, that we've learned so far at our own shows and by going to other events, will be how we should approach going viral without relying on subscriptions. And if we can add in other creative qualities that Avex excels at, then this tag team we've form will really take off. For example, and this is something that benefits Avex as well, if fans start going back into the past shows and collaborations that we've done with artists, they should come across some really cool ones that they like. It's like we are giving them a way to dig for new artists."
By taking their previously built strategies and successes and adding strengthened localizing techniques within Japan, as well as different ways of getting remembered, AmPm will be well on their way to the next step. What awaits after that, is to become the "hub for musicians," — the new cause that AmPm sees for their future. Making them a hub for artists throughout Asia and the rest of the world is the unprecedented challenge that Takase is facing right now.
Takase "Avex has tried their hands at many different challenges over the decades, and this group in particular has truly taught us a lot. One of the first things they told me is that "AmPm is a notion." This is what I had to deal with from the beginning, so I knew that all my preconceptions were about to go out the window. Now everything depends on how light our footwork can get, and exactly how well we can focus on what it is we ought to do next, and do it well."
At the end of the interview, we asked AmPm what they would like to try their hands in, if having to be realistic wasn't a factor. The answer that came back was rather surprising. They said, "building a hotel." Once a year, a dance music conference is held in Amsterdam, and there is a hotel that a few artist groups are officially involved with that hosts a pop-up event. In fact, there are many artists that get involved in the organizing of it. By making this hotel, they are able to create entertainment that is more than just a live performance; it's comprehensive. Hearing this answer, one could feel the affinity between it and the philosophies that Avex stands for. At the same time, it seemed that Takase—despite his slightly confused smile—enjoyed imagining what that future might be like.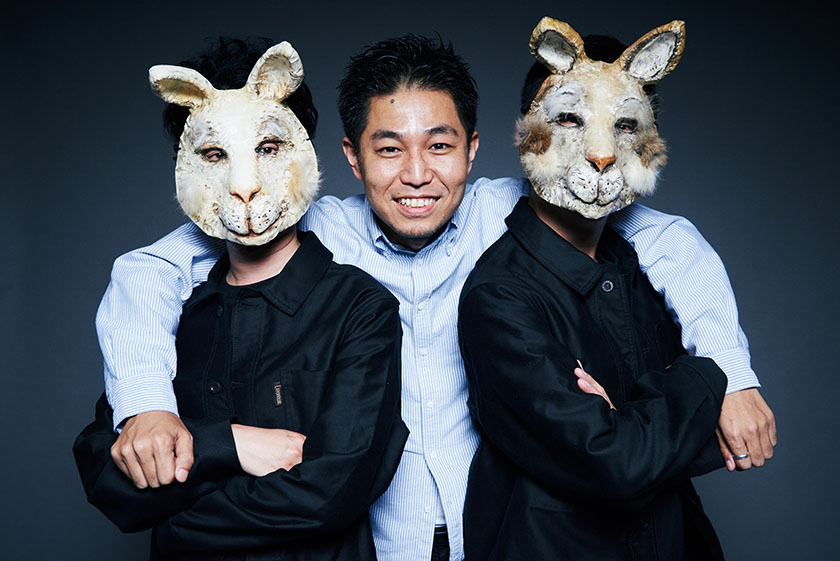 (Photo:Left)
AmPm Left

(Photo:Center)
Avex Entertainment Inc.
Manager & Senior producer
Daisuke Takase

(Photo:Right)
AmPm Right