Sustainability policy and materiality
Sustainability policy
Contribution to future talent and undiscovered joy
We believe in a prosperous future created by diverse talent and joy, and, as an entertainment company, aim to create new value models that will contribute to a sustainable society.
Materiality
As an entertainment company, we have identified the materiality (important challenges) necessary in order to fulfill our responsibilities toward the realization of a "sustainable society."
Creating and delivering "Intangible wealth"

Through entertainment experiences, we create "intangible wealth" such as joy and vitality, and deliver these to the people of the world.

Creating and delivering "The next generation"

Discovering and nurturing diverse talent who will be the creators of the future, and creating the next generation through innovative content, and delivering it to the world.

Creating an organization that serves as the foundation for creating "intangible wealth" and the "next generation"

Employees, artistes, celebrities, fans, and all other people involved in Avex activities learn and act together, to foster an organizational culture that tackles the challenge of sustainability.
The process of formulating materiality
We are in an age in which a company's very reason for being, and social value, are evaluated based on their awareness of and actions towards a "sustainable society." Entertainment companies are no exception. When deciding on important themes/issues (materiality), we refer to the "SDGs Compass -Corporate Action Guidelines for SDGs-" created by the United Nations Global Compact and others, the "ESG Information Disclosure Practical Handbook" of the Japan Exchange Group and the Tokyo Stock Exchange, and the Ministry of Economy, Trade and Industry's "Guidance for Collaborative Value Creation". Specifically, we came to our decisions by the following process.
STEP1.Identification of materiality candidates that need to be addressed with priority
From the perspective of making effective use of limited human resources and budgets, we decided to identify the materiality (priority issues) that is closely related to social sustainability and Avex's corporate value. So, we first comprehensively identified those elements that could be sustainability candidates. Specifically, we drew up a comprehensive list of said elements, referring, in addition to the Sustainable Development Goals (SDGs), to the Global Reporting Initiative (GRI) standards for disclosure of non-financial information, the Sustainability Accounting Standards Board (SASB) standards, ISO26000, and the Morgan Stanley Capital International (MSCI) ESG Rating Index (elements that are particularly important for entertainment companies). In addition, we have studied the examples of private sector companies that have identified materiality.
Materiality candidates
Responses to climate change (greenhouse gas emissions), utilization of renewable energy, energy management, water and wastewater management, biodiversity, air quality, raw materials procurement and management, garbage and waste management, product lifecycle management
Human resources development (discovery and training of human capital), labor practices/working styles, employee health and safety, employee engagement, respect for human rights, elimination of child labor, elimination of forced labor, human rights and labor standards in the supply chain, responsible investment, product safety, disaster prevention, community engagement, diversity and inclusion, availability and affordability of products and services, sales practices and labeling, customer nutrition and health, customer finances protection, customer privacy, information security, education and culture, anti-poverty measures, access to finance
Corporate governance, business ethics, serious accident risk management, systemic and structural risk management, tax transparency, accounting transparency, compensation transparency, ensuring market competitiveness, anti-corruption, business model resilience
Next generation business, innovation, technology, digital/DX, harmony between economy, society and environment, designability of products and services
STEP2.Creation of a materiality matrix
We created a materiality matrix by mapping the listed materiality candidate items in the format recommended by the SDGs Compass and ESG Information Disclosure Practical Handbook.We examined the matrix from two perspectives: what society expects from Avex ("What are stakeholders (*) interested in and expecting from the company?"), and what does Avex place importance on as a company? ("medium- to long-term corporate value of the company/relationship with value creation".
* Entities identified as main stakeholders: fans (customers), employees, artists and artistes, production partners, shareholders and investors, business partners, local communities, public institutions (government, local governments, international organizations), mass media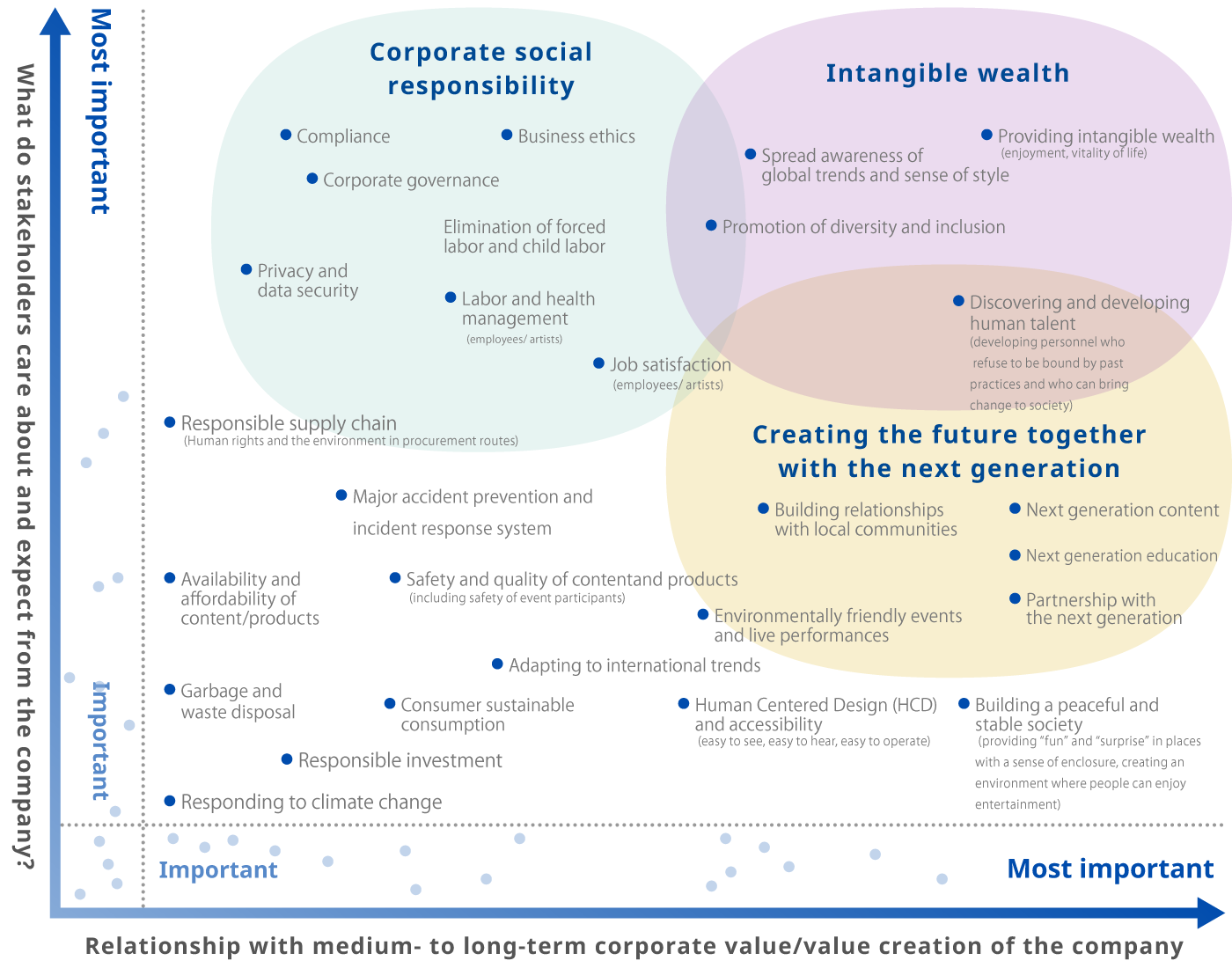 STEP3.Determining materiality
Based on the materiality matrix we created, in addition to exchanging opinions with each department in the company and conducting employee questionnaires, Avex also exchanged opinions with outside experts (institutional investors, other private companies, international organizations, etc.) and has identified materiality consisting of 3 main themes and 7 individual items, as follows.
Creating and delivering "Intangible wealth"
・

Provision of inspiration and vitality to people through talent and performances

・

Promotion of diversity and inclusion
Creating and delivering "the next generation"
・

Discovering and cultivating "next-generation" human talent

・

Diverse partnerships for a "sustainable world"

・

Innovation that harmonizes the economy, society, and the environment
Creating an organization that serves as the foundation for creating "intangible wealth" and the "next generation"
・

Governance to ensure business ethics

・

Respect for job satisfaction and human rights
STEP4.Formulating action plans
Based on the materiality identified above, we have formulated action plans for the specific advancement of future initiatives. Going forward, we will continue to disseminate our sustainability policy and action plans throughout the company. In addition, the action plans will be reviewed regularly, and necessary corrections will be made as needed to constantly improve the actions taken.