In November 2022, Avex unveiled its revolutionary outreach program, Avex Class which invites renowned artists, talented performers, and innovative creators to inspire the next generation with the power of believing in one's talent and dreams. Held across two schools, this program is an integral part of Avex's new sustainability policy, contribution to future talent and undiscovered joy. At the heart of this groundbreaking initiative is Avex's unparalleled ability to convey intangible richness, including inspiration, vitality, and creativity. By nurturing diverse individuals and next-generation talents who will go on to shape the future, Avex is playing a significant role in building a sustainable society.
For years, Avex has been at the forefront of corporate visitation programs aimed at promoting the entertainment industry's allure, developing an understanding of copyright laws, and improving working practices.
However, in response to the Ministry of Education's call for the empowering of young minds to lead socially and occupationally independent lives, and develop their own means of living while playing a role in society, Avex Class has been revamped to offer a unique opportunity for children to explore their individuality and future potential, with industry stalwarts like DJ KOO and Daimaou Kosaka serving as instructors. We sat down with the two stars as well as two other teachers to learn more about the class and their recent experiences.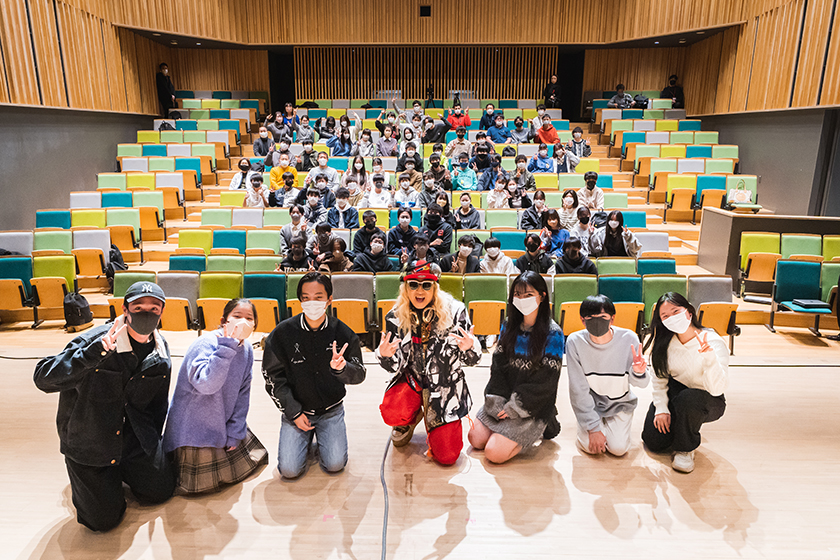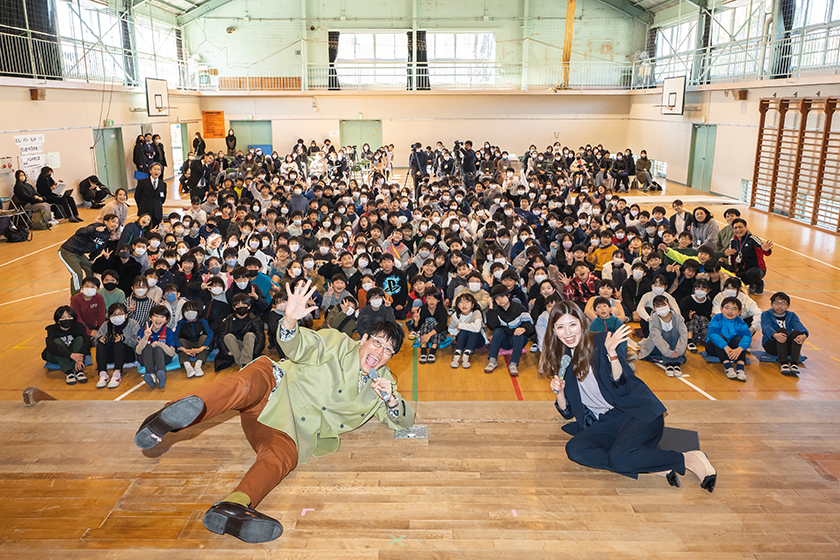 "The entertainment world might appear glamorous, but it's important to build up one step at a time."
DJ KOO and the importance of perseverance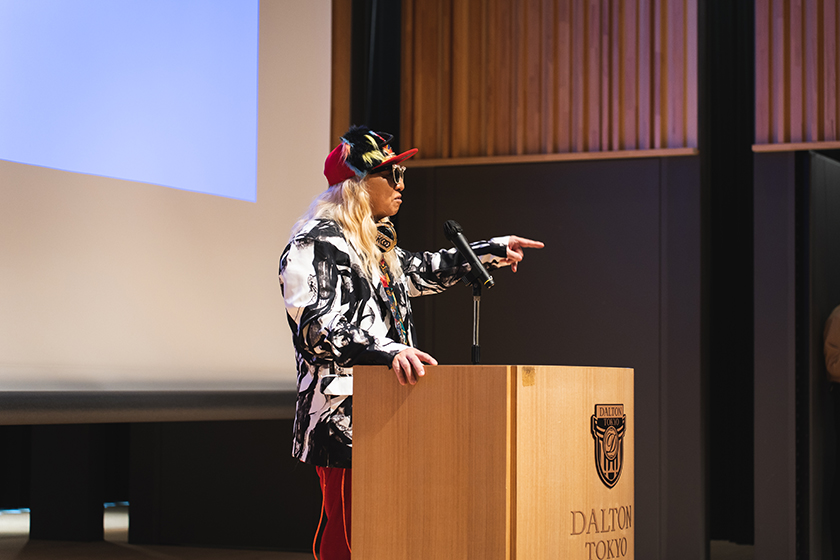 The first session of Avex Class was held for third-year students at Dalton Tokyo Academy's middle school division, a comprehensive school located in Chofu City, Tokyo, which opened in 2019. The academy was named after its educational method, the "Dalton Plan," which was proposed in response to concerns about education centered around memorizing information, and is based on the principles of freedom and cooperation.
The inaugural lecturer was DJ KOO, the leader of TRF, who celebrated his 30th debut anniversary and also serves as a visiting professor at Osaka University of Arts. As soon as he stepped on stage and greeted the students in his familiar voice, the auditorium buzzed with excitement. The speed of their reaction showed the high expectations the students had for this event. The class consisted of three parts: DJ KOO's self-introduction, a talk session with students on stage, and Q&A with all participating students. Amid the lively questions, DJ KOO was asked about how he got into DJing and whether he had any concerns about pursuing a profession known for its instability.
KOO "After I graduated from high school, I went to a disco club and saw people of all ages and professions excited and energized by the music the DJ was playing. It sent a shock through me. Although it's true that being a DJ can be an unstable profession, I believe stability is something that comes later. At that time, the joy of being able to pursue a profession that truly fascinated me was greater than any of those kind of concerns."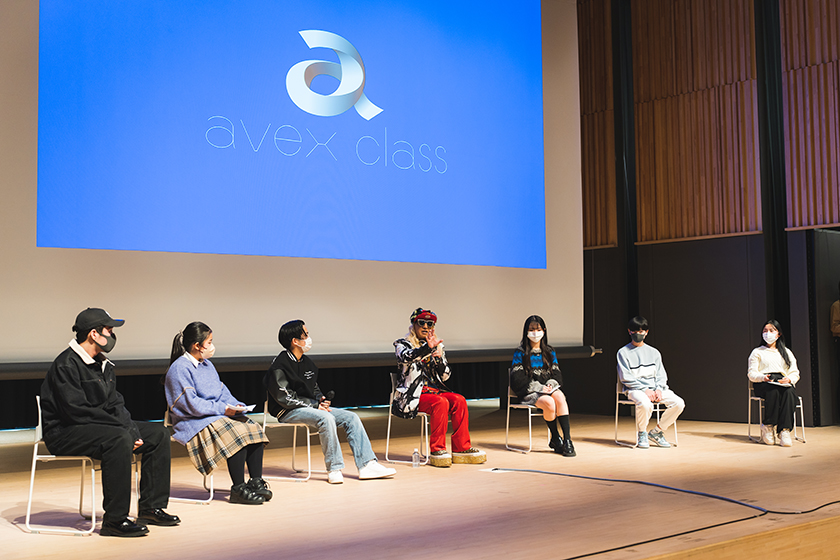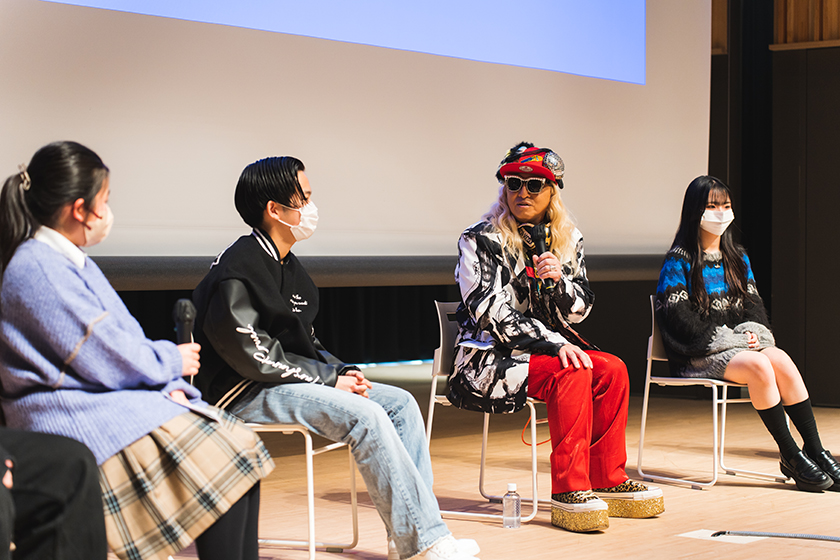 The next question was about how to stick to doing what you love.
KOO "If you find something you like, regardless of whether you're good at it or not, try doing it for at least three years. Just take a step forward and continue to build up small accomplishments. You might discover something really attractive inside you that you never knew existed. Plus, you might just find people who will support you along the way."
During the Q&A session, even love advice came up, and the lecture hall was filled with a free-spirited atmosphere from beginning to end. At the end of the class, DJ KOO gave a message to the students.
KOO "The entertainment world might appear glamorous, but still, it's important to build up one step at a time. There may be struggles where ever you go, but I've never felt the struggle in making an audience happy. Treasure your encounters with people. And if I have the chance to see everyone again, I'll bring a DJ booth with me!"
"Have gratitude for the things we take for granted, and move forward one step at a time."
The importance of living grounded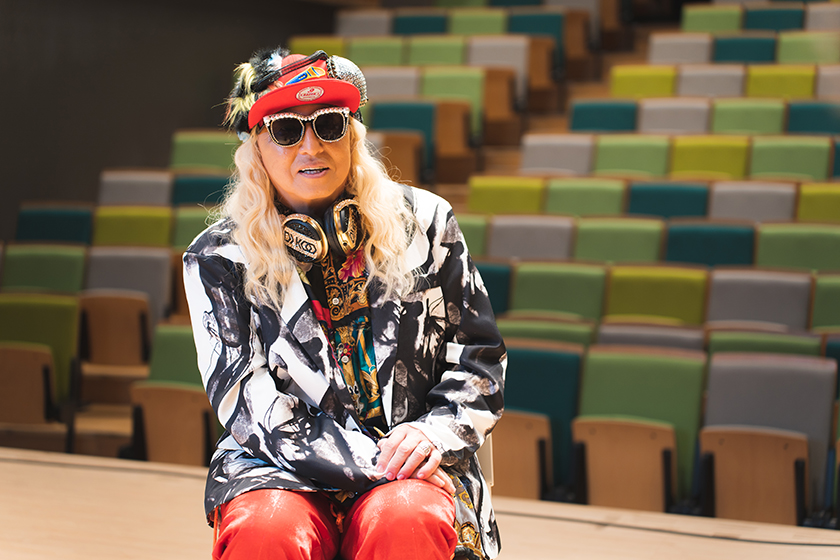 After the special class ended, DJ KOO and a teacher from Dalton Tokyo Academy were asked about their impressions of Avex Class. DJ KOO spoke about his impression when he first received the offer to join as an instructor.
KOO "We, TRF, are living witnesses of the various challenges that Avex has taken on over the years. And when they approached me for this new initiative Avex Class, I was genuinely happy."
With experience as a guest professor himself, what approach did DJ KOO take in dealing with the students?
KOO "I always try to maintain the same perspective as the students. Rather than participating from a position of a senior or elder, I focused on creating the kind of closeness you might have with a friend. Otherwise, I wouldn't be able to create a space where my words could resonate. So, I approached the class as an artist who has a lot of experience in entertainment, rather than as a lecturer."
During the class, DJ KOO often used the words "building up one step at a time" and talked about the strength of taking on challenges.
KOO "I believe that perseverance is essential. We couldn't do many things we had taken for granted during the pandemic, and the entertainment industry had also hit a slump. In times like these, it's important to have gratitude for the things we take for granted and to move forward one step at a time. And, try to take one step beyond your everyday self. I hope the students can keep that sentiment in mind going forward."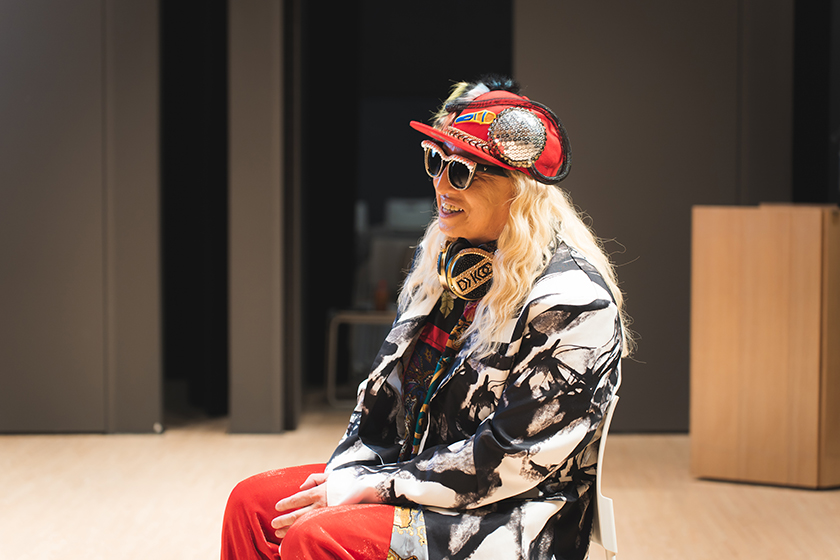 Next, we spoke to Masato Ohata, a social studies teacher and head of the student department at Dalton Tokyo Academy, about why he applied for Avex Class.
Ohata "At the school I was enrolled in before, we actively collaborated with external organizations, and some of the students there had participated in Avex's internship program. That's how I learned about the Avex Class initiative. I thought it would be a good opportunity for children to be stimulated by people other than their teachers and those associated with their school. Also, if people who are actively involved in the entertainment industry talk about important aspects of their lives, the students would have more reference for choices and even role models for the future. I applied for this program with such expectations."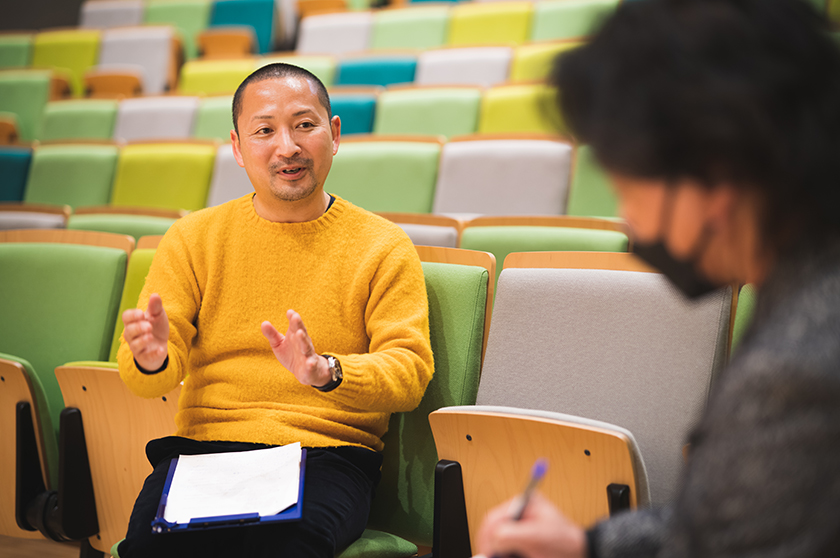 How did Ohata's expectations fair against the students?
Ohata "This school has been open for four years and has a free-going atmosphere to it. Many children have grown up in a relaxed environment, which has created a tendency for them to be unaware of the gritty aspects of student life. In regards to this generation as a whole, words like "Muri-gee" [a game that is impossible to beat] and "Oya-gatcha" [luck of the draw in who your parents are] symbolize a tendency to give up before even trying. One of the reasons for this is the abundance of anxiety-inducing information, such as the Japanese economy and global environmental issues. I want the children to face challenges head-on with a positive attitude, rather than simply walking down the same roads as the people before them. DJ KOO spoke about the importance of taking the first step with courage and building up experience. Most importantly, the fact that the students heard from people on TV who are working hard to achieve their dreams and goals while remaining grounded has surely made an impression on them. "
"No matter who you are, there's entertainment close by."
Daimaou Kosaka and "standing out" as a way of life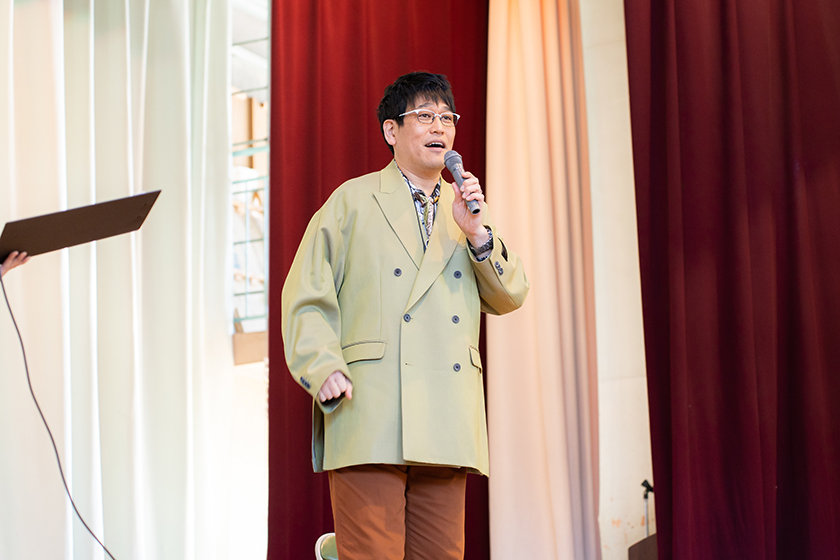 The second session of Avex Class was held for 5th and 6th graders at Wakaba Elementary School in Chofu City. Established in 1962, the school's educational slogan is "smart, kind, and strong," while its management vision for the 2022 academic year is "nurturing children to create a sustainable society."
About 300 students from across two grades gathered in the gymnasium along with about 100 parents invited to the class. The reason for the parents' invitation was revealed in a later interview with the principal.
The lecturer was Daimaou Kosaka. When the emcee, Yurika Tachibana, and Daimaou Kosaka stepped onto the stage, they immediately greeted the children with a big "hello." The kids reciprocated. Although the class was supposed to have three parts: self-introduction, talk session, and Q&A, Kosaka judged that it would be better to interact with the children directly, given their eager expressions. He decided to turn the microphone towards the students from the very beginning of the session. The tactic paid off as the students began to ask questions one after another. When asked why he wanted to pursue comedy, he replied, "Because I wanted to be popular with men, women and everyone." "So, what kind of people do you think are popular?" He asked the children in return. At the end of the Q&A session, he explained that being popular means standing out.
Kosaka "No matter what job you have, you can't avoid standing out. When you speak your mind or give a presentation at work, you have to attract attention to get your point across. That's where entertainment comes in. Entertainment is not just for comedians or singers; no matter who you are, there's entertainment close by. It includes meeting people, but sometimes it can lead to walls. If the wall seems too high to climb, it's okay to walk in a different direction for a little while. But, don't stop going after your destination. That's what I wanted to tell everyone today!"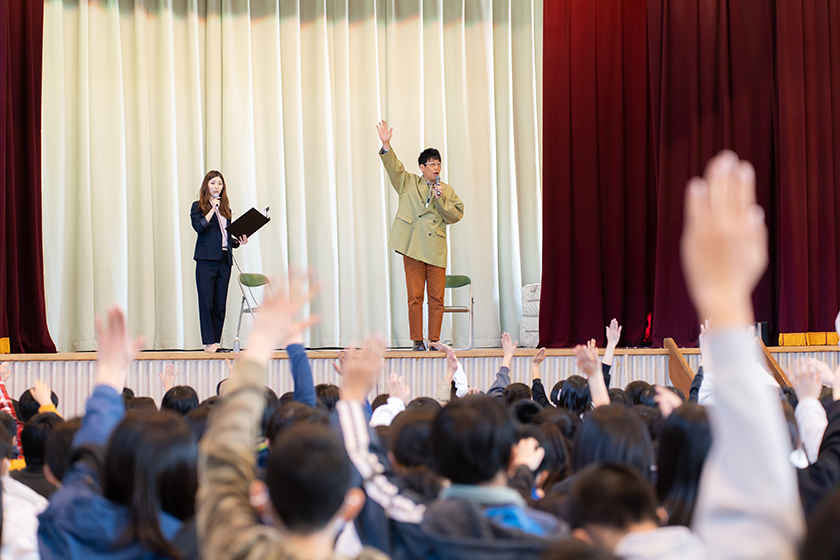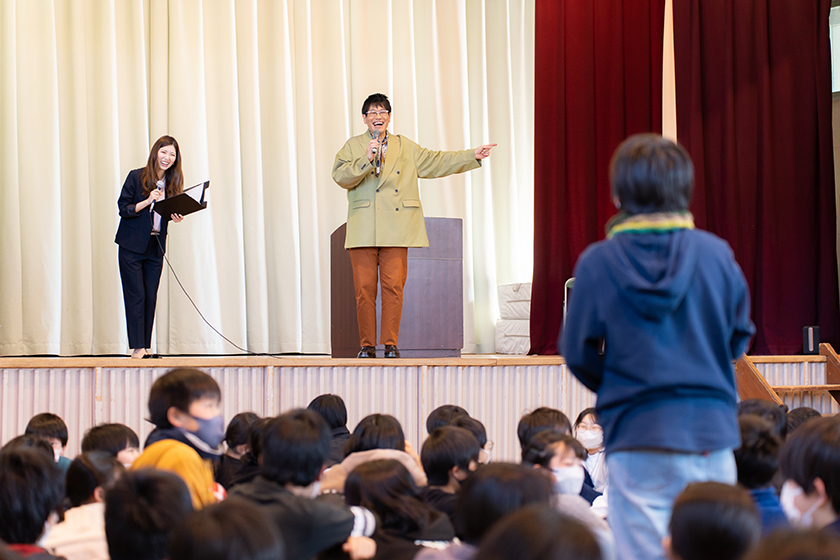 Kosaka's words were not only aimed at children. They were empathetic and caring towards every individual there, including the parents who listened from the back of the room. His final message was delivered in a conversational tone that fit the situation.
Kosaka "There are a lot of different ways to study, but the most important thing, is to 'input' what people have to say, think carefully, and then 'output' your own ideas. Repeating this process is essential."
As he left, he said he looked forward to seeing everyone again, and the students gave him a big round of applause.
"I want you to develop the ability to overcome difficult obstacles."
The Power of Entertainment was stimulating for teachers too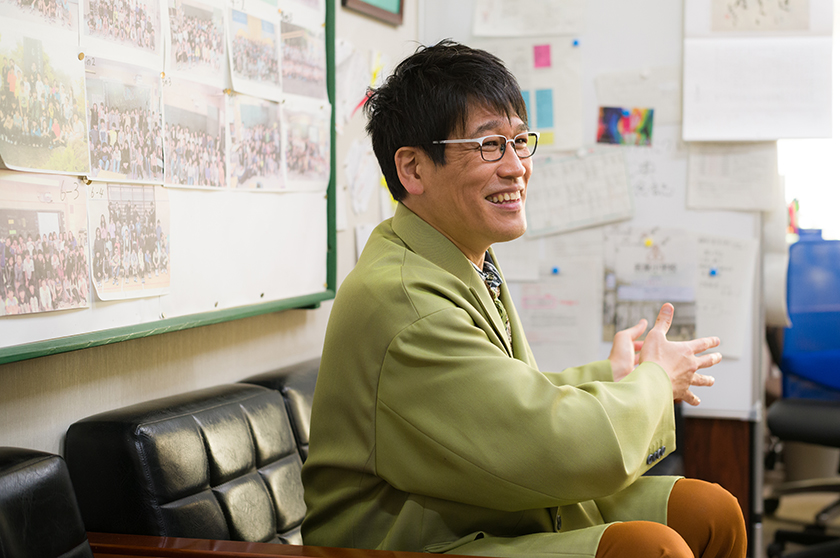 Just like first session, we spoke with the lecturer as well as the principal after class. First, I asked Kosaka about what he thought of the class.
Kosaka "I haven't had many opportunities to interact with children of this generation, so I was overwhelmed by their power, which was way stronger than I had imagined. I thought that if I continued the class talking with the emcee with our sides to the kids, it wouldn't have the impacted it needed. So I changed it to a stand-up comedy format where I faced the audience straight-on."
We asked Kosaka to expand on his thoughts of the class as a whole?
Kosaka "I think it was quite a strange sight to suddenly have a big guy like me appear. However, I think that that feeling of discomfort is essential. I hope it helped them realize that there is a whole 'nother world outside of school and that even if it's out of the ordinary, it can become a memorable experience. After all, entertainment is something that shakes your soul."
Lastly, he spoke about what he wanted to convey to the students today.
Kosaka "The reason why I have continued to work as a comedian this long is that I have this strong desire not to give up. I have overcome many walls by repeatedly pushing myself and never giving up until I saw results. In class, I talked about the walls that exist in entertainment, but the difficult things that happen in life are like eggshells, and if you push them repeatedly, just enough, they will break. I want children to learn this feeling and develop the ability to overcome difficult obstacles and I believe that it's necessary to have an environment where adults can watch over them with love while they do so."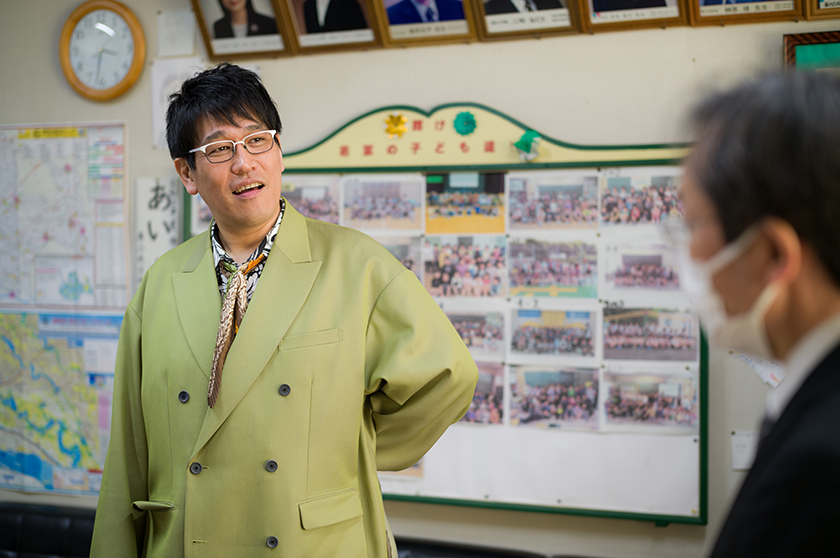 We asked Masaru Namatame, the principal, why he invited parents to today's class.
Namatame "I made the decision based on my hopes of creating an open school. For about five years, I have been holding an initiative called "Principal's Office Coffee" where parents and local residents can come talk about education with the principal over coffee. During one of these meetings, someone mentioned Avex Class and we thought it aligned with our vision of developing children who can create a sustainable society, so we applied right away."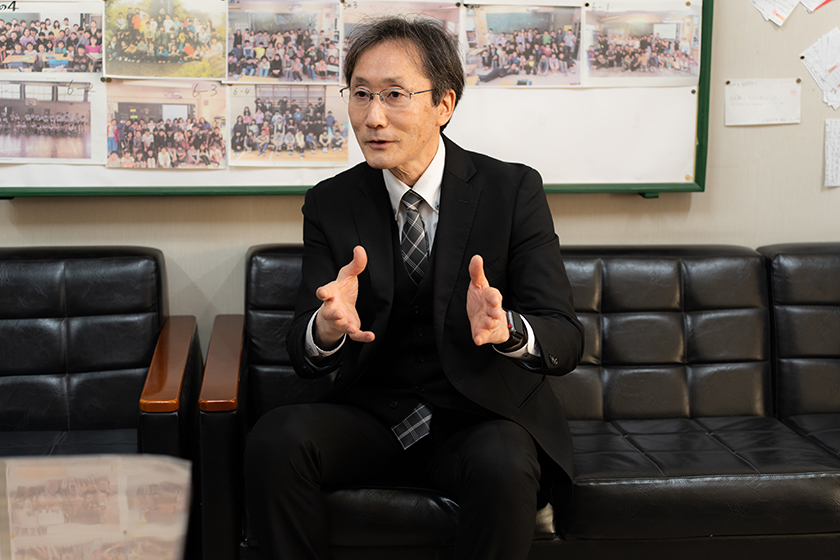 And did how the students feel about the class?
Namatame "As the principal, my first thought is that it was worth doing. Especially the message of not giving up should resonate strongly with this age group who have big dreams for their future careers. I want to continue this program in some form for the next ten years. What's important is that it was not only impactful for the students but also stimulating for the teachers. We as teachers see ourselves as entertainers since we are in the spotlight when we stand in front of the classroom. Kosaka reminded us of our professionalism. Having Avex Class today was big in many meanings."
At both of the schools that held Avex Class, the important messages of perseverance, knowing one's strengths and weaknesses, and overcoming obstacles were conveyed. Even well-known talents, artists, and creators have experienced various struggles and failures. Through the guest's messages, based on their experiences, it's possible that the students were able to find clues for their own future.
Avex Class will continue to visit educational institutions nationwide, unrestricted by location or format, to conduct programs. It hopes to cultivate the next generation, one that resonates with the power of believing in talent and dreams by recognizing the intangible richness that performers and artists' careers can bring out from children and their infinite possibilities as students.