FAKY, the "girls union," consists of Lil' Fang, Mikako, Akina, Hina, and Taki. This is the second article of a two-part feature on the group. Last time, we talked about FAKY's philosophies as artists, their approach during the two reformations, and the potential of each member's individuality. Continuing from last time, we will be unraveling the key points behind FAKY's vision and steps for the future as we sit down with the five members, Tomomi Fujisawa, the A&R director, and Risa Monma, who has been the group's planner since joining Avex right after graduation two years ago.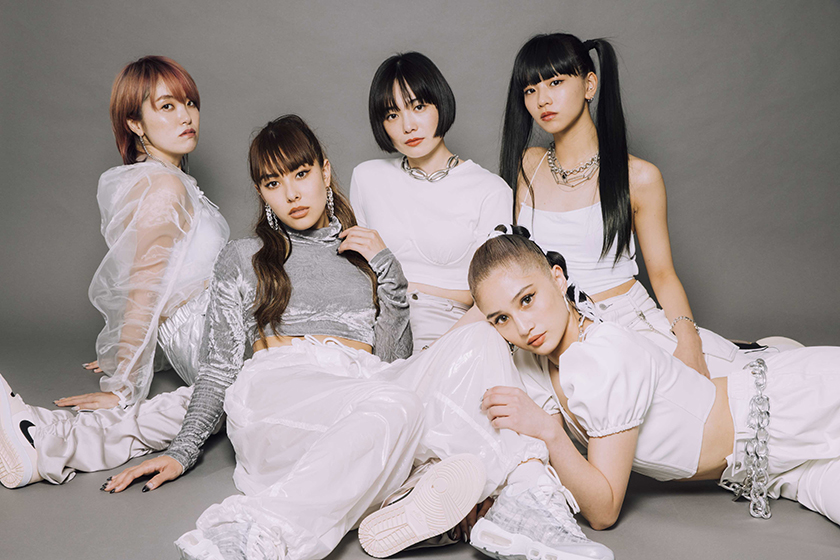 "No matter what
adversity you face,
if you don't try
to have fun,
it all stops there."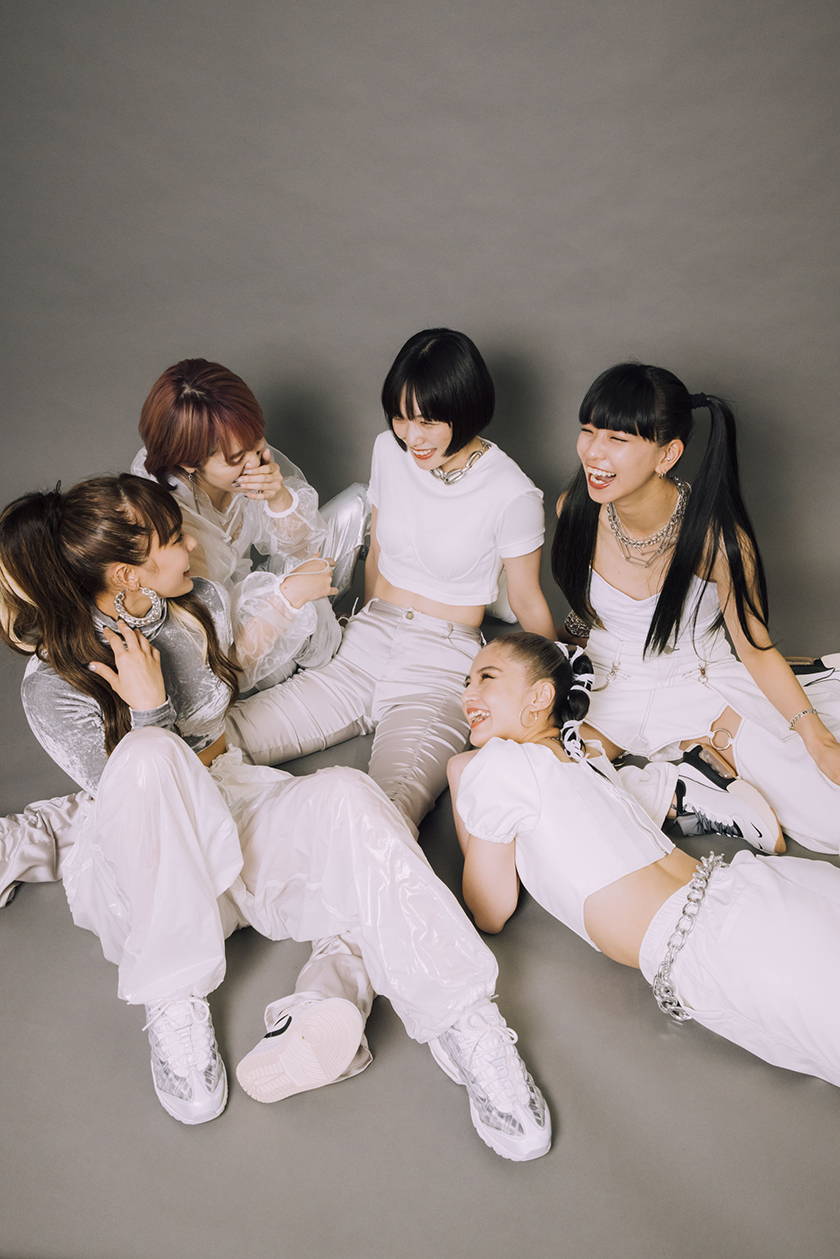 It has been about 8 years since their debut. Since then, FAKY has experienced two member transformations and has renewed their approach at each milestone. For about the past two years since forming their current team, they have dramatically expanded their recognition by focusing on the potential that lies within the individual, and have matured as artists.
For instance, Lil' Fang has been writing the group's lyrics in recent years, and is also the main personality and moderator of a program on WREP, a radio station centered around hip-hop. Akina made her solo debut with the single "Touch" released in November with Yaffle, who has produced songs for artists like Fujii Kaze and iri. As for Taki, she has her own solo YouTube channel "Taki Dance" where she shares, you guessed it, dance videos. Her technique, backed by a depth of culture and stoicism, is persuasive in her performance and draws on the trust of other artists. As for Mikako on the other hand, she not only appears in a variety of media as a fashionista, but handles the styling and producing of several different brands. Hina has made repeated media appearances in things such a popular reality show, TV dramas, and has modeled for magazines and commercials, gaining herself a degree of attention day by day as an "it girl" from other industries as well.
Such undeniable individuality, the kind that has been polished up across various fields, has led to noticeable change in their activities as a group. It's not about changing; it's about making change happen. And enjoying that process, as Fujisawa explains, has also been the team's philosophy.
Fujisawa"It's no fun unless you keep changing. We're very aware that we are making FAKY together. No matter what the adversity is, if you stop having fun, it all ends there. Enjoying the process is an important motto for me, and I think I have to change myself so that they and the staff around me can shine more."
"I want to be
a spokeswoman,
I want to be
someone's mirror."
Of course, change can come about due to externalities. With the arrival of Covid-19, 2020 has brought a great deal of change to the entertainment industry. FAKY, being no different from the rest, had to cancel their first performances as the current team roster back in May. While it is difficult to be as active as they were pre-covid, there are plenty of things to be done. So what are those for FAKY? Their answer was so start their channel FAKYWORLD and to come up with the hashtag, "#WeAreAllHereTogether".
This move, doubled with a strong awareness of the importance of "connection" and with their stance of moving forward regardless of adversity, has encouraged and empowered many people, adding to FAKY's position of being a "life-sized role model." It has also been an opportunity for the team to take another look at how they want to move forwards as expressionists.
Lil' Fang "I've been thinking a lot about what it means to stand in front of people and express something. As an individual, I want to be a good person, and to be a mirror for others. When they look at the five of us, they might say, 'I've got to do my best too', or the opposite, 'I don't want to be like them.' It's not all beautiful lights and butterflies. I want to be able to consider the negative aspects too."
"We're even more happy
to feel that they trust us,
which we've felt on
many occasions."
There are absolutely essential elements when it comes to moving flexibly and proactively, including the set of actions FAKY has taken mentioned above. The tight cohesion among the members and the staff. As mentioned in the first part of this article, the fundamental principle of FAKY is an absolute and unwavering mutual respect. Not only do they each have their own unique background and personality, they place tremendous respect on communication within the team. So, what is their vision for the future?
Akina "I want to be an iconic artist in all of it - song, dance and fashion. Our performances are a combination of these three things, and I want people to see it and go, "Yeah, they really bring it!"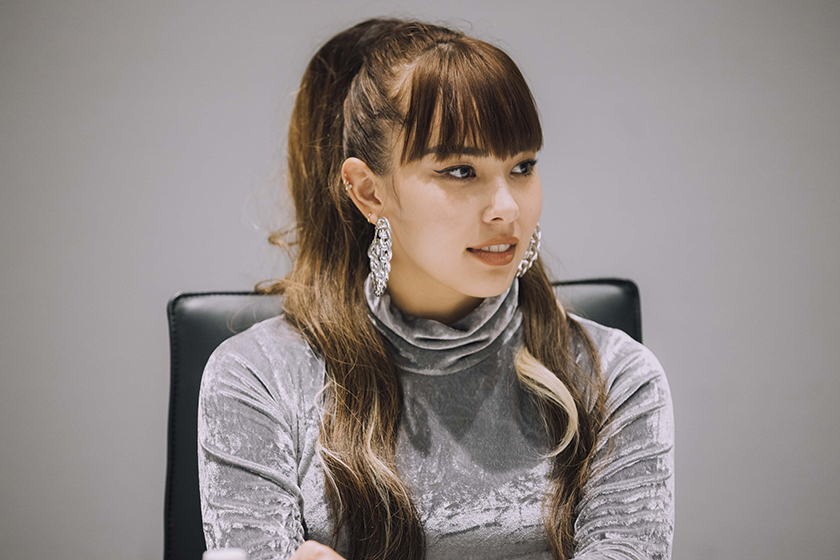 Taki "Yeah. I want to be that group that most people think of when they hear the word J-POP."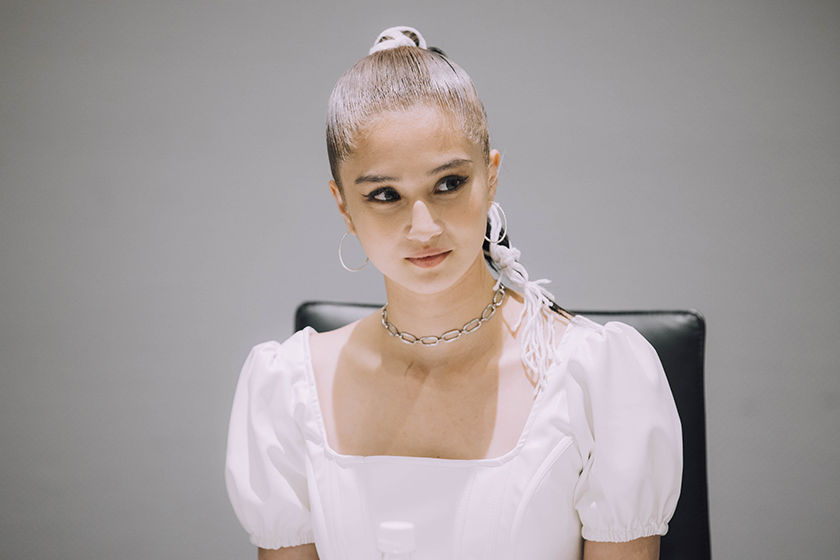 Mikako "To expand on what Taki said, I want be the kinda group where you can ask anyone in the world and they'll know each of our names, we stand apart that much. I'm also happy that I've been with FAKY so far, and I want to continue to walk alongside my girls even as I get old. I'm just that happy we're able to make FAKY what it is now."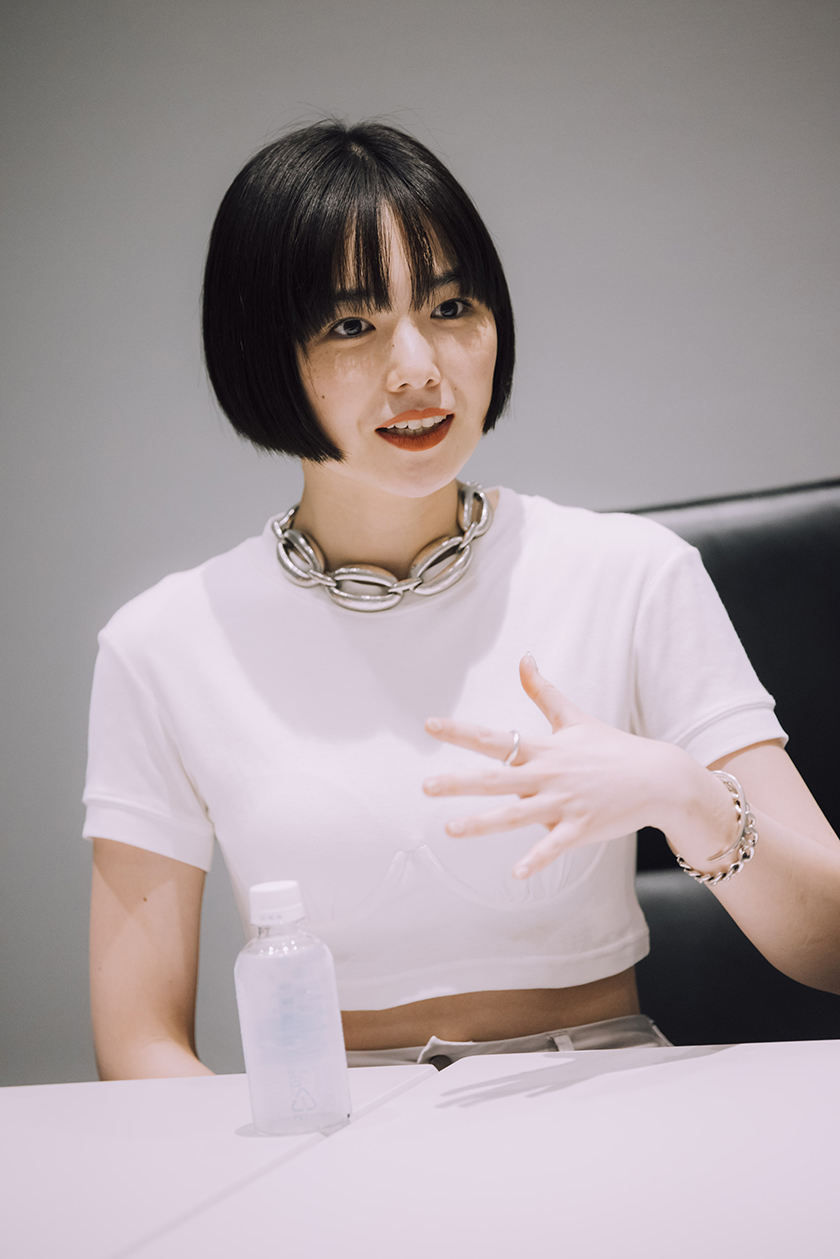 Lil' Fang "Me and Mikako have been doing FAKY for 8 years, and during that time we've had two member changes. Even still, our staff members have been working hard the whole time to keep FAKY here. And while we are very grateful for that, we're even more happy to feel that they trust us, which we've felt on many occasions. Being able to do what you love, like we're able to do, doesn't come easy, so I'd like to keep going and be confident in what we're doing."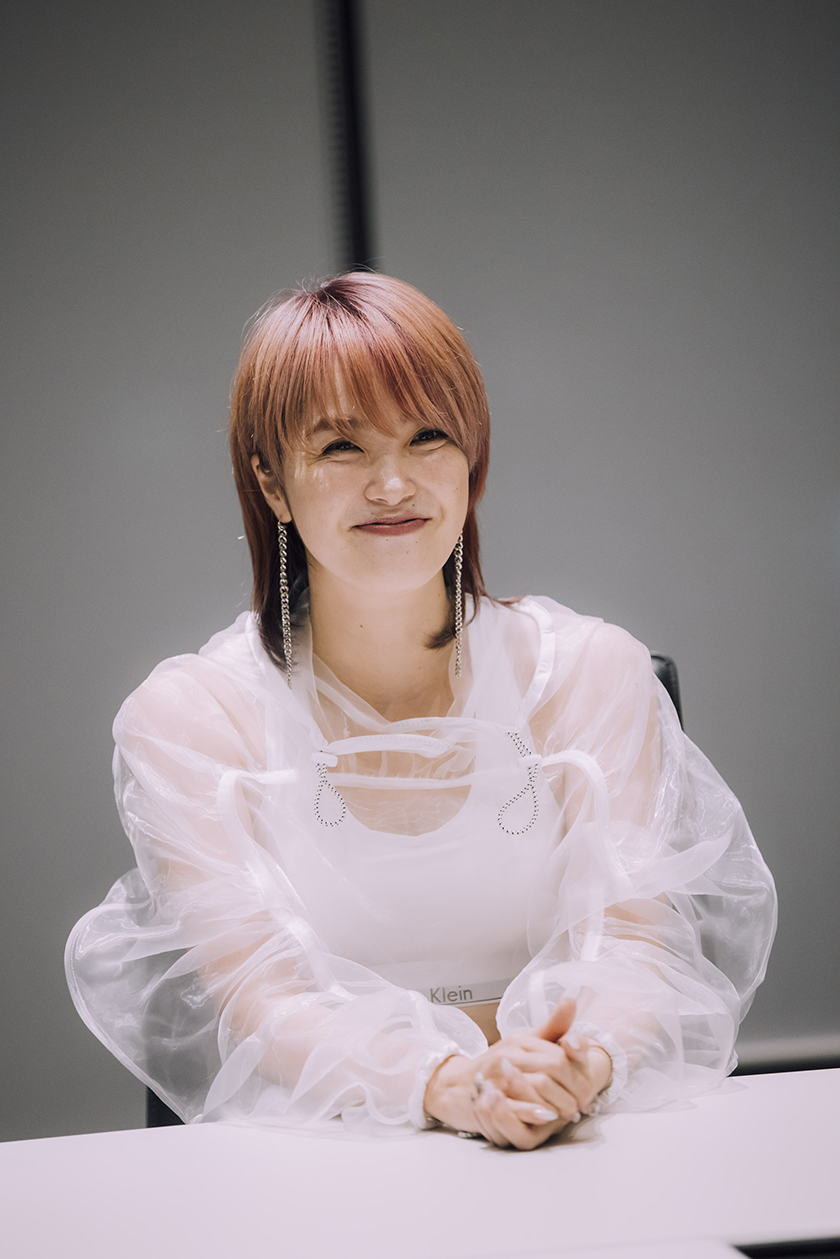 Hina "I've experienced what it's like to be with a different group on this label, I am very happy to be working at FAKY now, and I want to do my best with these members and this staff, as Mikako just said. Cause, now we're in an era where anyone can become popular, but I think there are definitely pieces of work that can only come to life when professionals come together. We want to continue to be pros at this."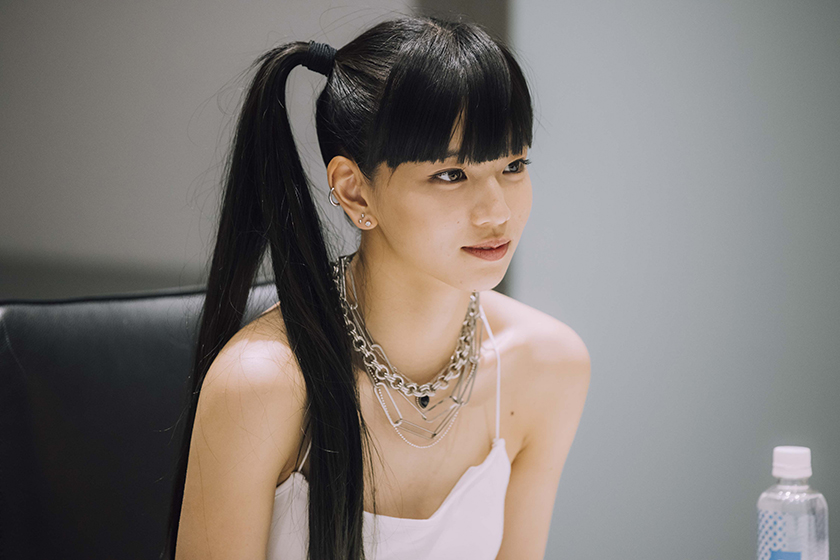 "People who keep
securing tight footholds
have more power
to explode with."
How does the staff view what the members have said regarding their vision looking forward? Fujisawa explains how FAKY is a group that can take on the world. That is the prerequisite they have set for themselves. And in order to do it honor, one of their most important tasks in the past few years has been to consecutively appear in subscription based charts here in Japan.
Fujisawa "Of course having our sights on the global market hasn't changed. But the physical strength must be built up first. To that end, I think we need to approach the Japanese market now, and figure out what we should do to grab people's attention there? We are always thinking about how we can create topicality. One song that made it clear for us was Darling. Darling (Prod. GeG) was a subscription song, and it was played more than any of our other songs up until now, by far. But the amount of views for the music video wasn't particularly different than our other songs. Considering the numbers alone, it's exactly what it looks like. So there is no real reason to let the results affect us. The listeners were just drawn more to the song than the video. And if you are able to draw out information like that, it gives you a different perspective. Numbers are of course important, but if you are too conscious of them, it hinders you from venturing out into different territory. In this case, we thought we would simply try putting more focus on the dance side of things for the video of little more. The rest is for the public to decide. You don't know unless you pop the lid open. Just rinse and repeat. People who keep securing tight footholds have more power to explode with. Regarding FAKY, I hope to keep building up footholds one by one so that people, not just in Japan, but throughout the world want to listen to them."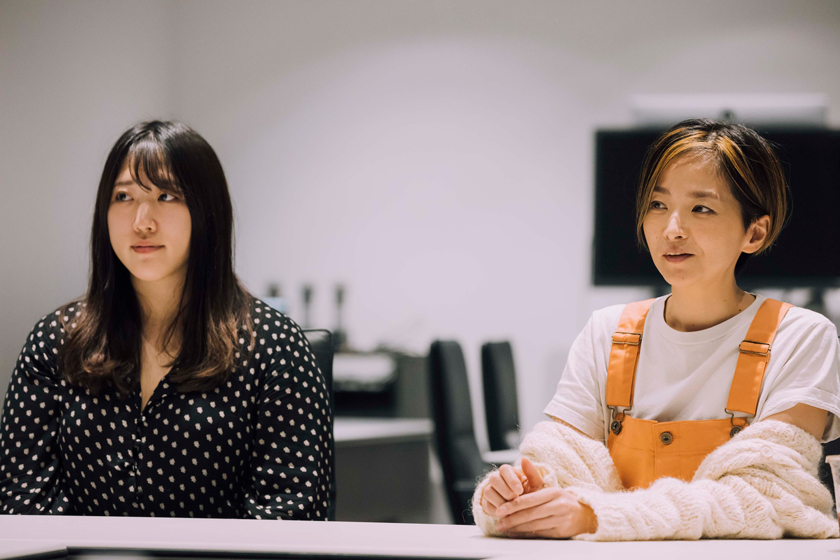 "The smile on the faces
of these five girls is
what I want to see."
On the other hand, Monma sees two things happening in the not so far away future. One of them she has kept in her heart for a long time. It's a dream she has had since the day she joined the company and a promise she made with Lil' Fang.
Monma "It's a keyword that we often mention among the staff — the FAKY Avengers project (laughs). Exactly what Mikako said. I want everyone in the world to be able to say the names of each member. It's five different girls who excel in their own fields and they've assembled. You can enjoy the group five different ways at once. The other thing is a dream I've had since joining Avex. I want to see an arena-class live performances from the side of the stage of the artists I would be working with. When I said that in front of the members, Lil' Fang was like, 'We'll take you to an arena!'"
Lil' Fang "I also want to give back to the fans, but first of all, I really want to give back to the staff who've fought alongside us so hard. The exact same goes for Avex. They've made it possible for us to keep going for the past eight years, so I want to give back in a clear and visible way. That's what's keeping me running these days"
Fujisawa "I'm not saying I don't want to see the fans smiling too, but the day we book an arena, the smile on the faces of these five girls is what I want to see. My feelings towards the fans for their unwavering support must not go unsaid, that is a given. But first and foremost I must thank the team and everyone behind the scenes that made this possible. It's hard to put into words the tingle you get before an artist is about to make their break. But I've been sensing something lately, so I'm really looking forward to how things unfold in the future, and that's why I think I have to do my best here and now."
At the end of the interview, we asked the question, "What is FAKY's goal?" To which Fujisawa kicked back lightly with her own, "Who starts running with a goal in mind?" In her response we could feel the trust and respect she has for the members and the confidence in the new phase FAKY is about to reach. Creating a new standard by involving all of two opposites: the fake and the real. It might be a little more time than expected for the world to come around to FAKY. However, by the time that happens, they might be already running on the other side of the next door.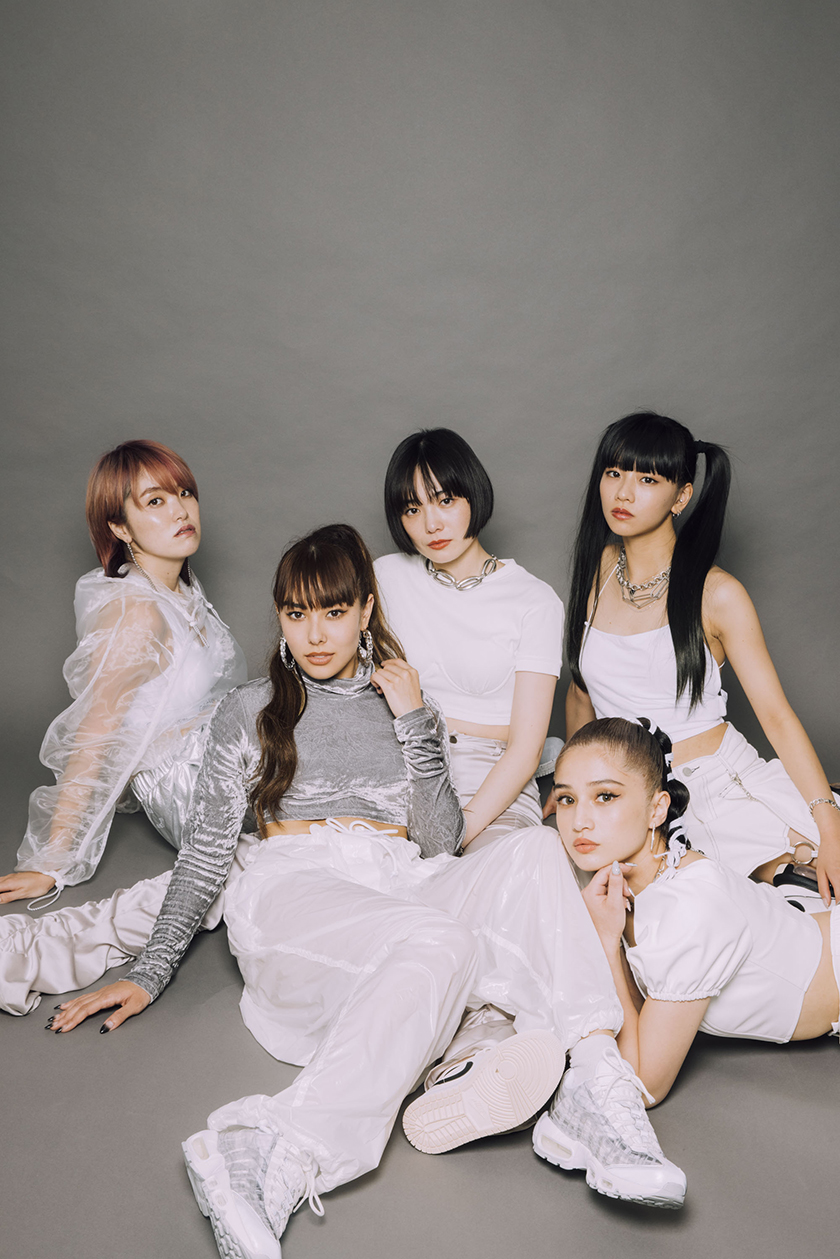 (From the left)
Lil' Fang / Akina / Mikako / Hina / Taki