Hitomi Kaji is popular for her healthy and supple figure, which is often referred to as the "Kaji Body." Unable to give up her dream of becoming a singer, she joined TGA (Tokyo Girls Audition) at the age of twenty-six. She won the Grand Prix in the artist category and made her late blooming debut at the age of twenty-eight. However, a year and a half later, she was forced to put her work on pause. It was around this time that she met her soon to be manager, Takami Desaki. Desaki's rebranding, one which brought Kaji's personality to the forefront, payed off, and now she is exploding in her field as a trendsetter, pushing the importance of having a healthy gut, a practice she calls "Chokatsu," or "Intestinal activity." In this interview we dive into the how behind her climb back to the top with only a few months left until the cancelation of her contract, including Desaki's own management techniques and skills for balance parenting with work.
The lurking contract
termination.
Changing fate after
meeting "Poroko-san"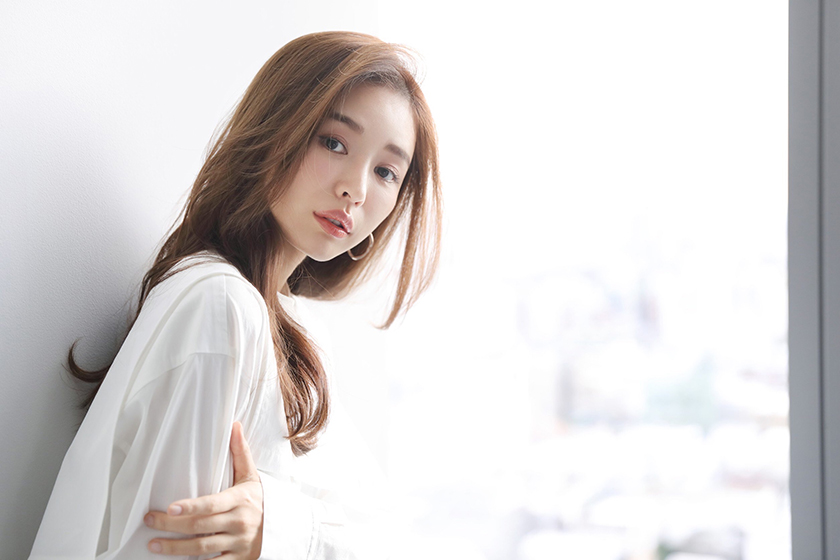 The words "God body," "Miracle Arasa [Woman 'around thirty' with the miracle body]," and "Queen of Intestinal Activity" are just a few of the many aliases given to Hitomi Kaji, a late bloomer debuting at the age of twenty-eight. The beginning of her career, however, was far from smooth sailing.
Her current success is a testament to the hard work of her and her manager Desaki as they crawled back up the cliff, i.e., the pending threat of being dropped by her label, together. Kaji has personally spoke about episodes during that dramatic period on many occasions, so for this interview we asked Desaki to look back on those days from her own perspective. The two met in 2018. It all started when Desaki stroke up a conversation with Kaji after a brand's new product release party.
Desaki "We had only really exchanged greetings up until then, so it was the first time we had had a proper conversation. We were having a normal talk, nothing about work, and then after she started telling me about the importance of having a healthy gut, I got a glimpse of her stoic attitude towards lifestyles and things that would later lead to the 'intestinal activity boom.' I thought, 'she can do much more than just sing.' Besides that, just her charm alone, it made you feel like you were in a movie, everything became gorgeous. But when I asked her about how things were going, she told me that they had already decided to cancel her contract."
Kaji "When I met Poroko-san (her nickname for Desaki), it was already decided that I wouldn't be able to reach my third year unless I started seeing better results within a few months. But at that time, I had never done anything other than music, so I didn't know what to do or how to do it."
No one wants to give up on a dream they had finally grasped. Kaji, being no different, grew her Instagram account to 100,000 followers on her own. But, now she was being forced to quit. Desaki, was in a completely different department at the time so she took it upon herself to talk directly with head of Kaji's management. What was it that pushed Desaki to do this, despite the clear difficulty of the situation? The confidence that she could make Hitomi Kaji a charismatic star.
Desaki "In reality, the situation was pretty tough. Since she had no prior experience before her debut, becoming 30 was seen as a negative factor. However, 30 is not too late for a woman to shine. Most of all, I thought it was such a waste to judge her potential in just one and a half years' time. You can't tell one's true charm just through numbers and results. I knew that she'd be able to have confidence as long as she had someone to be there and reassure her that she would shine no matter what. Fortunately, I had a superior who understood and believed in me. The only thing left was for me to let Kaji-chan (her nickname for Kaji) know I wanted to be that person for her. So I raised my hand to be her manager."
"If this doesn't work out,
I'll quit too."
"Mad + Pure"
Management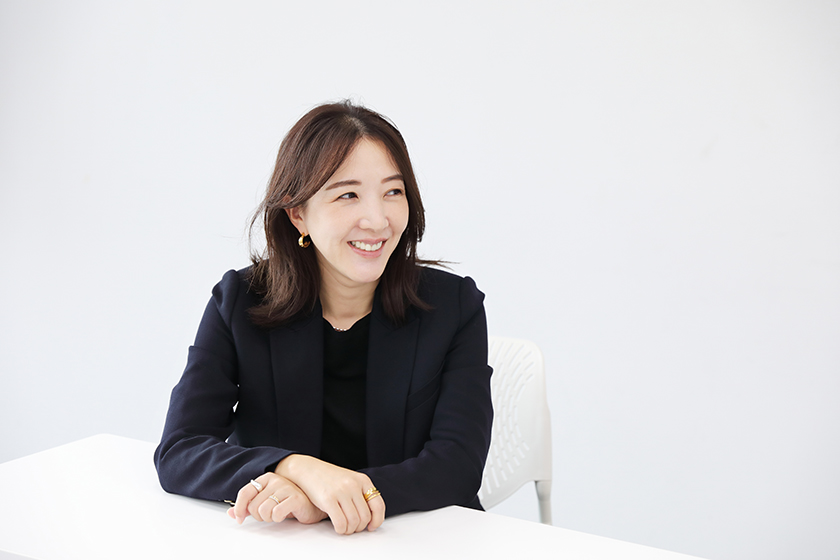 Kaji looked back on her initial meeting with her new manager, saying, "I felt Poroko's passionate personality from the time we talked at the cafe, but I was surprised at exactly how passionate she truly was." The new company tagline, "Really! Mad + Pure", turned out to be a personal driving element for Desaki at the time.
Desaki "Until around then, I used to think of Chairman Matsuura's words 'work is play and play is work' as the company tagline, but when it officially changed to 'achieving something surprising, or Mad, in a Pure fashion,' then I was like 'Ok then, this is exactly what I'm trying to do now! "(Laughs). 'We'll overcome this situation together, no matter what.' But if it didn't work, I decided that I would leave the company too. I mean, how coldhearted would that be, if we tried so hard together but only she would have to leave the company while I got to stay. Besides, I was prepared to put myself in a position where if I didn't get out of this pinch, there was nothing left for me either."
This marked the start for the two women's journey back up the mountain. The first thing that Desaki focused on was getting to know all about Kaji. Desaki held thorough hearings with Kaji, to get to know her interests and lifestyle, her dreams, sometimes even for over six hours at a cafe. It had nothing to do with numbers or a result. It was an exploration, a search for an artist's charm and potential from the inside-out. It was this managerial philosophy that uncovered Kaji's strengths—or in Kaji's case, the "Kajbody"—opening a new path for her to shine.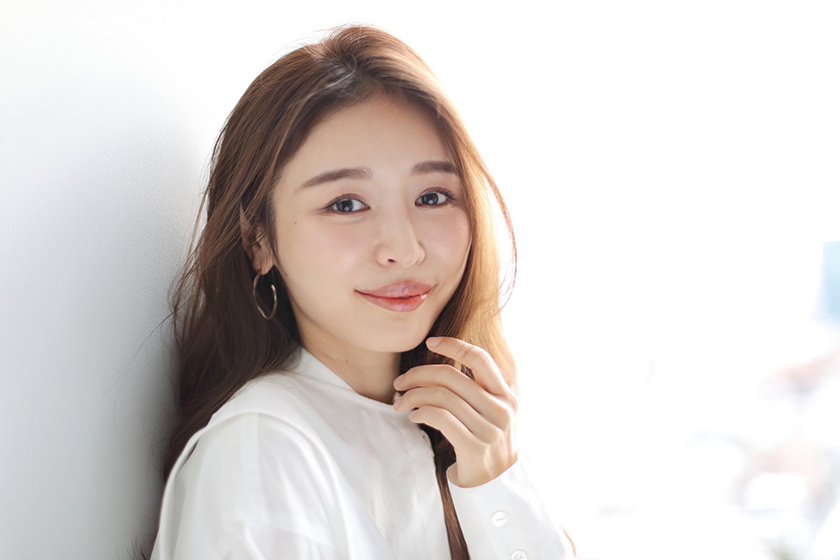 After that, they took on new challenges, one after another in completely different fields such as wedding model gigs amongst others centering on the modeling industry that utilized her excellent physique, acquired through cold calls. Gradually picking up on the backwind that Desaki was creating through active yet steady and honest hard work, Kaji helped increased her recognition by focusing on online media, since it's broad topics and columns offered opportunities at a time when she still lacked media coverage in the entertainment industry.
For Kaji, who had only been active with music until then, everything was a new experience. But, did she waver?
Kaji "For me, Poroko is a person who gives me a chance to discover a new me. She is always thinking of ways for me to shine, so when she brought up the idea of taking on pin-up model gigs, I didn't question her. When we're together, we talk and laugh over simple stuff, but I know that when I'm not there, she is doing a lot behind the scenes, so I make sure to do my best when my presence is needed so as to get those results."
Foreseeing a boom in
immunity health.
Becoming a star
with 400,000 followers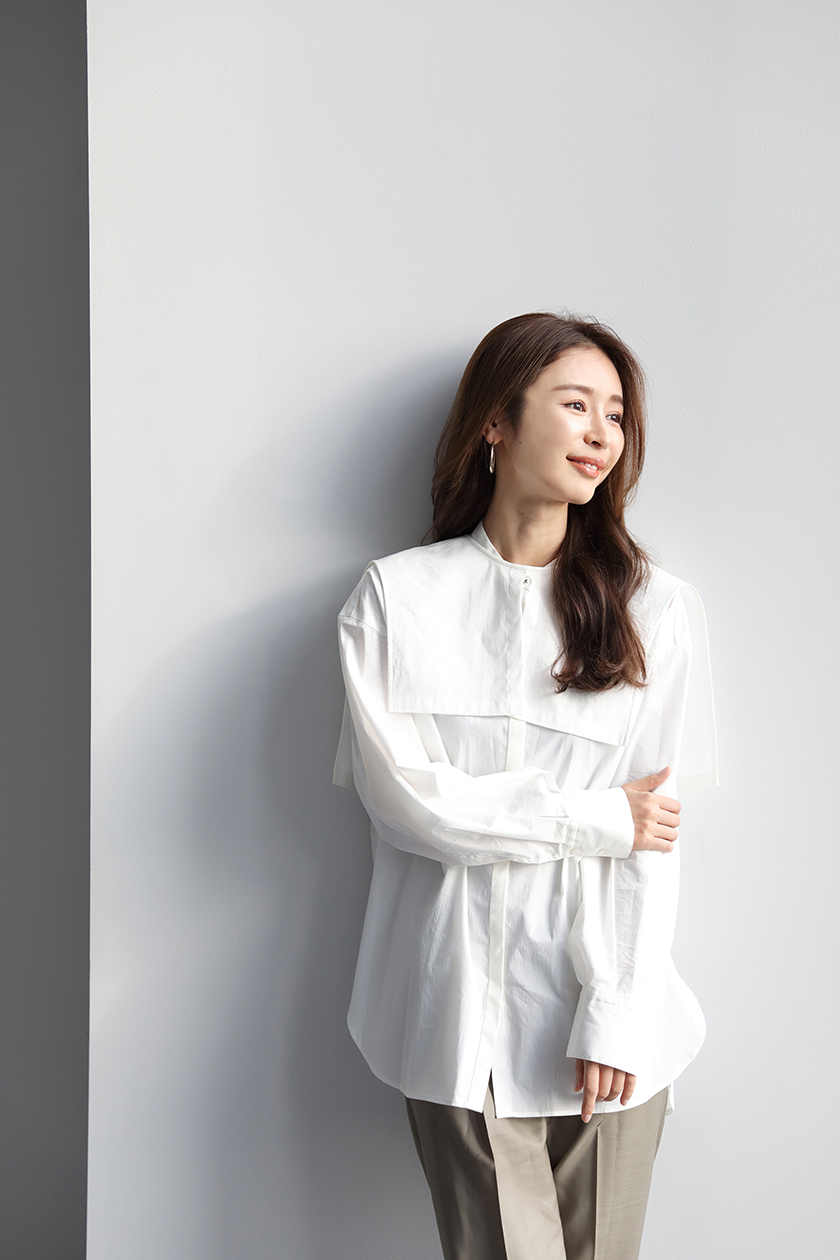 By 2019, her work pace had gradually accelerated and her contract was renewed and a decisive event had occurred that would further launch Kaji into stardom; the health boom that came with the spread of the coronavirus. In response to the flow of the times, Desaki expected there would be a boom in in interest in immunity health, and focused on the "intestinal activity" that Kaji had continued in her private life for nearly 10 years. One TV show decided to follow her throughout the day, closely documenting her lifestyle. Thanks to this program, her followers on Instagram jumped to 400,000 at once.
She had created a trend and was now known as the "Queen of Intestinal Activity." A unique and dramatic career had been awaiting her reappearance from the bottom of the valley from which she climbed.
Desaki "Kaj-chan was very pleased that her personal decade-long efforts were being recognized and that it was helping people. I think this recognition instilled her with even more confidence. At the same time, we were in awe of the tremendous influence of television. Unlike social media where you broadcast your own content, the TV doesn't lie. You can only fake a lie for so long before people see the real you. I think the fact that she had been continuing it for years became her weapon. The power of its persuasiveness led to a trend."
Being able to balance
parenting and work,
thanks to family,
the company and Kaji-chan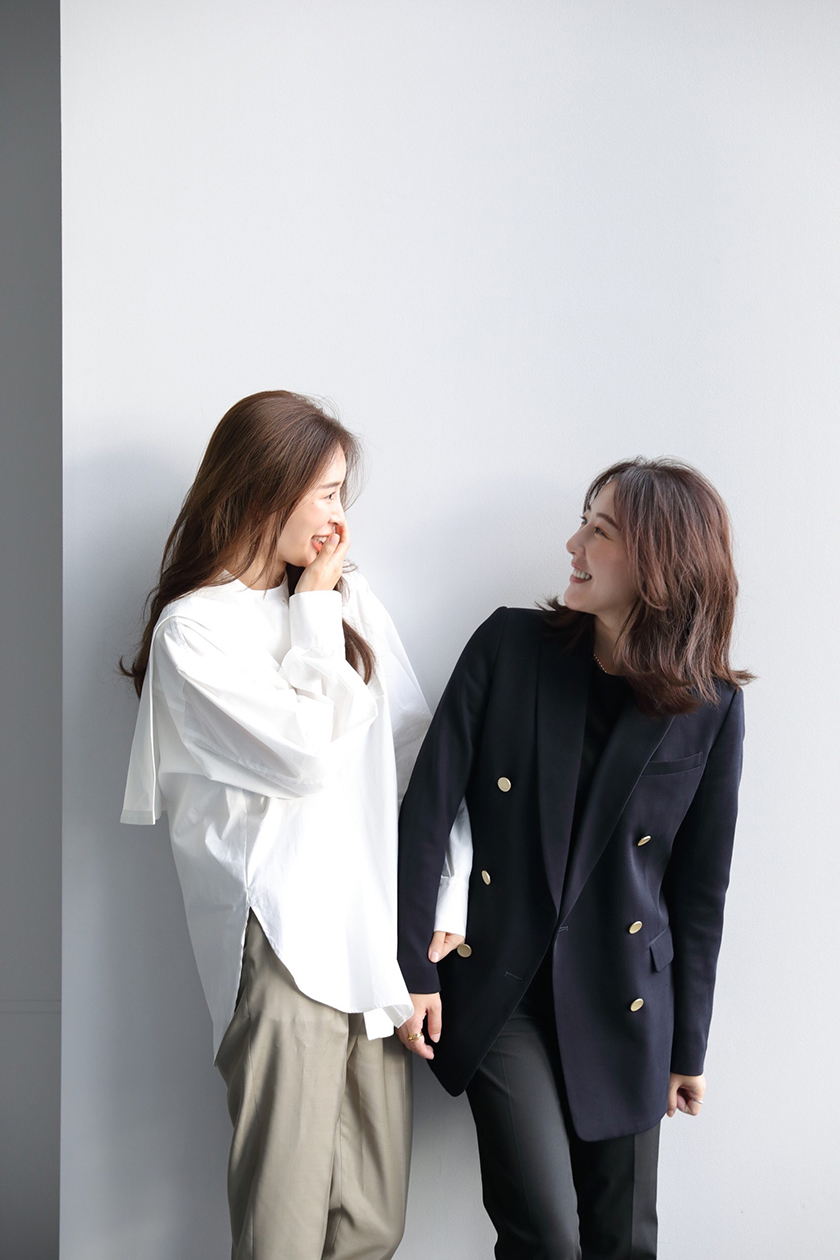 Being yourself is your greatest weapon. Becoming living proof of this has helped make Kaji an important icon for Avex as they draw up new blueprints for artists in the coming generation. Desaki, who has supported Kaji in becoming herself, is a mother of two children in her private life. She also embodies a society in which women play an active role by balancing child-rearing and managerial work, facing work as they are.
Desaki "I became pregnant with my first child as I was running around working every day (laughs). There was no one around me who took maternity leave, and I was under the impression that pregnancy equaled quitting your company. But when I found myself in that position, quitting my job wasn't an option. When I consulted with the director at that time, he recommended maternity leave, saying, "We're entering an era when women can continue to work even if they have children." I returned to work after about a year. I think there is a stronger atmosphere in society of supporting working women."
Kaji "When you were pregnant with your second child, you were already my manager, weren't you?"
Desaki "I was worried that it might cause trouble, but Kaji-chan was like, 'Congratulations!' I can make it to work on my own, so you take care and don't overdo it!' Without the support of my family, the support of the company, and the understanding of Kaji-chan, I think it would have been difficult to balance raising my children and my work. As the times and companies change, and the way we regard mothers has changed worldwide, I hope that we will be able to mature into a society where more women can play an active role."
Find something nice about something, and praise it. This perspective, cultivated through Desaki's experience raising her children may also play a role in the leap in Hitomi Kaji's career. At the end of the interview, we asked the two about the artist's prospects, which are expected to grow even more.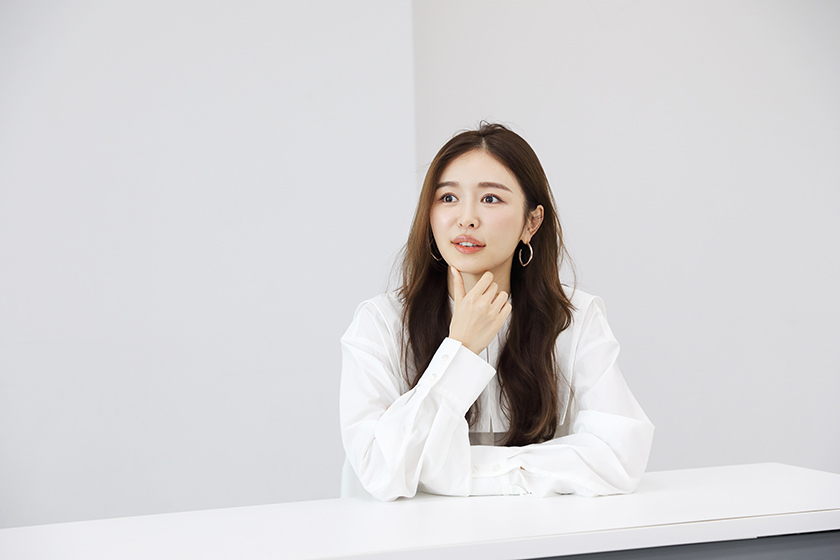 Kaji "Through my model work and everything else, the urge to try my hand at more and more things has grown stronger, and I've actually started studying acting for about two years now, and this year I've been actively going to auditions. I haven't achieved great results yet, but I want to do my best without rushing! In the future, I would like to broaden my range of expression while at the same time, learning more about beauty, about intestinal activity and also about the autonomic nerve system. Isn't being healthy an essential part when it comes to being yourself? I hope to help women on their journey to becoming happy and I think it's important to have the perspective that 'taking care of yourself is to love yourself.'"
Desaki "I want take this way of looking at things and expand it throughout the entertainment industry."
Imagine a society where women can continue to work on the front lines regardless of changes in their life stages, such as pregnancy and childbirth. Imagine as well, an entertainment industry that allows them to use their potential as charm in order to grow, regardless of age or experience. Kaji and Desaki's shared journey to show that both of these are possible through their own experiences is sure to continue.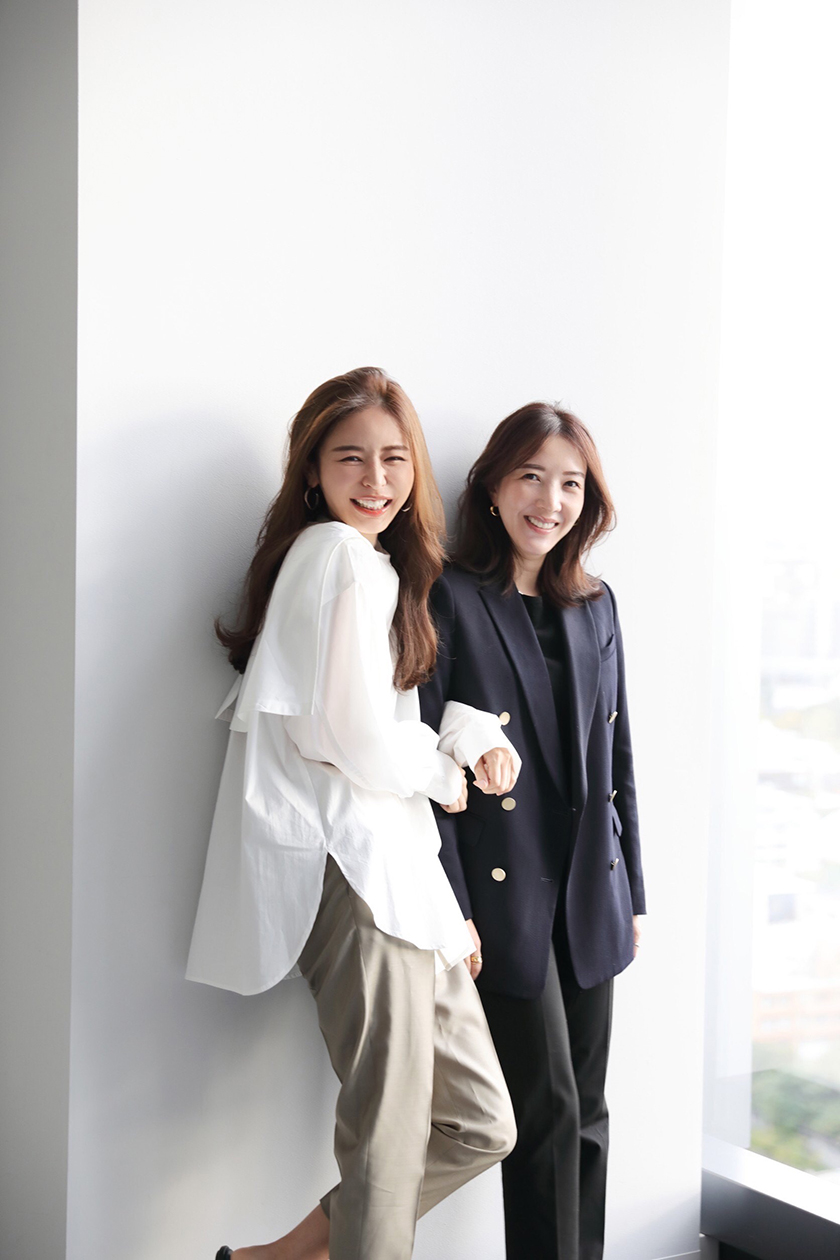 (Photo left)
Hitomi Kaji

(Photo right)
Avex Entertainment Inc.
Takami Desaki