Avex Inc. (Headquarters: Minato-ku, Tokyo; President, CEO: Katsumi Kuroiwa) has reached a Japanese pop (J-POP) music video license agreement1 with Shanghai Kuanyu Digital Technology Co., Ltd. (Headquarters: Shanghai, China; President: Chen Rui), operator of the bilibili general video distribution platform popular among young people in China through Avex Hong Kong Limited (Headquarters: Causeway Bay, Hong Kong; Representative: Shunta Takahashi), a wholly owned subsidiary of Avex. Avex has thus become Japan's first major label to sign a video licensing deal of this kind and will offer around 3,300 music video titles2 owned by the Avex Group.



---
The Chinese video media market is becoming legitimate as it deals in more and more duly licensed excellent video content produced in and outside the country. The number of paying users is rapidly growing. The bilibili general video distribution platform serves approximately 200 million monthly active users, up 54% year on year, and 15 million paying users, up 89% year on year.3 It was ranked first of the top apps favored by Generation Z and of the top entertainment apps favored by Generation Z in China.4 It is particularly popular among young people born in and after 2000. J-POP enjoys strong support chiefly from Chinese young people living in urban areas. There have been many instances of songs used in Japanese dramas, movies and other forms of media attaining commercial success. The newly-formed partnership paves the way for the delivery of content featuring music and artists affiliated with the Avex Group to users with very high affinity.

Under its strategic theme Entertainment x Tech x Global, Avex strives to create strong intellectual property to succeed in the new era. It has been stepping up content development and network enhancement globally to market its intellectual property not only within Japan but to fast-growing markets around the world. In the Chinese market, it is working to sign and develop C-POP artists and increasing efforts to form contracts and partnerships with major local platform operators.5 This tie-up is part of these activities.

Starting with this, it aims to fully deploy its own intellectual property through extended collaboration in online live events and other initiatives.

▼Special web page on bilibili
https://www.bilibili.com/blackboard/topic/bilibili_avex.html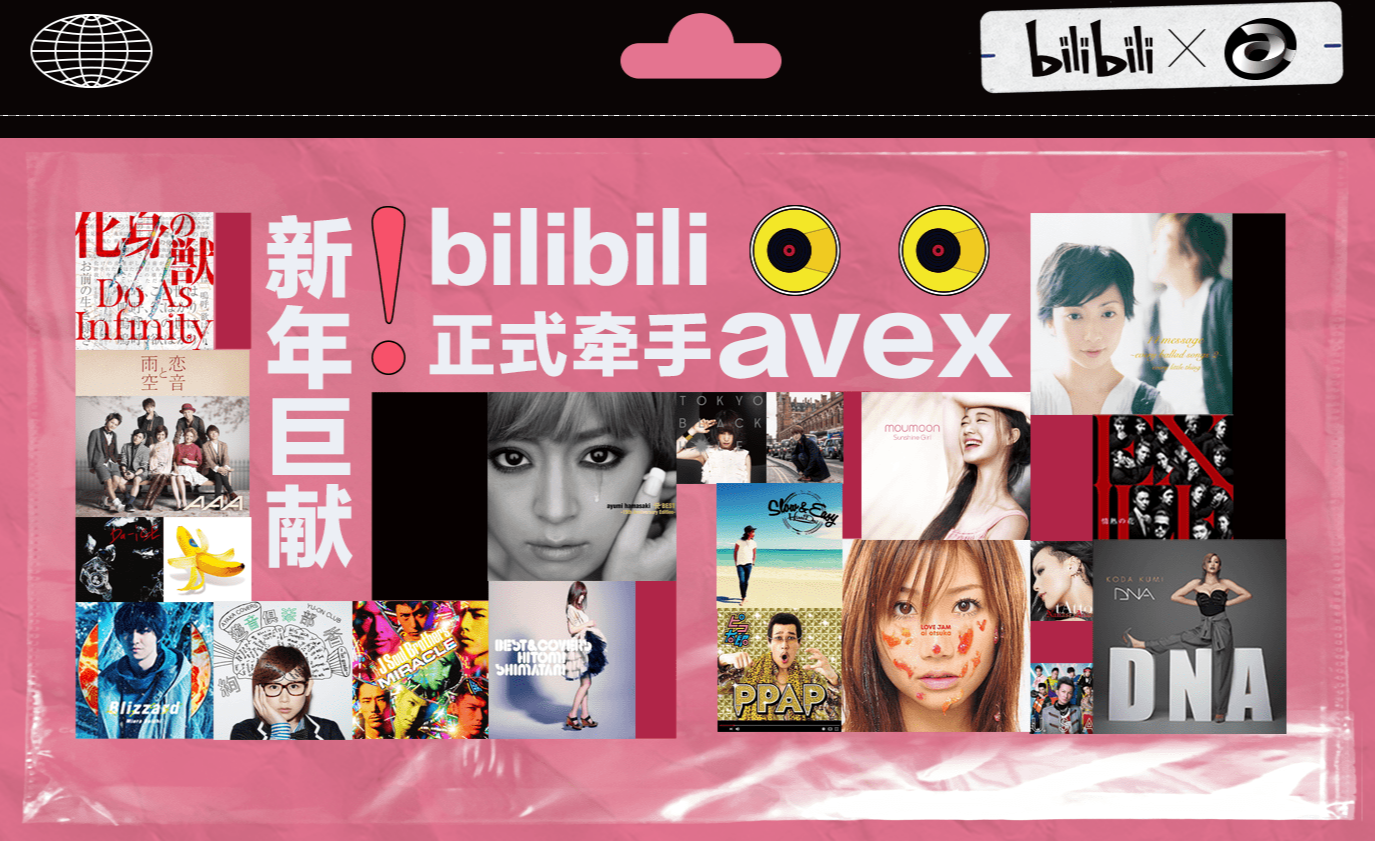 [About Shanghai Kuanyu Digital Technology Co., Ltd. (bilibili)]
Shanghai Kuanyu Digital Technology operates the bilibili general video distribution platform that attracts many young Chinese users. It has constructed an eco-system under which users and creators continue to produce high quality content. It has significant influence on thousands of genres including lifestyles, games, fashion, knowledge and music. It was listed on the Nasdaq market in the United States in March 2018. In the BrandZ Report 2019 it was chosen as one of the top 100 most valuable Chinese brands.
https://www.bilibili.com/

1 The licensing agreement began on Monday, December 28, 2020.
 Licensing coverage area: People's Republic of China (excluding Hong Kong, Macau and Taiwan)
 Signing Company    : Avex Hong Kong Limited
2 The licensed content is a part of the music video content whose rights are owned by Avex Entertainment Inc.
3 See the third quarter 2020 report from Shanghai Kuanyu Digital Technology Co., Ltd. (bilibili).
4 See the announcement from QuestMobile in June 2020.
5 Avex concluded licensing agreements with an online distribution platform affiliated with NetEase Cloud Music, a leading Chinese online distribution medium, in December 2016, and with Migu Music in August 2018.
---
《Media-related inquiries》