This is the second half of a two-part interview on the past, present and future of Avex USA Inc. (AUI), the company's latest North American project creating new IP based out of Los Angeles from 2018. In the first part we talked with the four creative front members including the President Naoki Osada about the progress of AUI and the community its studio, the Avex House, helped create. In this half, we will be focusing on the three main pillars of the project and see what their vision is for the future.
Signing with talented
hard workers.
Avex USA Publishing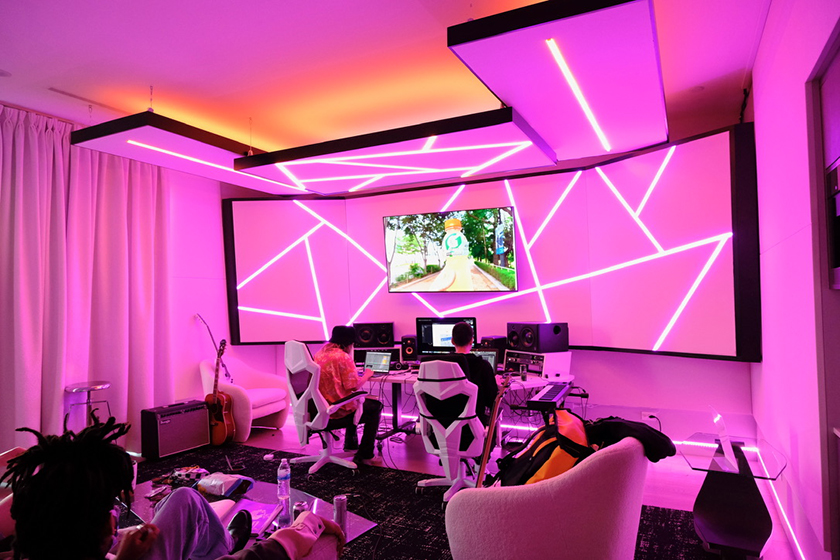 The main pillars that make up Avex's latest IP creation project in Los Angeles is Avex USA Publishing, the next-generation record label SELENE, and their music startup investment program Future of Music Investment Fund.
We first asked the VP of Publishing A&R Andrew Hawthorne to fill us in about the publishing side, his experience in signing artists and producers, and what he places importance on when making contracts.
Andrew "Some examples of artists we've signed with would be Patrick "J Que" Smith, the legendary producer out of Atlanta. He produced Usher's Yeah! which spent ten weeks at the top of the Billboards. Then there's Bryan Michael Cox, a producer on Usher's album Confessions. The two of them together have put out work that has been streamed billions of times, and records that have sold in the millions. So, there are legends like them, and then there is Harv, who produced Justin Bieber's latest single Peaches, or Cxdy, a producer from the local LA producer team Internet Money. We have contracts with them as well. What I place importance on when signing with artists is whether they create music that inspires people. If they don't leave an impression on us, we don't work with them."
According to Osada, Andrew is a natural hard worker and he expects a similar amount of passion and focus from the writers and producers he signs with as well as the rest of the managers and members on the team.
Andrew "I listed a couple famous names just now, but there are still many other artists and producers who are very talented but are just starting out. A real diverse group of creators are starting to gather. We've hosted a writing camp with the 88rising, a label with a lot of Asian artists that is gathering a lot of attention recently, and many new tunes came to life from that camp. 88rising is really respected here in the States and being able to host a writing camp with them was huge. They were really into the culture we made here at the Avex House and fell in love with our creative team. We still regularly interact with them once a month."
Record Label SELENE:
An approach to
Generation Z
SELENE was launched as a label aimed at those born between the late 90's and the early 00's, or Generation Z, and does so with genuinely talented artists and knowledge in the realm of influencers and social media. Lucas Thomashow, head of the label, said the following about its mechanisms, strengths and the "competition."

Lucas "North America has completely shifted to streaming and I'm not only talking about the music industry. There's video streaming and gaming services like Netflix and FORTNITE. There are a lot of things we have to compete with. That means we need to have our eyes and ears wide open for artists with capacity to tells stories and reach the masses in order to stand out amongst so much media and entertainment. We plan on operating the label as a way to amplify their marketing skills, creative skills and connections."
Being able to market yourself is the one essential condition in order to be a star in the next generation. Another principle in SELENE's arsenal is their importance on tag teaming with up-and-coming talented artists.
Lucas "Signing with artists who have already reached a certain level of success in their career is the general business model of most record labels in America. We aim for a much earlier stage. We find that special talent early on, provide an environment for them to make their best music, hook them up with various connections and guide them all along the way. We're trying a new model for making stars for the next generation. One example of our first successful tries is Zack Hood, a 19-year-old artist, the first one we signed with, who had never even held a mic previously. We had many writing sessions at the Avex House before he became an official SELENE artist."
Lucas and the label also have their eyes on Japanese artists looking to expand to the States. In charge of providing those and other Asian artists with songs is Jimmy Takashima.
Jimmy "The AUI creative team has already created songs for many Japanese artists, like Lose Control for the J Soul Brothers III, GET IT ON for KING & KING, a collab duo featuring EXILE SHOKICH and CrazyBoy, and Make Up for SixTONES. We also connected Social House, the globally-known artist/producer duo who has produced multiple songs for Ariana Grande, with the Audition TV program Yoruyoung a project between Avex and TV Tokyo. When Japan needs Western inspired tracks, I think our team is the best fit. Our strength is making hybrid content that can match both Japanese artists and the market while sounding awesome to ears in America at the same time."
AUI's originality.
Connectivity: the keyword
for success
AUI came about after Avex's participation in the Techstars Music accelerator and joining up with the cutting edge music tech startups of the world. And now, it has found its originality and strength in growing great relationships with amazing creators through building a community in the local music industry based out of the Avex House.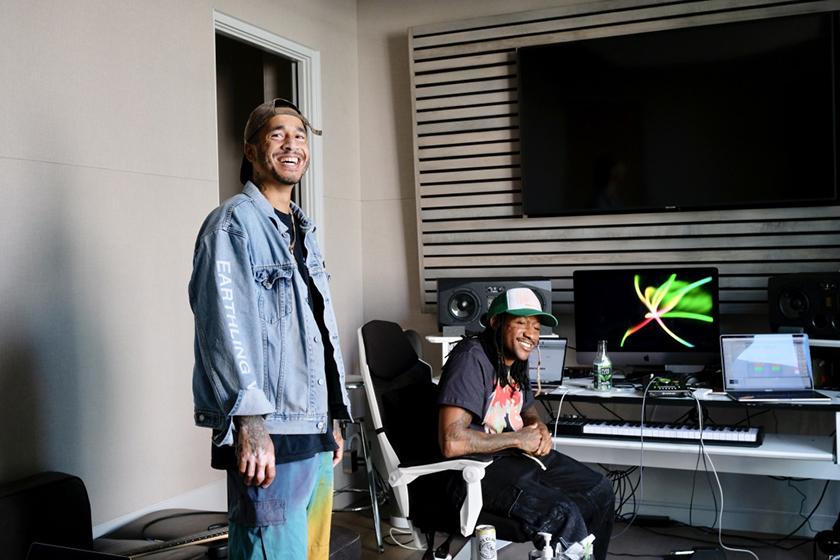 Osada "One day I hope to take the local knowhow that I've gained working here in America and share it with the Japanese market. As a member of Avex, I plan to take home knowledge on how to win in the social media and streaming world"
Now that AUI has undoubtedly started to show success in the main pillars of their business model while building an original community and culture in LA, let's see what their goals for the future are.?
Osada "Now, it is to keep strategically introducing first-class music and innovation into the project while dialing up quality and quantity. That, plus protecting our stance as a strong competitor by becoming a name in the local business scene that no one will be able to ignore. It will become critical when reaching out and sharing with the world. This is one of the main reasons we are partnering with fresh and talent partners."
Lucas, head of SELENE, gave "connectivity" as one of the keywords for making AUI, and Avex even bigger.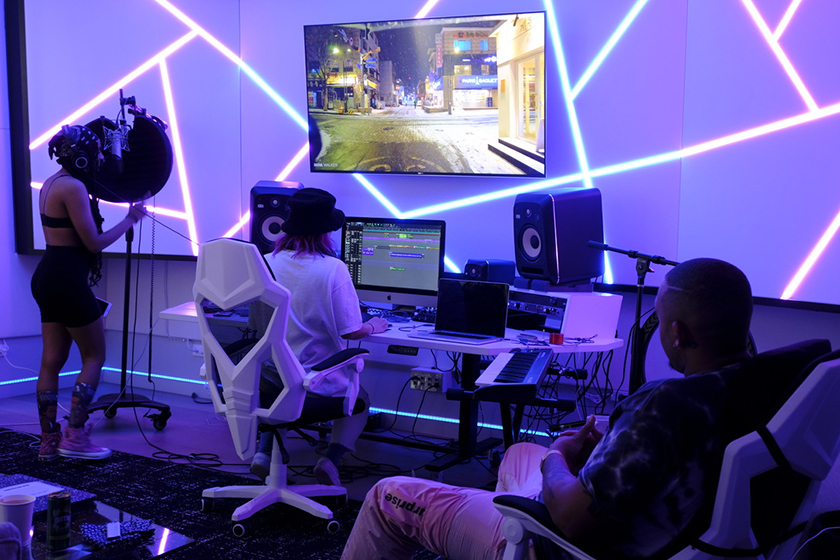 Lucas "It all comes down to how far the label can push the publishing business, how far the publishing can push investments in technology, and how far that technology can push the cultivating of artists. Also how much the AUI community can positively affect the global team over at the Avex HQ in Japan. I think the honing in on the synergistic effect between each other will be another main theme heading forward."
Andrew "In that respect, now that we have this world-level creative space like the Avex House, the kind of connectivity we can make between operators and the different departments, and exactly how we can share and grow the elements that the other lacks, this will become crucial."
"The synergy between the departments will help us grow and become one of our strongest traits. Another keyword we have in our minds is 'boutique.' Boutiques are small, selective and focused to provide top quality service; we hope to aim for a business model that has small fixed costs but with great successes"
As a member of the Japanese music industry and the Avex HQ, knowing that the physical music model (CDs, records, hardware) is still strongly rooted in Japan, what is Osada's aim when looking into the future?
Osada "Even if, say, the physical music model disappeared from the face of the earth and streaming took over the whole world, since the size of the market would only grow to a ratio equal to that of the population, it would be near impossible for Japan to remain the second largest music industry in the world. In that sense, Japan will inevitably have to create content for the rest of the world. AUI is making a creative team that can appeal to countries outside of Japan. I'm excited for how we'll be able to match AUI's creators with Avex's artists."
As a paradigm shift continues to overtake the music industry, AUI is polishing the possibilities of a new music business with artists on the forefront at ground zero of the world's entertainment industry.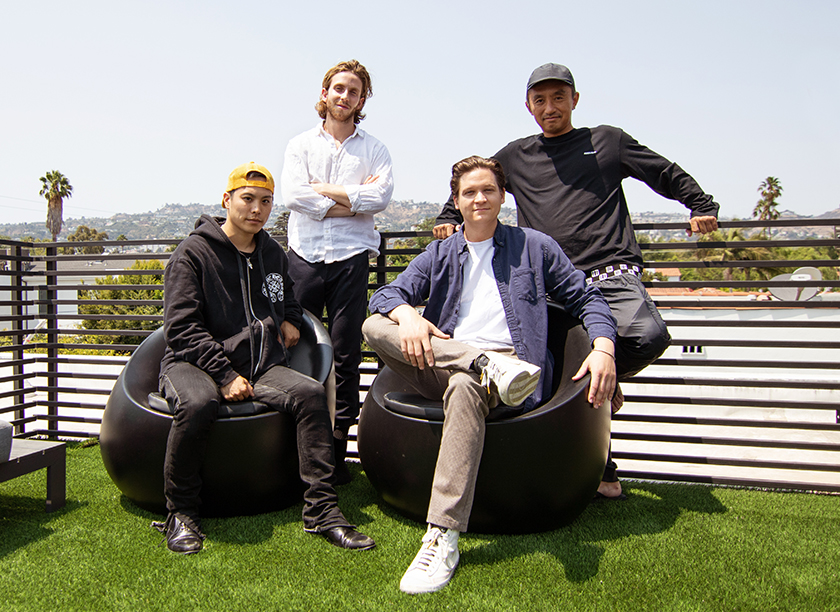 (From the left)
Avex USA Inc.
Jimmy Takashima

Avex USA Inc.
Lucas Thomashow

Avex USA Inc.
Andrew Hawthorne

Avex USA Inc.
Naoki Osada