Akira Takano released his first solo album ENTER on Wednesday March 24th, 2021. He started his entertainment career in his childhood as a member of Dream5 which formed on the music section of the educational TV show Tensai TV kun MAX on the NHK network. In 2016 when activities had an end, he focused on acting in 2.5 dimension musicals. This album is a bold culmination of the delicate emotional expressions as well as the dancing and singing skills he gained and honed while working on stage for so long, and gives hint to future work in an entirely new field. As he prepares for his first solo tour from the end of March, we sat down with him to learn more of his roots, his hopes and aims throughout his entertainment career and his vision for future endeavors.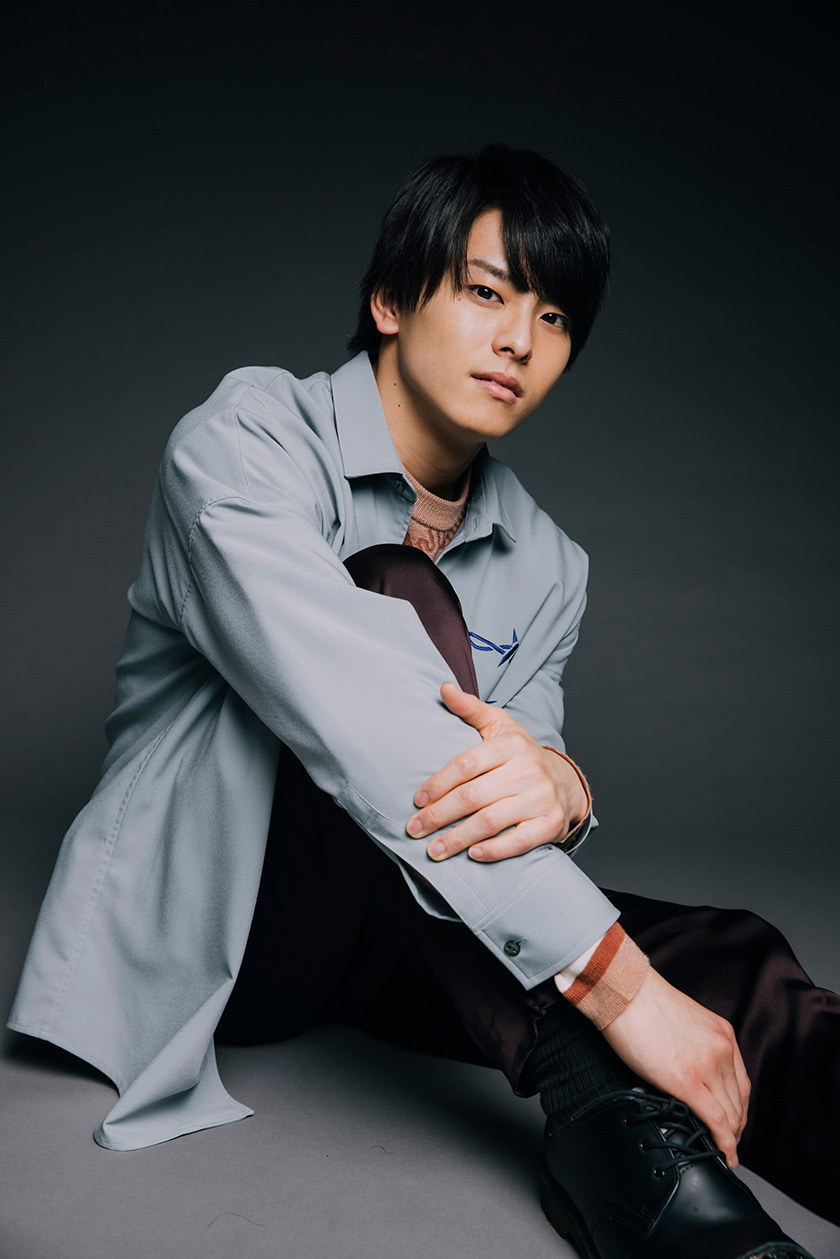 Starting a career at four.
Choosing
entertainment over
corporate employment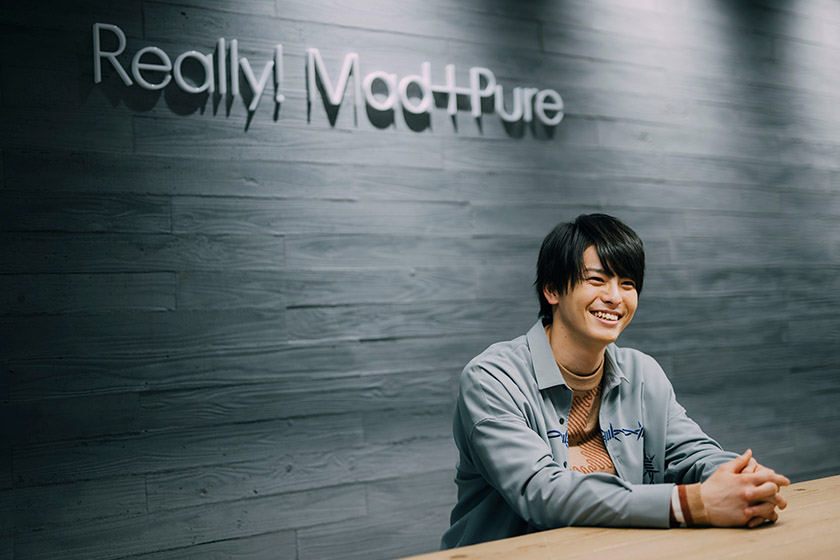 Akira Takano first came across dance, which would become the foundation of his career at a ripe four-years-old. It started when his parents noticed how hooked he became after seeing a dance performance at a random local event they attended, and encouraged him to learn it at a dance school. One of the other students at the same school was Issei, the world renowned dancer, world champion, and member of the international team, the Red Bull BC ONE All Stars. "At the time I was just enjoying the music and moving to the rhythm," reflects Takano, "but when I think about it now, it was much more than just an extracurricular activity. It was an environment for us to grow individually while competing with and bringing out the best of each other."
He first opened the door to the entertainment world in 2009 as a sixth grade elementary school student. After submitting to audition for the educational TV program Tensai Terebi-kun MAX on the NHK network, he was chosen out of over 1,500 applications to advance to the video and in-person performance stage where he was then selected to be a member of the dance and vocal group Dream5. The neighborhood elementary school kid had become a young star on the TV screens of living rooms throughout the country; a development often seen in movies. Nevertheless, Takano took it all with stride and adapted to the changing environments at his own pace.
"I still clearly remember," says Takano, "flying to Tokyo for the first time and performing at the final audition and being nervous at the whole weight of the moment in the room, which was completely new to me. Being on TV is something totally rare in my hometown and the rumor that I was going to be on it spread over night. I was teased about it the next day at school too. That kind of stuff hit home. I was like, 'so this is what it's like to be on TV.' In the beginning it felt like I was just moving my body and doing what I was told. It was only supposed to be a month-long project but the reviews were better than expected and we were asked to make a second CD. It was around this time that I started having inklings that this entertainment business thing might work out."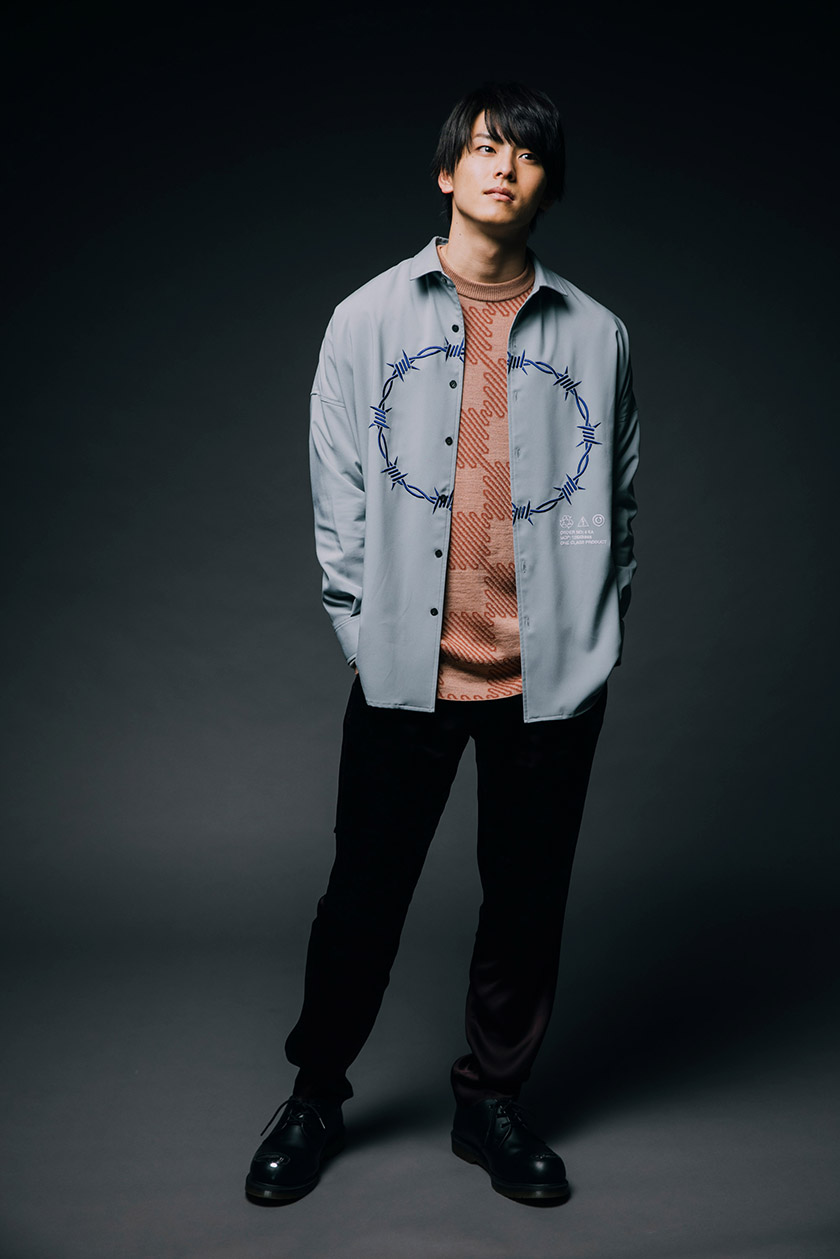 After that, the group Dream5 was formed under the Avex label and Takano's artist career started getting serious. Upon releasing their first album, they started performing on stage with industry leading professionals, for instance, as the opening act for Avex's AAA, and refined themselves as artists with each performance. As work increased, so did Takano's time on the road going back and forth between his hometown of Fukuoka and Tokyo. He entered middle school during this time, and while his career as an artist began to scale — along with expectations — he found school as a fun place where he could let off steam.
He reached a crossroads in his life just as the high school entrance exams were approaching. He was torn between continuing his path as an entertainer and buckling down on his studies in hope of working at a video game company in Fukuoka. Though both seemed promising, in the end he chose to go to a high school with an entertainment course. It was the encouraging words of his friends who had been cheering him on the whole time that pushed him to make his decision.
"At the time I wasn't exactly all in about my career as a performer," explains Takano. "There was a part of me that still thought that things would turn out how they were going to turn out. After entering high school, I began to seriously put thought into my future and when I asked myself if I really wanted to go down the path of an entertainer, there was another me inside who wasn't sure. When I opened up about this to my friends, they said 'All your friends back home are rooting for you. It's not often that someone as young as you gets to live the life of an entertainer. You should keep on pushing ahead.' These words really helped me decide to go down the path I am now. That moment decided my fate."
Dancing and singing:
rediscovering
what he once threw away.
2.5 dimension:
making a name
in a new field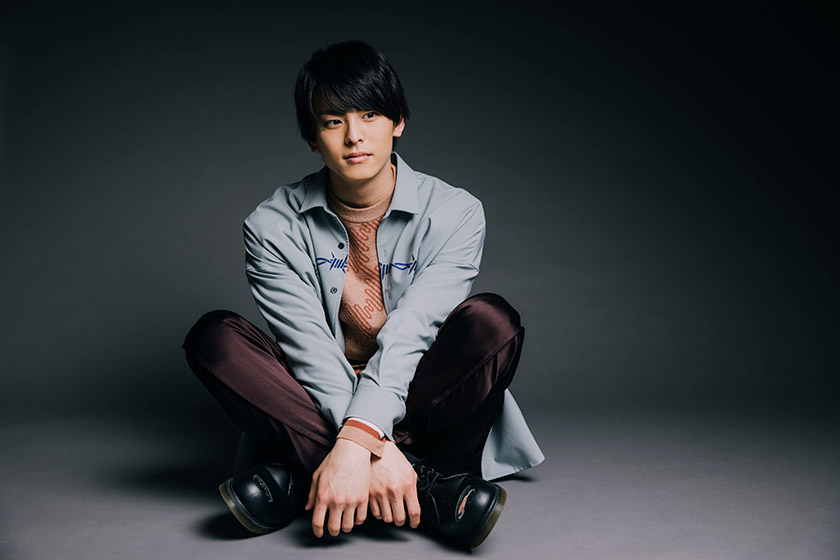 In 2014, Dream5 made their break with the theme song Youkai Taiso Daiichi for the Anime Yo-kai Watch. Despite the group's limelight performance on Kohaku Uta Gassen and the Japan Record Awards, their activities unfortunately came to an end in 2016. Takano was just finishing high school as activities had an end. He talked to his management team to let them know he planned to throw away the dancing and singing that he had worked so hard to acquire up until then, and that he wanted to start over as an actor. It was the first time that Akira Takano had ever expressed his feelings towards working independently.
"They asked me if I would continue working as an entertainer even after Dream5 had finished and my answer was of course 'yes.' But I no longer wanted to do it as a group. My feelings for working solo were much stronger, so I decided in my heart that I would start my career as an actor instead. I first became interested in acting when I saw the series Kazoku Game when I was in middle school. I was really moved and I felt a strong urge to move others through acting myself someday. I was always thinking what I could possibly do on my own if I was no longer in Dream5, so when I entered high school I chose acting, which was not a mandatory class, and dug my heels into acting for three years."
Takano received a stroke of fate just after beginning his solo career. He was asked to do the voice for Ichigo Kurosaki, the main character of ROCK MUSICAL BLEACH ~mou hitotsu no chijo~, a branch off from the original popular Shonen Manga BLEACH. It was a new type of theater that fuses manga and human actors together for what's called "2.5 dimension" theater. It was here that Takano would be reencountering dance and song, the two talents he thought he had left for good. And the musical that really drove home that it was singing and dancing that made him the performer that he was, was Touken Ranbu.
"Touken Ranbu is part musical, part live concert," explains Takano. "I had a lot of fun dancing for the first time in a while, and my manager, who always supports me, was moved to tears at my performance during the concert part and praised me for it. It made me realize that when I said I would throw away my dancing and singing talents and only act, that I was actually limiting my possibilities."
The field of 2.5 dimension musicals depends on the reenactment of preexisting worlds and characters. Akira Takano was not only able to show his acting side here, but it gave him a chance to think deeply about the act of acting, as well as a strong sense of self-awareness that he was now an entertainer.
"A lot of musical goers come to see the 2.5 dimension pieces because they are fans of the original manga so I'm very conscious of creating the impression that I just came straight out of the comic. On a scale of 100, the character is 90%. There is only need for 10% personal elements, if any. I hope to hone my craft of representing the human side of the character while imagining what it is the fans want to see in them."
Honing in on originality
as a performer.
Akira Takano's
next step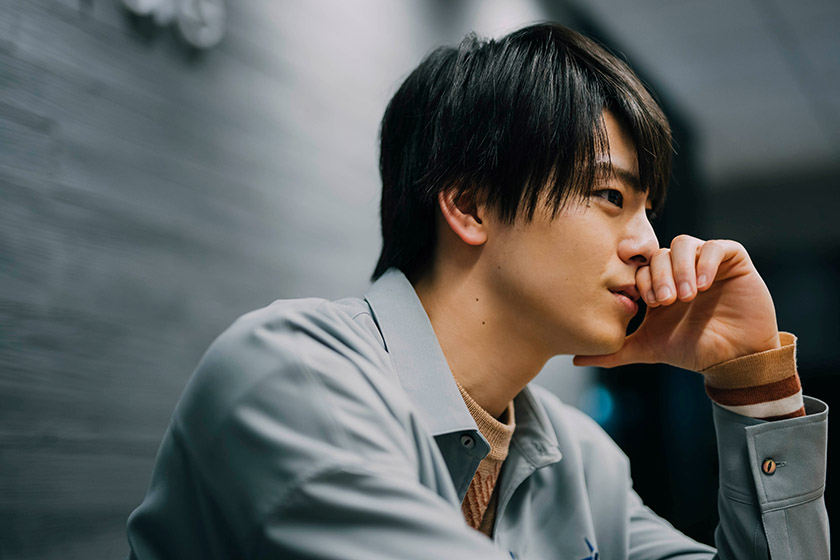 Dancing, singing, acting. Pouring all of the talent and skills he gained into creating a character with expectations, moving those who witness it, and using that to grow as a performer is what Takano did on end, calmly analyzing his own performance and expanding his capacity for expression all along the way.
And for 2021, he plans on entering yet another field. His first solo album ENTER will be released on Wednesday, March 24th. It will be a return to his roots of dancing and singing, while at the same time, a jam packed introduction of his current self.
He says that his own introduction to and drive for music was at a fan meet and greet in 2018. He was wondering if there was a way to give back, to provide a special surprise to his fans who not only come to see the character he portrays, but to see Takano himself. What he came up with was his first single LOVE STORY, which also contained the songs Can't Keep it Cool, You've Broken My Heart, and Our Happiness. Without a single warning or promotional piece of content, he performed the songs on stage the day of the meet and greet. Numerous fans posted their surprise and excitement online. This extensive, creative solo project, that required no screenplay and no directing, held significant meaning for Takano.
"At first we were thinking of covering other songs, but when we thought again about how we could really bring the fans joy, my manager suggested the idea that I write and perform my own original songs. I was happy to be able to unveil something I created myself on such a special stage, and it was great to think of my own song themes, and music, and experience the joy of making something out of nothing. Of course, when I heard the tracks for the first time, they were simply amazing. I was like, 'What can you expect, it's Avex," said Takano with a smile.
He now feels a sincere need to hone in on what entertainment he wants to provide as a performer while he moves forward creating music. He feels the pressure being a solo artist on the Avex label, but expresses how he feels the most inspired and stimulated to grow in his current environment.
"I deeply appreciate being in the environment I'm in, with so much constant influence from my seniors, like AAA, and the great work they're doing. I can feel that they see me as "one of the pack" and are rooting for my future as well, so it really drives me to keep going. Being unable to meet anyone during the pandemic also truly reminded me how much we need others to up our game, and the importance of new encounters and the stimulation that comes from that. I hope to be able to answer the call of my fans and make my supporters happy, while at the same time flipping expectations on their side and expressing sides of me that only I can."
Upon asking him if he had any concrete goals, he replied that as an actor, he hopes to appear on a long running morning drama series and popular period pieces (both produced by the NHK network), and as a musician, he was very quick to show his interest in performing on Kohaku Uta Gassen. At the end of the talk, we caught a glimpse of who he is as a person when he nonchalantly added, "I want to give back to my supportive fans and the people of my hometown by showing them I'm shining on stage." If he can continue to combine skills that have been polished since childhood with desires of self-expression, Akira Takano is bound to soar to high heights. It will be hard to take our eyes off of someone like him, who doesn't show any signs of stopping his evolution.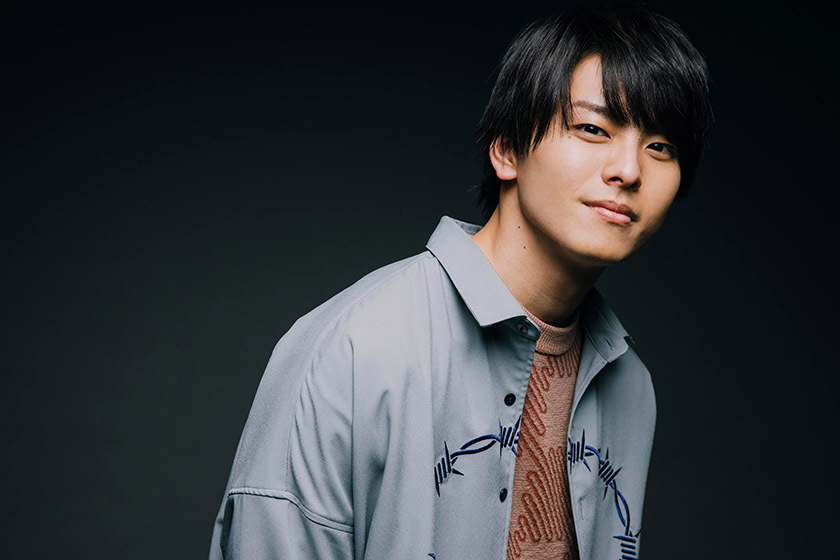 Akira Takano