From development and production all the way to sales, Avex Beauty Method is serious about beauty products. The facial beauty product known as ear up they came out with last year was a hit, selling 50,000 units. It did so well that the team received in-house recognition and was awarded the "Mad+Pure Award". We sat down with Masateru Ozeki in the New Project Development department, Katsuyo Nakayama, also in the same department as well as Sales, and Ryota Taniguchi in Alliance to find out about Avex's efforts in the beauty field and their intentions behind them.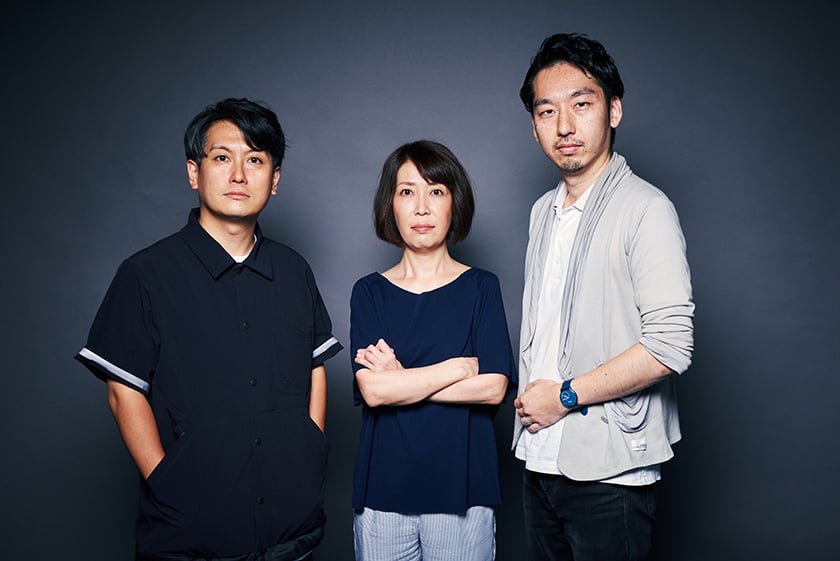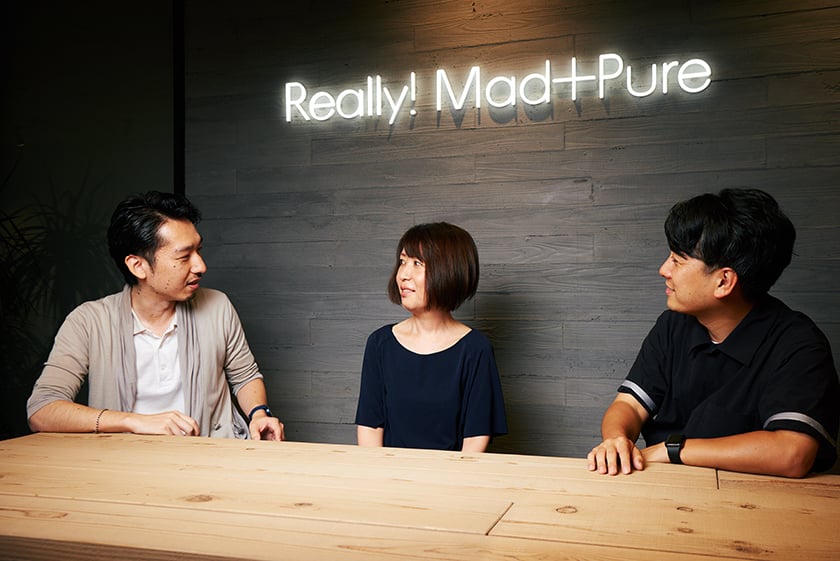 Implementing knowhow fostered
from various backgrounds into products
Avex Beauty Method started as a beauty salon in August of 2010 in one of the rooms of the building that stood behind the old Avex company building. It was at first a section of the company's welfare program for its employees and artists. The prime members of this beauty method project have made it a point to take the knowhow they have gained from running this salon and putting it into providing solutions on a different scale. The salon itself closed down in 2014. After that, when thinking of what to do next, they decided to develop new products that reflected and met the high demands of Japan's beauty market. The first product they came up with was ear up.
Ozeki, who worked at an advertisement agency prior to entering Avex to work in advertising as well, was appointed as team leader last year in a move to change up personnel.
"When you work for artists and performers," says Ozeki, "beauty is one department that will always be needed. Plus, if you look at the beauty products of the world, the products and brands that Japan puts out are very high in quality. Our company is well known throughout the world for other entertainment content, like anime, and such, but I think beauty has the potential to become just as big. Well, this is how I've been looking at it ever since this department began."
Nakayama, who has many years of experience in managing entertainers, mentioned how much she learned, especially from a woman's point of view.
"Since the salon was located right between Gaiemmae and Omotesando, there were a lot of working women who came to relive tension from work and mental stress," says Nakayama. "Just by giving them facial massages, moisturizing, and clearing up their complexion, it really motivates them. I've been told directly that they enjoy going to work more afterwards. The salon is no longer open at this point, but we made this product because we really wanted cheer up working women in particular and make something that would help do that."
Taniguchi, who used to work in the production and sales strategy department for a cosmetic and health food manufacturer, is now putting that experience towards solutions for Avex while also managing PR projects for other corporations with the use of Avex artists. He joined the Avex Beauty Method this year in July as a part of personnel changeup. Ozeki says that it is this variety in background and forte of this small elite group that represents "Mad and Pure" and allows the team to handle everything from development and production to sales.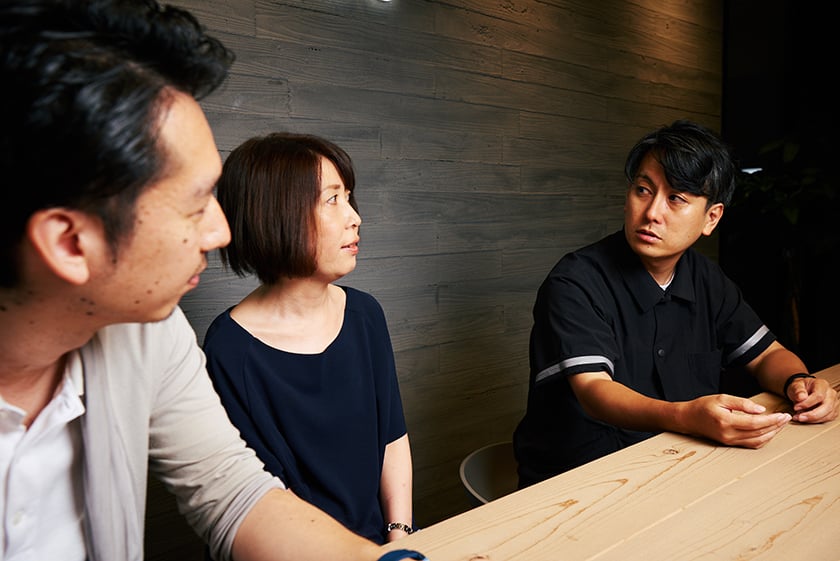 Experience is the pillar of service
— Avex's original promotion style
Ear up was a hit for facial beauty products. Radically designed with ear up that touch on special pressure points around the ear, this product is light enough to cling to the ear with ease and allows the wearer to attend to other tasks while they use it.
"It actually took five years to bring it from the drawing table to the market," says Nakayama. "It started with prototypes at idea level. It also took a long time to find a partner company to work with, plus we had trouble obtaining scientific proof by ourselves of why placing ear up on pressure points around the ear even works. Then we received the help and instructions from a professor at Saitama Medical University to reach our current model. Putting that to shape was the most difficult part. We were able to reach the final product thanks to the help of many people, including our manufacturing partners. That's another reason why we want it to be a long seller and I feel we have an obligation to do so."
The fact that they weren't beauty product manufactures to begin with was cause for some struggle, but this fact, plus the members' individual experience and knowledge gained by managing the salon, is what allowed the team to focus on the kind of product they needed to make — if they were really going to be a part of the beauty industry. Their plans for promotion were another hurdle seeing as how they were not a cosmetic manufacturer either.
"We were lucky in that there were really no competitors in the facial beauty equipment category," recalls Ozeki. "But that also made it difficult for people to get what the product was about. And it's not like we had a whole lot of money for advertising either like large corporations. So we kept on at it, working steadily, and finally we realized that having consumers experience it first was key. We decided to put them in beauty salons and not just retail shops. At salons, everything happens inside of the mirror. So in the ten-minute time that stylists are cutting hair, they have their customer try out one ear up and compare it with the other side of their face after wards. Once they try it out, they realize, 'You don't even need your hands for this! This is handy!' They pick up on things other than the fact that it really works. You don't even have to say anything, and they'll realize it themselves. That's the kind of promotion we mainly do."
Avex also let's potential customers try out the product outside of beauty salons as well. For instance, at WANDERLUST, they let people try out the ear up while doing yoga. They also collaborated with a hot yoga school celebrity Ami Suzuki at an event that a hot yoga school offered their customers. Avex is currently promoting it in their own ways.
"I'd have to say, after all, that our company is in the business of providing experience, whether it's concerts or something else. I think experience is the pillar of our service. And it's not just with WANDERLUST or ear up, but I think matching our events with our products in a way that creates a synergy is a great promoting method that I want to look into more. I'd like to put more efforts into setting up products with experiences."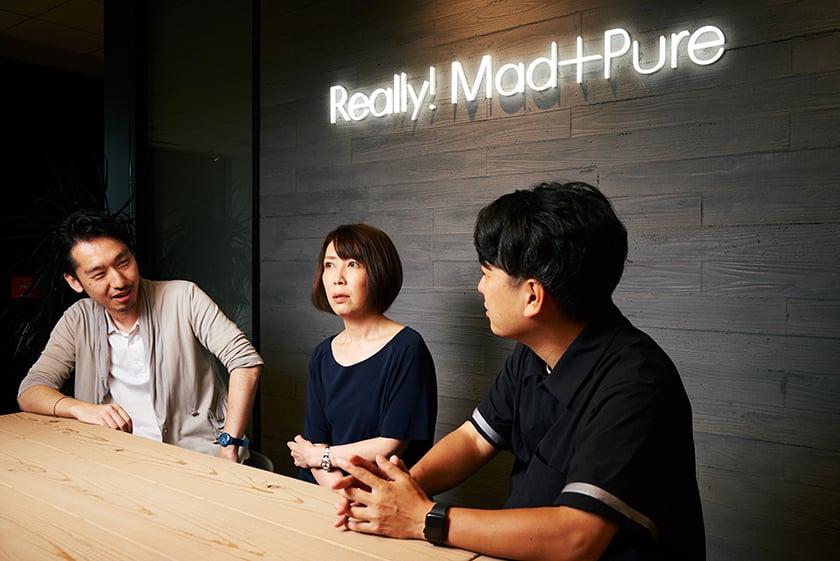 Having the general public's back
with business projects aimed at lifestyle
Ozeki's vision is to help out people through beauty and health care by making everyday lifestyle business projects a main part of the companies services. Reason being, that even though large and well established cosmetic manufacturers have a formidable presence in the industry, Japanese beauty products are safe and trusted throughout the world and hold high potential in an overseas market.
Furthermore, since Avex has become so known for creating so many stars, artists, fashions and trends, it makes it easier for people to notice and trust their products. This is a huge advantage to have.
Ozeki says, "We've made, as a company, so many stars and other beautiful things. You could say that these are all our assets, and if you had to come up with another business that utilized these assets, beauty is just really compatible. And I see business projects aimed at supporting lifestyles as a way of giving back or contributing to society. If the members of this team are made happy, and if it can help brighten up the mood among other employees, that would be great. When you think about it, for women, when they feel good and look good, it makes both work and play more enjoyable for them. And if we can support that happiness, that's just great. That's the kind of role I'd want this project to fit."
"Up until now Avex has created lots of TV stars and more, but I think from here on we'll be able to take that knowhow and put it towards creating products that really provide 'backup' for people," says Taniguchi. "Not only is there YouTube, but there is even VTuber [Virtual 'YouTube'] on the scene now, so it would be cool to hook up with people putting stuff out there on an individual level, not just with TV and/or Magazines."
Within the world of entertainment, Avex has always strived to help present the image of a female who represents the times. In other words, they have actually dealt with countless artists and have been a part of creative work and management for some time. Their feel for the question "What do women now want?" has acted as a guide over the years and is being implemented in this business department — a project that started as a way to help accommodate artists and employees.
Ozeki ended on an interesting point. "This doesn't have to do with beauty," he says with a smile, "but the women in our company really know a whole lot of good places to eat. They know food and they know what looks good. Plus, they make artists look great and get them up on stage in order to make fans and gain peoples interest and trust. We have that knowhow. I think that if we can use this knowhow of 'presentation' and put it to use in making products, then we can really present the general public with a stage, a 'life stage,' a stage where they can look great and enjoy every rich day to the fullest."
Ozeki advocated their efforts. "When I tell people that Avex has a beauty department, they say 'Really?' And at first, not many of the actual employees thought we could pull it off. Over the past eight years we've been through a lot, and ear up almost had its plug pulled, on more than one occasion. But even so, I think our feeling of wanting to be of use to the people of the world is our 'Pure' part." He feels that in being a new project, he hopes it can continue on for a long ways to come, and that it be accepted and supported by everyone, not to mention users and artists. It is worth keeping an eye on Avex Beauty Method to see what kind of lifestyle support products they will come out with in the future.
Lastly, on August 1st(Wed), the team has launched their second product, AOPALE, a drinkable beauty product for the summer — it helps protect you from UV rays from the inside. You can now purchase it online. Will it be a hit like ear up was? Let's wait and find out.
(Photo:Left)Avex Entertainment Inc.
Business Development
Lifesyte Business Group
Masayo Nakayama

(Photo:Center)Avex Entertainment Inc.
Business Development
Lifesyte Business Group
Senior producer Masateru Ozeki

(Photo:Right)Avex Entertainment Inc.
Business Development
Lifesyte Business Group
Ryota Taniguchi