On February 7th of 2019, Roppongi saw the grand opening of Avex's new SEL OCTAGON TOKYO, the night club that fuses together entertainment, art and digital technology. What is it that Avex sees in the coming future and what do they hope to do in aims of enlivening the city's night scene even further at this point in time? We sat down with the three main individuals that made it possible, Shunsuke Fukuo from Avex Entertainment, Takao Goto from the construction design company Nikken Sekkei, and Y's Table Corporation's Akihiro Inatsuka, to get some insight on the project.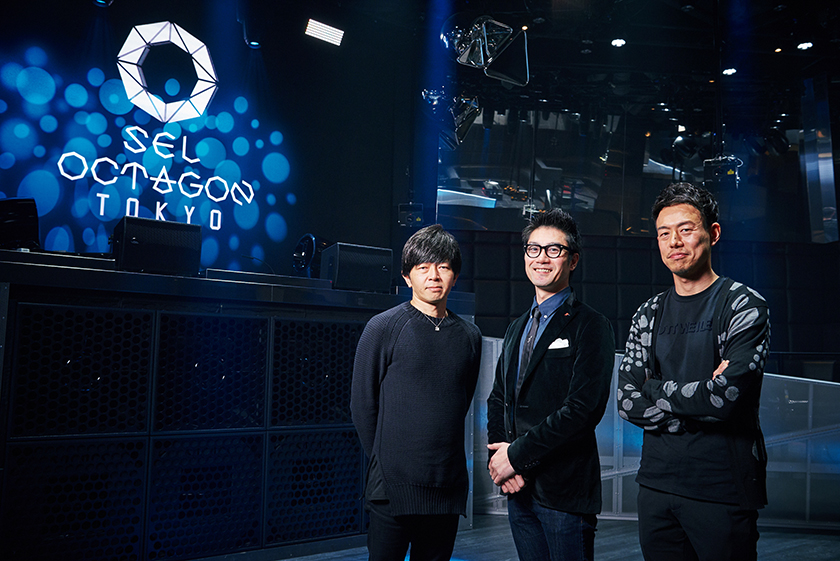 Giving new interaction to professionals.
Building excitement through culture.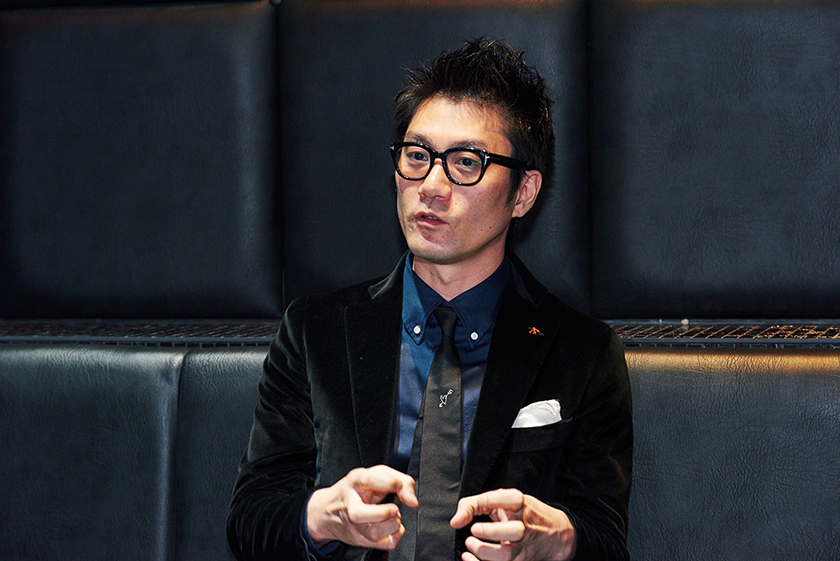 On Thursday the 27th, as the lavish grand opening of SEL OCTAGON TOKYO unfolded on a prime corner of Roppongi, the venue was blessed with a lineup of top name Japanese DJ's including world renowned DJ NICKY ROMERO. A wave of club-goers came for days on end, forming long lines out the entrance. Let's find out what our three guests thought about the festivities in this special interview held one month after the opening.
Fukuo: "I went to a lot of different clubs throughout the year after this project was launched and honestly I feel that we've been getting a totally different strata of people then the club-goers at the places I visited. Usually you see more couples, or groups of guys than you do women. At normal clubs, the men far outnumber the women. But even within the first ten days of opening, I noticed there were actually more women coming than men."
Goto: "Overall, I think there is a lack of colors in the club. In a good way. I got the impression that the atmosphere doesn't lean too much to one type of club-goer. I also think that the fact that Avex has been building so much culture over many years and has such a wide perspective towards the social realm that a lot of people came, even after it just opened, because they knew of Avex."
Inatsuka: "It has been one crazy month, that's for sure. There were many things we had to adjust, operations wise, that had us on our toes the whole time. Luckily we didn't have any big problems regarding service. That I'm relieved about. I do think that we need to do more, to actively try new things. We won't be able to give the kind of service that Avex is after otherwise."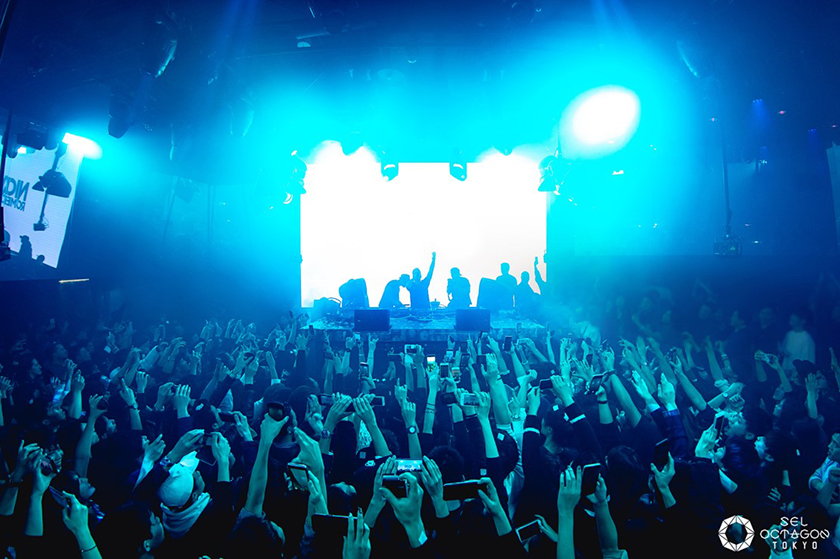 In order to make SEL OCTAGON TOKYO a reality, Avex partnered up with Nikken Sekkei and Y's Table Corporation. As a group of specialists working at the front of social environmental design, Nikken Sekkei designs, regulates, and gives consulting services about city planning, while Y's Table Corporation specializes in mainly restaurant planning and operations, including restaurants like XEX and Salvatore Cuomo Bros., to name a few. The project started with obtaining the help of these two professionals. Next was where to start from, and the keyword that the three companies first placed focus on was "foreign visitors."
Fukuo: "I first heard of Avex wanting to make their own club around June of 2017. Right around the same time I had seen a TV program on NHK about how the amount of foreign tourists visiting Japan was increasing, but there was no place for them to enjoy night culture. After doing some research, I found there was a world famous club called OCTAGON in Korea, and I thought that might be a good route, so I called up the license holder. At the time, I was a part of the Spatial Development Department of the new Life Style Project that Avex was starting up. I thought, 'Ok, now what shall I do?'"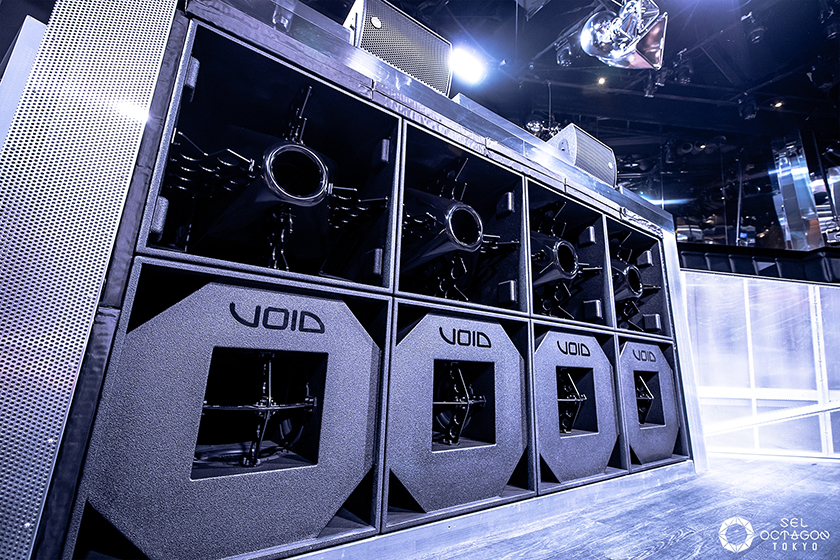 Prior to Avex, Fukuo used to be a producer at dTV and was the head of LINE MUSIC. Though it was a whole new ball game that he was diving into, he succeeded in obtaining the licensing for OCTAGON and was appointed the project leader by Avex president, Mr. Kuroiwa.
The three individuals had never worked together, let alone met before the start of the project. Fukuo explains how they may have never even met each other if it weren't for the club.
Fukuo: "Avex employees had been enjoying the services of different locations in the XEX brand of Y's Table, but as for Nikken Sekkei, I don't think we would have had the pleasure to meet each other if it weren't for this project."
Goto: "Our company had entered the design competition for the club, but we had never even touched a project that was only interior work. It just so happened that Nikken Sekkei had started up a new department specializing in 'activity design,' and had a few successful projects under our belt around that time so we decided to enter. So if it was under any other normal circumstances, we wouldn't have met."
Fukuo: "One thing, was that we were placing importance on spatial development with this one and it was Nikken Sekkei that really helped move the project along. They were the propulsion. The restaurant bar CÉ LA VI that sits on the top of the Marine Bay Sands in Singapore is opening up their first shop in Japan this year and Inatsuka-san is going to run it. The one piece that we were really missing when putting the SEL OCTAGON TOKYO together was the operations part, and I thought Y's Table would be able to make that happen for us."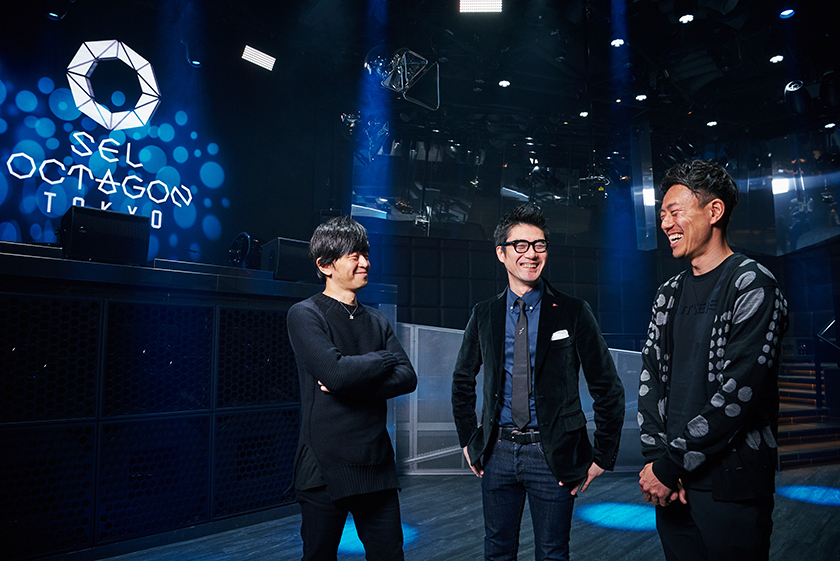 From underground
to overground.
A multi-faceted design that overturns stereotypes.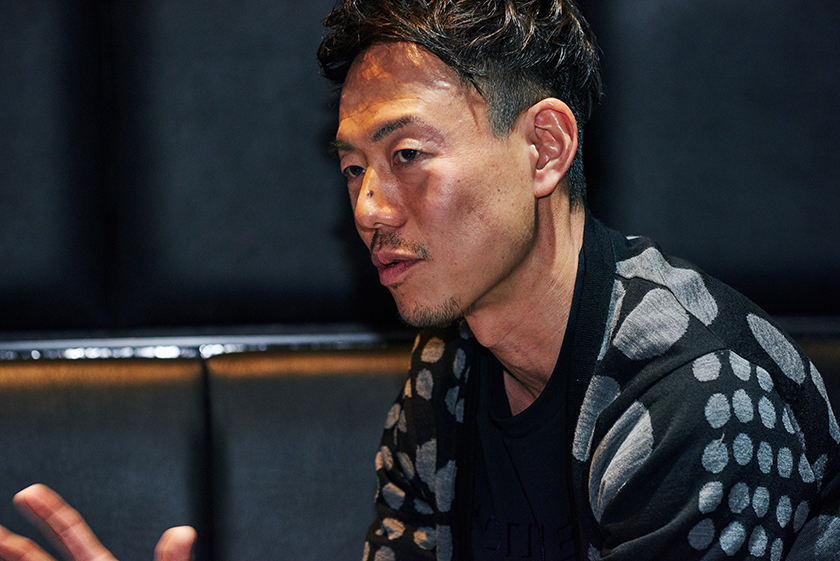 One of SEL OCTAGON TOKYO's strongpoints is the artistic spatial direction that Mr. Goto headed, or the 'Colorful Experience' as it's called. "Adding color to the monotone nights of Japan," is the message behind it. Through providing a colorful array of experiences to whoever visits the venue, it will also open the door to a new and colorful night in Tokyo.
Goto: "The biggest difference between this club and others, is that it's multi-faceted, or rather, versatile. When you go to underground clubs in Japan, you find that the events there are either a closed-off kind of thing, or a full on off-the-hook party. They're usually one or the other. In order for Avex to change the night culture in Japan, SEL OCTAGON TOKYO had to become a club that can accommodate to a wide variety of people. We decided to make it a club that holds a different meaning for each person who comes."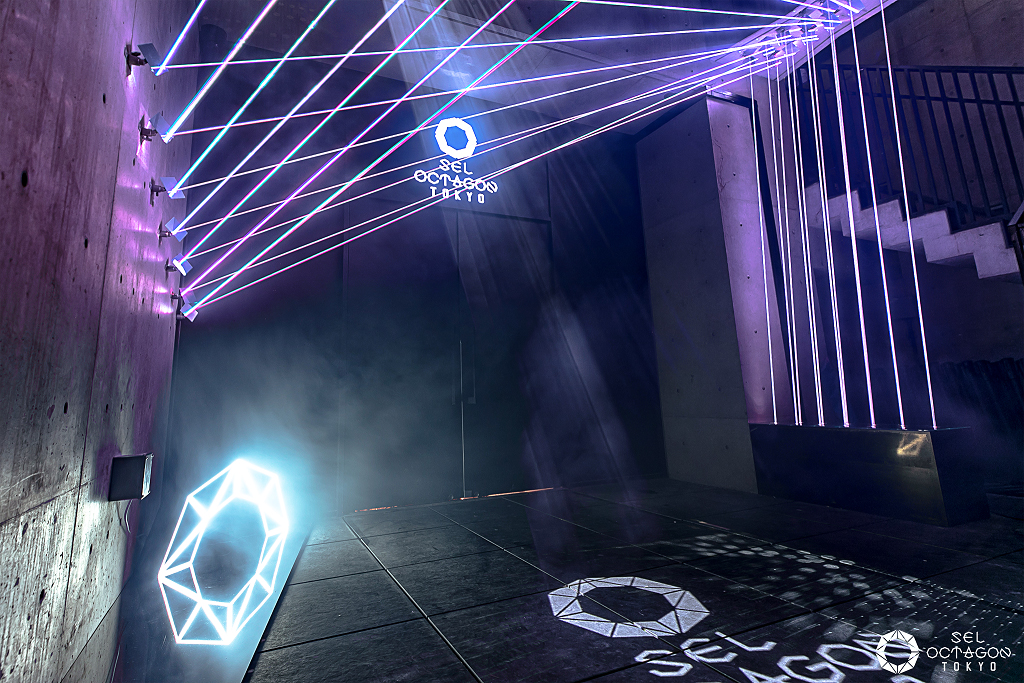 The entrance way of SEL OCTAGON TOKYO gives the visitor a feeling of "anticipation" or "nervousness," the main stage, wrapped in sound and lights represents "excitement" or "wildness," while the relaxing bar is "liberating" and "open." Each space has its own proper theme and spatial direction. The other thing that was important in making the Colorful Experience possible was that it "all be integrated together," says Mr. Goto. In conventional clubs, the interior is done by one company, the sound and lighting by someone else, and the design can often end up mismatched and all over the place. We made ours in a way that each element amplifies the other."
Goto: "We made flat surfaces in order to get the acoustics right, we used mirrors to make the space feel larger, and used other ways to really make the place whole. In order to hold it all together, we had lengthy discussions with everyone involved."
By collaborating with Y's Table, whose brand XEX operates many luxury restaurants, they were able to serve first-class food and create a new food experience within the club. The bar is lined with top liquor brands from around the world, eliminating even the slightest hint of the usual "bars = cheap alcohol" feel. In that respect, they were successful in clearing one of their main themes, which was doing something about the undesirable images that clubs can often give off, in many aspects, not only the things that meet the eye.
Inatsuka: "I don't mean to flatter myself, but when a few companies known nation-wide work together to build and operate a venue, that's got to mean something. Night clubs in Japan are often seen as being very underground and hard to approach. But abroad, they are recognized as social spaces where people can dress up and go to enjoy their night out. Some hotels even have their own night clubs. Clubs are supposed to be simple, but they've come to be viewed different by the general public and authorities in Japan."
When someone comes from overseas and they ask their hotel if there is a good club in town, the team at SEL OCTAGON TOKYO wants hotels to feel reassured when recommending a club, and that it is their club that they do recommend. That is one of their goals. In fact, not long after it opened, they received foreign tourists who came because their concierge at the Peninsula Hotel recommended it.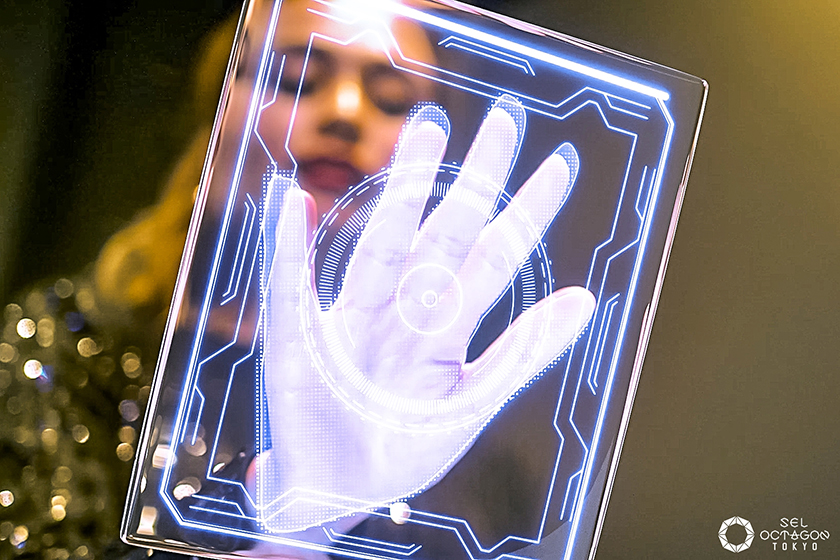 To go a step further, the club also installed finger vein authentication technology to ring up patrons tabs the smart way. Not only does it make for smooth entrance and payment, it also adds to safety and allows users to enjoy their night at ease.
There is no need to worry over the music either, but that should go without saying. Using their elaborately knit network, Avex is able to book first-class DJs from around the country and the globe, and has installed the state-of-the-art sound system VOID. As for lighting, they have brought AIBA on board, the lighting director/technician who has created many a magic at Avex's festivals. This was all fused with the spatial and acoustic design of the venue referred to as "Sound First." In actuality, patrons are able to enjoy the music at its best quality, without the need to yell over the music. Many people have also commented saying, their "ears don't get tired."
Every strategy about the project has flipped the tide on stereotypes about the clubs in Japan, turning "grey to white"—so to speak—making it easier for all walks of life to enjoy club culture.
Surpassing Velfarre.
The pride in being 'dance music revolutionaries.'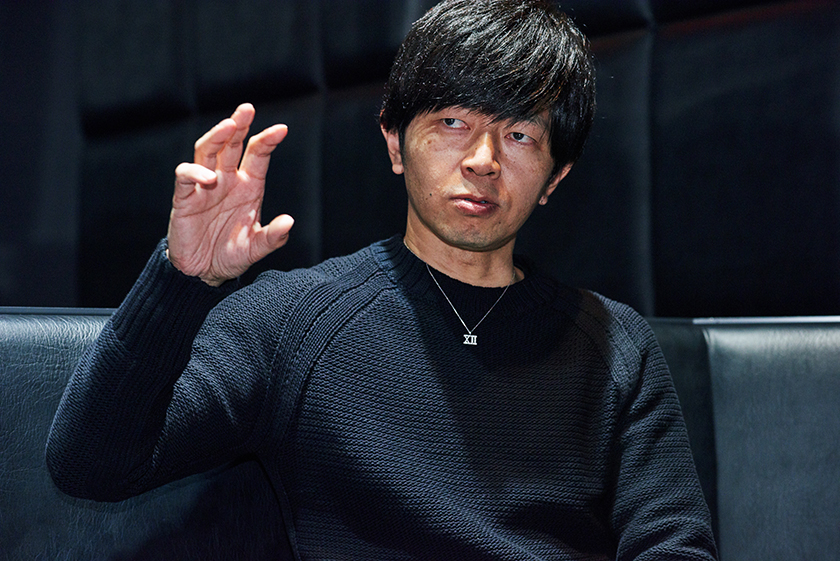 Not only has Avex been the leading company in the entertainment industry since first coming on the scene a full thirty years ago, it has lead the way for many other industries as well. One thing that might be seen as symbolic of their achievements, is night clubs, for instance Juliana's Tokyo, or Velfarre, both clubs that had practically become social phenomena. One can sense that there is, or rather should be a cause, a reason for Avex to open SEL OCTAGON TOKYO at this point in time. Nevertheless, Mr. Fukuo shows no sign of getting worked up about it.
Fukuo: "I think most people would compare this to Juliana's or Velfarre. But we need to surpass them. I would like to show the world what a club suited for this age can be, the possibilities that modern night culture holds. I don't put much thought into going out and grabbing the night club scene by the neck and aggressively throwing the biggest events, I would like people who don't usually go to clubs to come try it out. There will be even more overseas visitors in 2020, and I would like for this club to be like a receiving basin for the coming wave."
If one were merely concerned with immediate interests, trying one's hand in operating a night club might not be the easiest or smartest idea. But if you look at the big picture, its littered with hidden potential.
Inatsuka: "When we first heard in my company that we would be operating a night club with Avex, the room kind of went dead silent. I mean, we produce mainly restaurants and we didn't have any experience with night clubs. It made me look like I was the one without commonsense. But in the long run, gaining that kind of experience will surely add to the company here on out."
Goto: "In that respect, I guess I was the guy without commonsense in my company too. But our company recently has been doing research on how the change in people's actions and choices due to labor reforms affects the workplace. This type of research doesn't seem to be going that smoothly in Japan, however. So when it comes to getting out of that rut, so to speak, we come across the problem where there are many factors beyond the work place and work itself that aren't being designed well at all. This includes how people enjoy their free time and leisure—for instance, going to night clubs. I explained to my company how important it was to touch on things of that nature. I think that, as working styles and lifestyles continue to change, we're going to need more things like clubs, and that they'll be more socially recognized and accepted."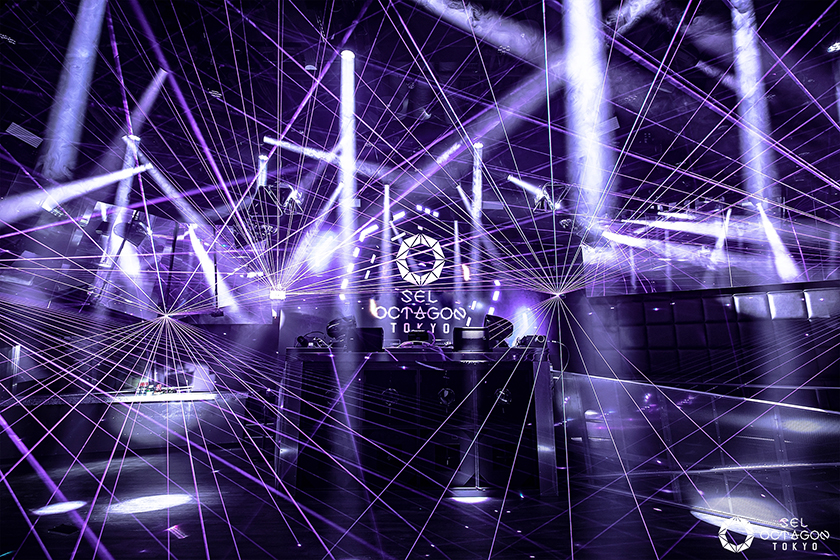 How does this all relate to Avex's tagline "Really! Mad+Pure"? It is safe to say that the opening of this new night club by Avex at the end of the Heisei period, years after the companies near legacy of night clubs in another, is just plain eye-popping.
Fukuo: "I'm pretty sure there were some staff members in the company that wanted to do a night club, but it was just that, our past clubs were so epic that no one wanted to 'go there.' Including me. But now fate has put me in the position I am today and I plan on taking the bull by the horns. Having the weight of the company name on my shoulders and having to make a club that fits the bill of this period in time—after we've gotten over all these hurdles before us, I think the things that were once ridiculed, or seen as absurd, will become the new commonsense. At least, that's what I would like to happen."
Labor reform, the increase of inbound traffic, the creation of a night-time economy; an array of social and economic changes in the times has brought Avex—along with their clear image of what the future could hold for the night entertainment of Japan—and the top runners of several other industries together to give the world SEL OCTAGON TOKYO. Though they are headed into the unknown, when looking at what they are attempting to pull off, one is able to admire the intent that lies at the heart of Avex's mission—pride in being "dance music revolutionaries."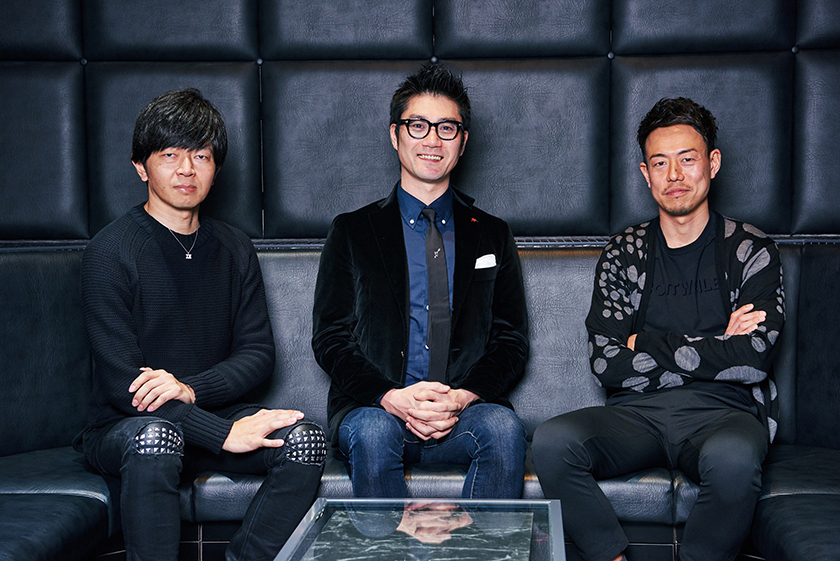 (Photo:Left)
Y's table corporation
Senior Managing Director
XEX Division
Akihiro Inazuka

(Photo:Center)
Avex Entertainment Inc.
Senior producer
Toshiyuki Fukuo

(Photo:Right)
Nikken Sekkei Ltd
Architect
Nikken Activity Design Lab.
Takao Goto