2018 marks the seventeenth year of a-nation, supported by dTV & dTV Channel. Different from other festivals that specialize in Rock, or Hip Hop or Dance Music, this is a festival that you can "attend in heels." It is an urban pop-music event where visitors can come and enjoy freely and in style just as if they were going out for a night in the town. This year was a return-to-routes of sorts, and the festival brought back their circuit style tour, bathing in the welcoming cheers of fans in Tokyo, Osaka and Nagasaki (the a-nation planned to be held in Aichi was cancelled due to Typhoon no.12). What kind of future-ready music festival was Avex able to realize with a-nation - their most signature event - this year on their 30th anniversary? This report covers the first day's events in Tokyo, on August 25th, Saturday.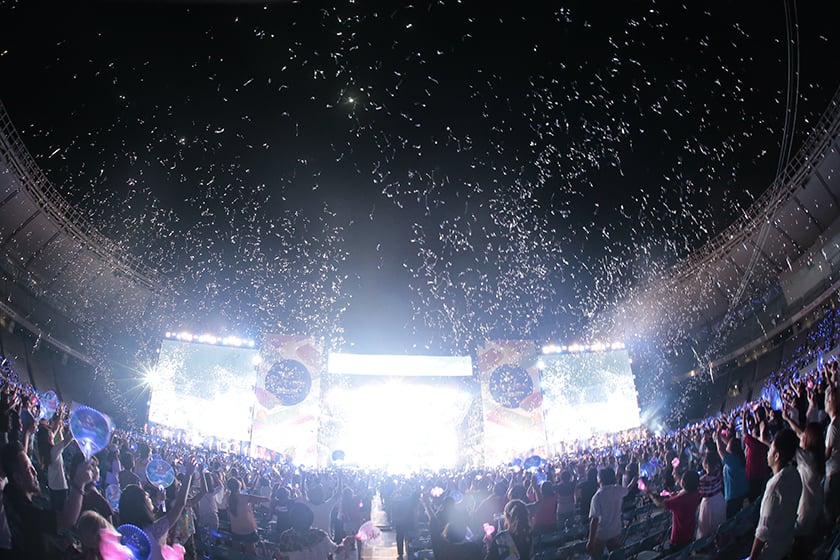 With a deluxe artist lineup
and overwhelming performances,
Avex keeps their hits going
The supervisor of a-nation, Akito Yamanaka, has commented in previous interviews on a signature trait of the event, saying, "There are many events throughout Japan, but a-nation has a totally unique lineup. We have completely shifted to the pop field." This year was no different.
This year's headliner was Tohoshinki (TVXQ), returning to a-nation for the first time in four years. They were the first overseas artists to ever draw in over 1,000,000 people on one tour (in japan), and they held it down this day as well, drawing in fans spanning several generations. They even implemented three-dimensional mobile sets, something you don't see often as music festivals. Every time a close up of the artists' face appeared on the big screen, the stands erupted in cheers and screams. The entire stadium was an uproar as the performers shined like crystals thanks also to some precise camerawork.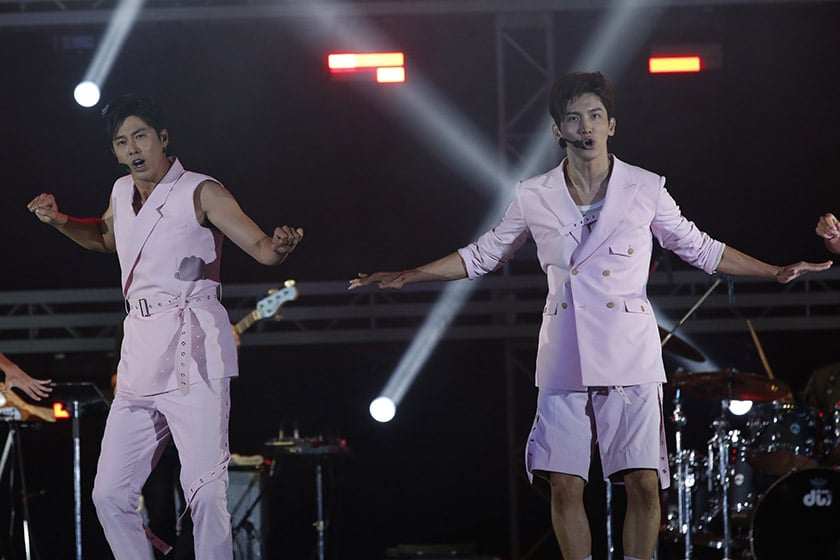 One of a-nations concepts is to appeal to the audience with a taste of new-generation performers who share a similar musicality and performance power as the headliner. In that sense, the opening performance of the new and global boy group NCT 127, comprised of members from Japan, Korea, China, USA, and Canada, re-instilled the charm of live concerts within the audience.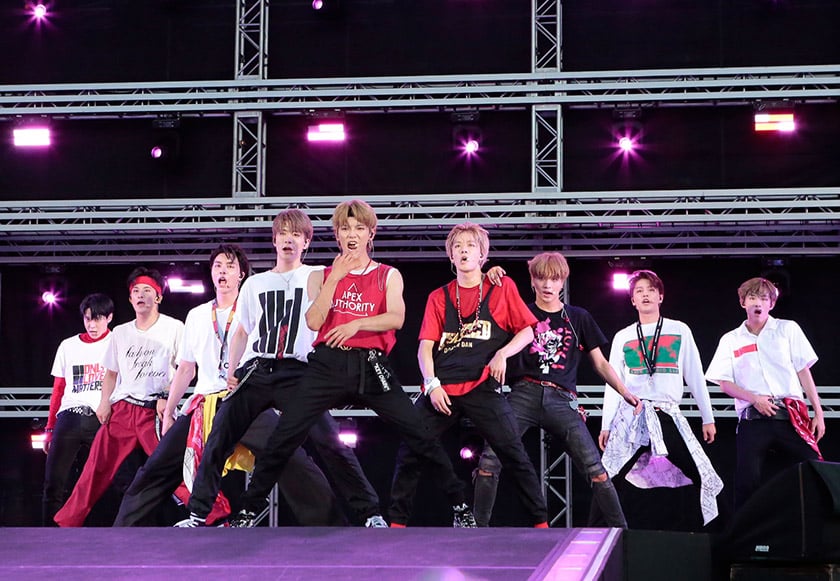 As for home ground artists, the audience was treated to the latest performances by groups like Da-iCE, who has already scored a performance at the Budokan, and Chottokyu (Bullet Train) whose albums, including fourteen singles, have made it to the top ten on the Japan Oricon chart.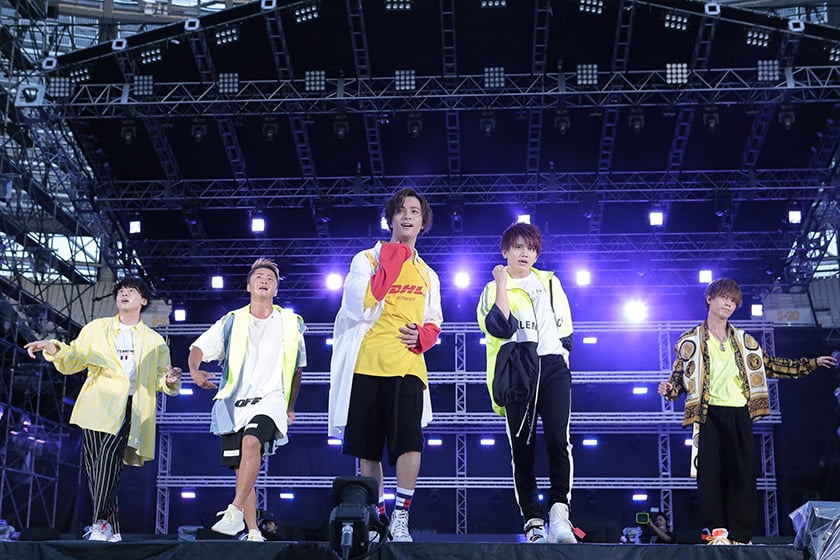 Artists that are not signed with Avex were also booked to enrich the day even more. Amongst the robust lineup of male vocals and dance groups of this day, the duo CHEMISTRY - who got back together last year after a five-year hiatus to pursue solo careers - delivered a clear message to the audience that the R&B-based duo is still evolving. Another male duo, C&K, also rocked the stage for the viewing pleasure of a variety of festival goers.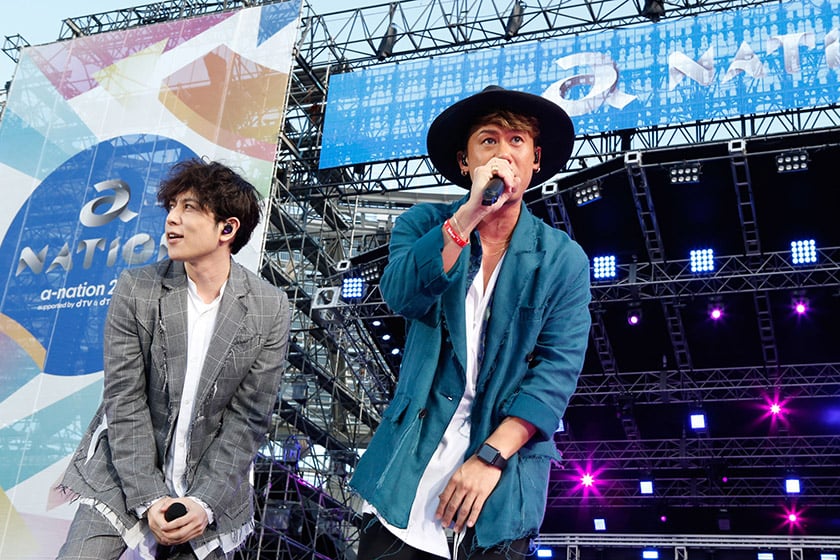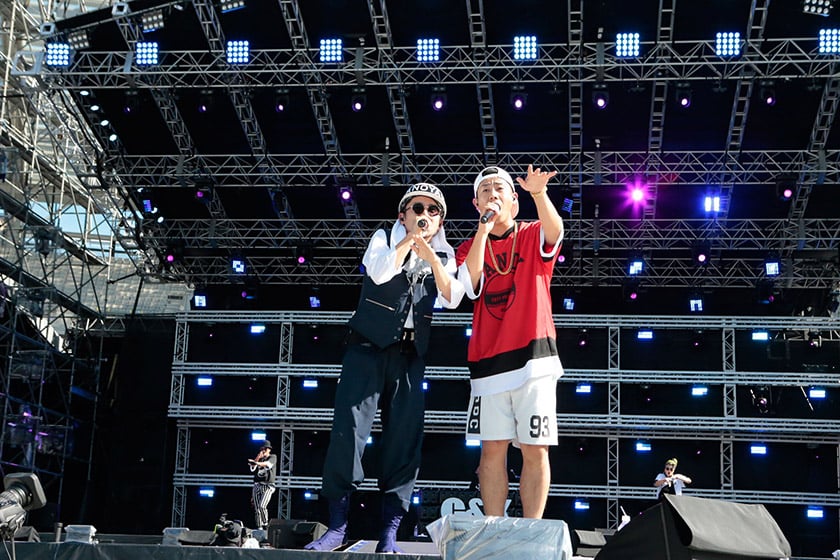 Though the day was mostly full of male groups, the female group BiSH known as "the punk band that doesn't use instruments" really added bold original flavor to the mix. BoA, the female hit maker of the early 2000s such as Listen to my Heart, also put on a spectacular performance with a less modern punch, driving home the dominance of Avex in the industry.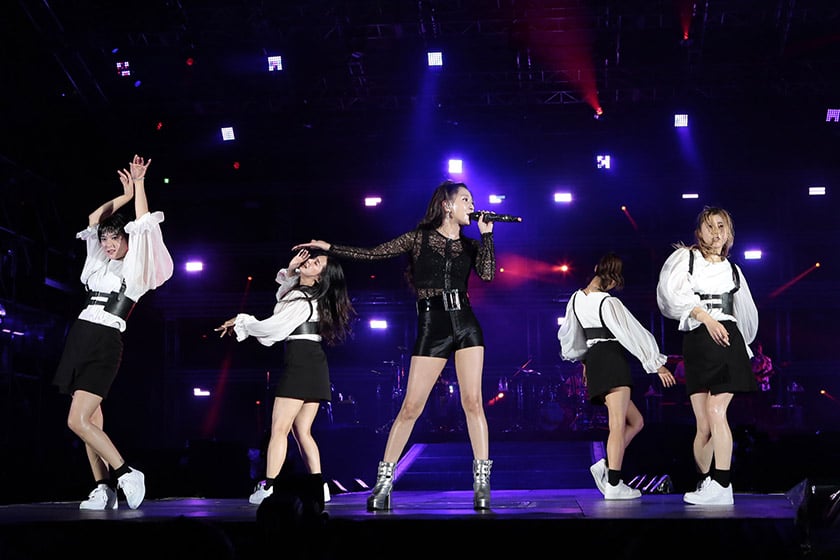 This year was also the first time m-flo performed as a three-person unit since LISA returned to the group after a 15 year hiatus, making fans feel like she had never even left. This trio also really represented the essence of Avex including their intentions of blending dance music into the pop field. This show also reminded festival goers of the contribution the Avex label has made to the music industry.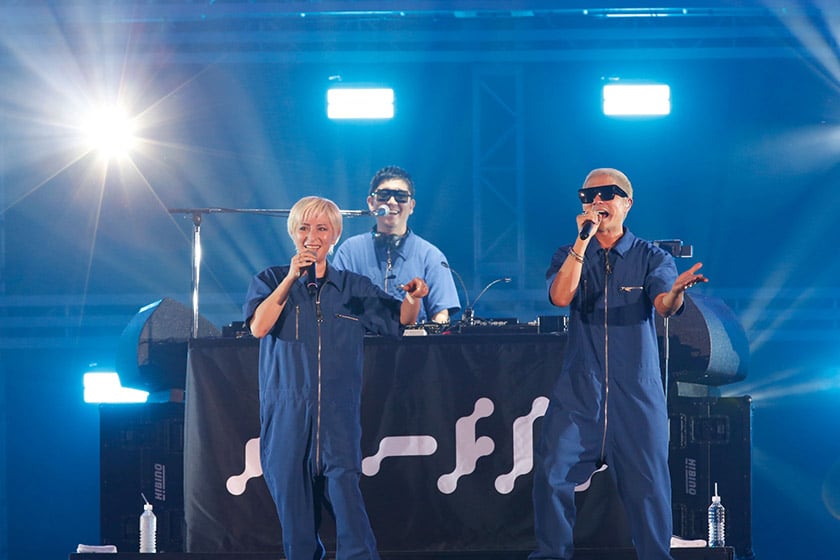 The "NEW REVIVAL" project that Avex has continued over the years is comprised of new and upcoming artists in the industry doing hit covers. Up until now they have gained attention through streaming and music videos, but this year the six artists involved performed on the big stage. These artists included lol, Hitomi Kaji and FEMM, Beverly, Yup'in, and FAKY. Among the covers sung this day, the group lol performed a cover of TRF's classic EZ DO DANCE, showing how well the generations were mixed together for a finely woven presentation all night.
The six groups that are involved in the NEW REVIVAL project are also supported by MAC cosmetics, who takes care of the artists' makeup and visual promotion work. Outside the stadium they had a booth selling new lip products made in the image of those six groups and they also provided fans with chances to win prizes. It was very Avex of them to make such an in-depth collaboration with a cosmetic maker that would make sure the women attending didn't miss the charm of the "new comers."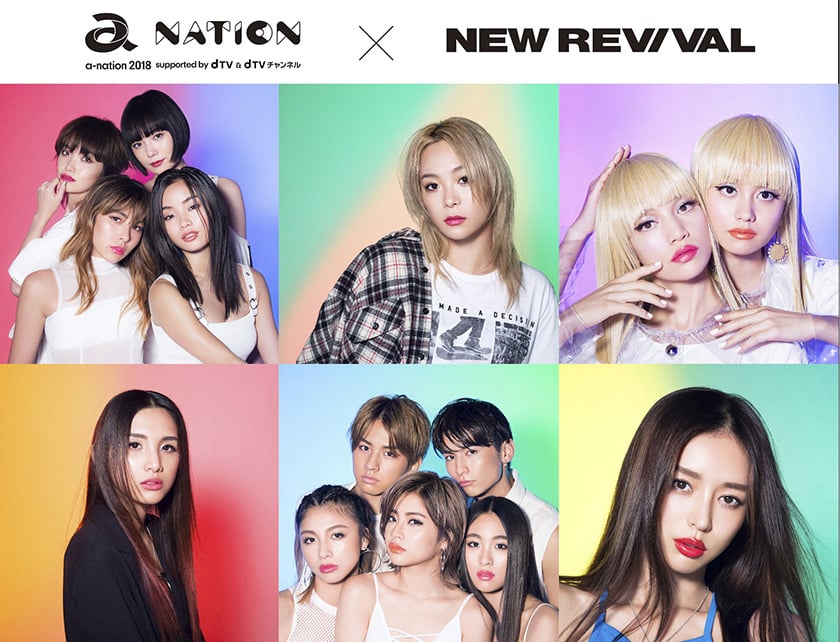 Unique eye catchers
and booths
full of a-nation-ism
The booths were also very representative of a-nation offering many beauty and inner beauty products such as MAC. Even the hair-arranging booths had lines forming. Usually when you think of fests, you think of booths that are more natural or have a nature-loving aura to them, but the ones at this stadium seemed more like extensions of the cities. With powder rooms that offered patrons cool flowing air to help combat the heat of this summer day, many women were diligently touching up their makeup. This was also a very a-nation-esque sight to see. Where ever you went, it was easy to see why a-nation is more like a concert you might stop by on a night out in town as opposed to a full-on festival.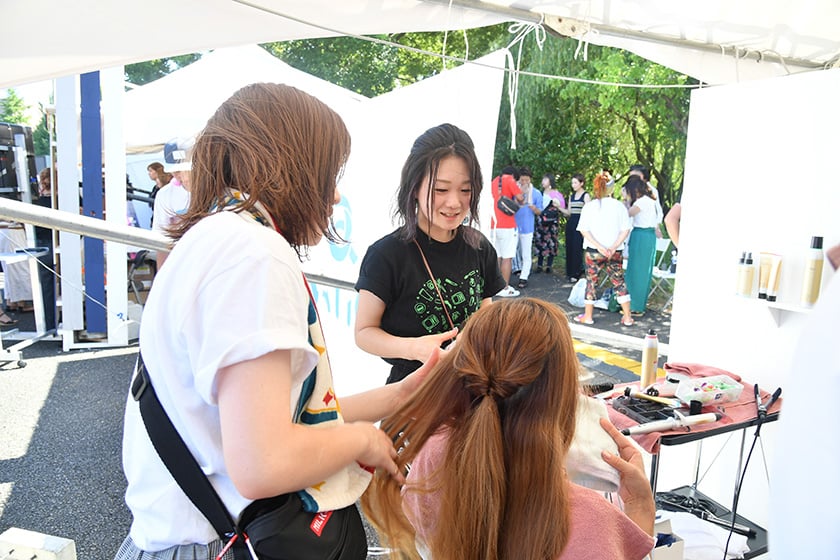 Another unique factor was their trash separation area, the ECO STATION. The staff called out to festival goers and offered to trade a commemorative ribbon for their trash. The corporate booth area and the food court were kept very clean in this way and is something you hardly see at the trash areas of other festivals. This method was incredibly fresh and left people with a good impression. It is unclear as to whether this style would work at a festival where even more food and drink is consumed, but it is definitely worth consideration.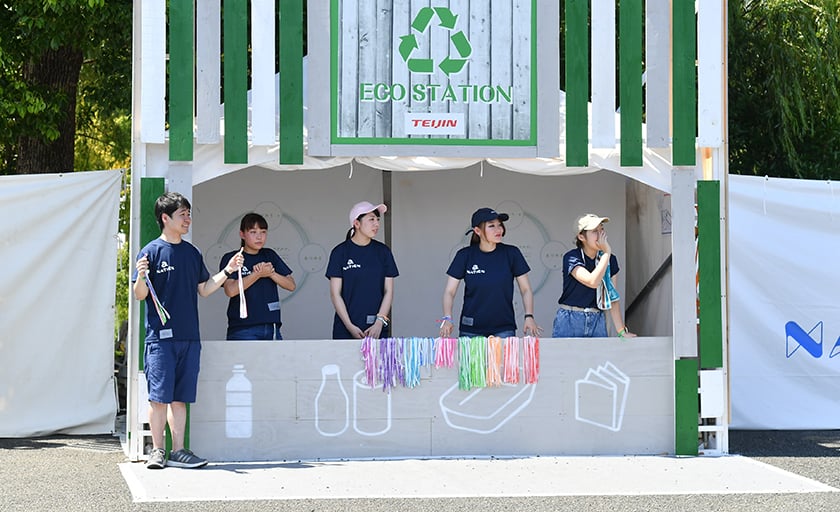 They also set up a dTV & dTV Channel booth at the venues. For the Tokyo show, dTV Channel - a video streaming service co-provided by NTT Plala and NTT DoCoMo - offered live video feed featuring surround sound through the latest technology of Dolby Atmos. This project was actually in fact the first in the country. At this booth, they provided visitors with a "touch and try" experience using Dolby Atmos technology and many lined up to try it out. They also held a lottery offering a chance to win signed merchandise from the artists performing that day. Overall it was a successful booth as most visitors tried out the "touch and try" and entered the lottery as well.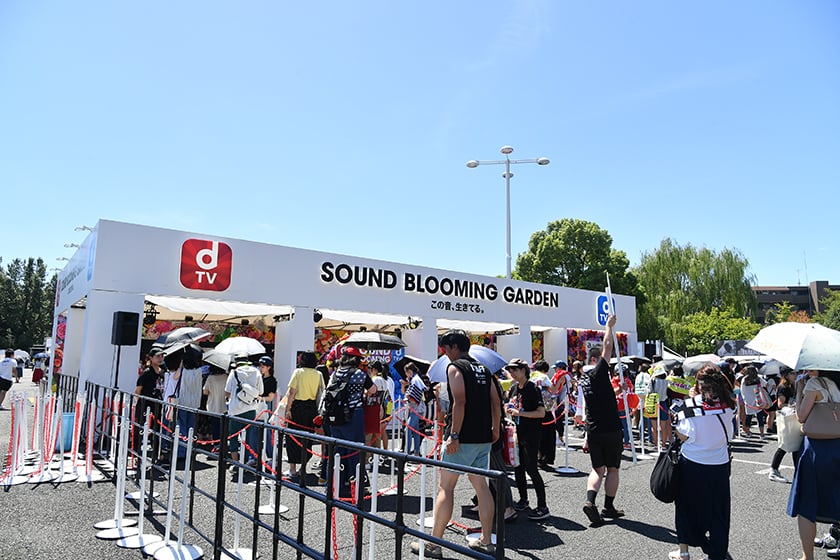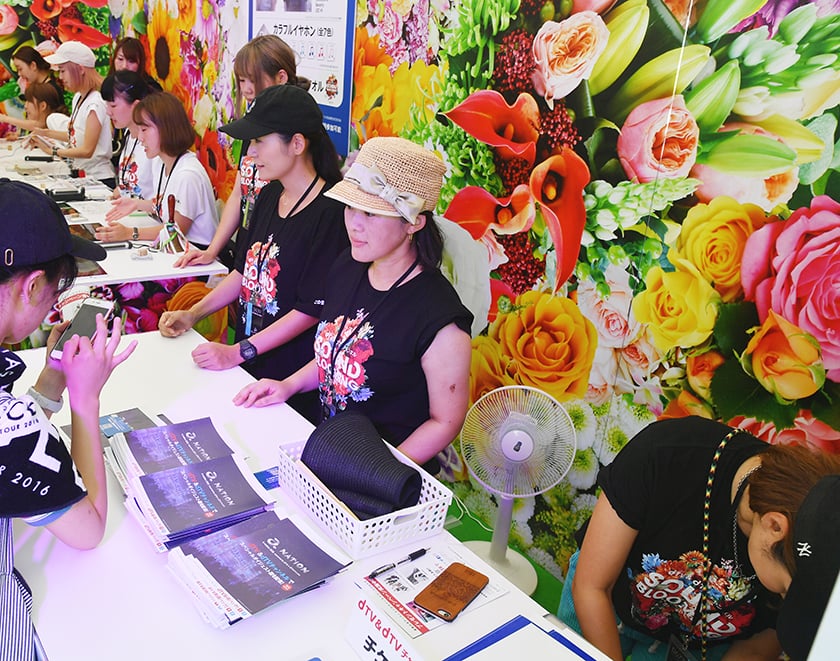 Using technology and
expanding experience-base value
During the festival, technology was utilized in a unique way to promote up and coming artists thanks to some interesting strategies. For instance, a-nation made an Augmented Reality (AR) app that starred artists from the NEW ARRIVAL project as their own augmented characters. There must have been some people who actually tried out this AR app while at the venue. Pick up artists continued to perform well past evening hours and the stadium - both arena and stand areas - were completely full. Most people were focused on the show, but it became a very fun tool for enjoying the originality of artists by linking them with pamphlets handed out early in the day that included their bios and other information.
Performances were given on both the main stage and the "community stage," making for an almost seamless transition between performances. Each performing artists had a condensed set-list that even first-time viewers could pick up on. These things, as well as the amazing collection of compositions overflowing with popularity and 16 years of knowhow, they all shine through as signature characteristics and the originality of this pop-music summer event that you can't find in any other festival or event.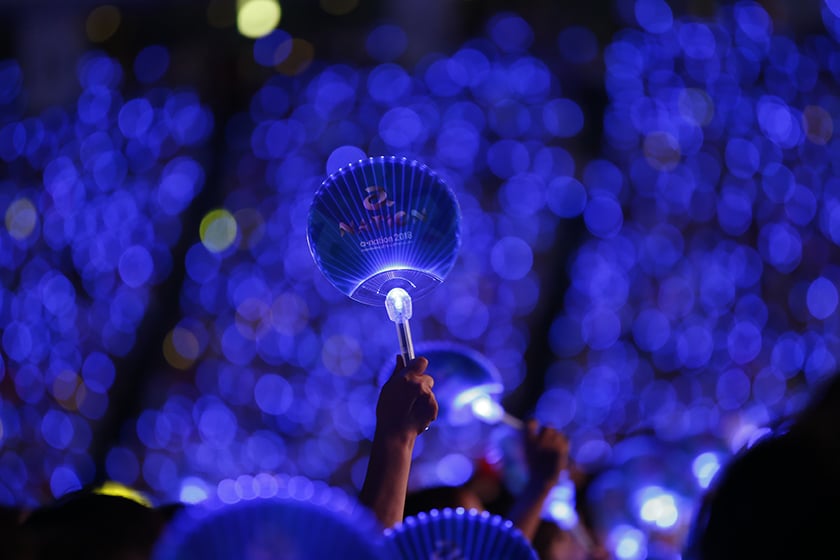 As Avex attempts to convey the strength of their hits and the color of their artists to the next generation, they are using some of the latest technology like AR to present their recommended next-generation arts to the world and it truly felt like a-nation was surpassing all of its past events using realist strategies this year. On the other hand, it hasn't changed either, regarding the fact that it is a massive live event whose lineup motivates festival goers, while at the same time offers them an easy-to-attend urban festival.
Their choice to stream live with dTV Channel in Tokyo, and dTV in Osaka was a collaborative approach that gained attention. Live streaming has become a trend in recent festivals throughout the world and at a-nation, there were people who saw the live streaming of the Osaka show and got even more excited for the Tokyo show, while there were also fans who couldn't make it to the concert, but enjoyed an "at-home festival" in high definition and great sound.
To the fans, it is a festival as well as a stage full of intricate performances and the latest technology to be dazzled by. To Avex and corporate sponsors, it is also an opportunity to test technology. A-nation t will surely continue to be a place to renew and redefine Avex-esque music and performances - symbolized in the artists of that year.