2018 marks the tenth year since the death of Fujio Akatsuka, the famous manga artist and creator of THE GENIUS BAKABON. And now, a decade later, the manga has been brought back to life as a late night TV anime, by director Toru Hosokawa. LATE NIGHT! THE GENIUS BAKABON, as it is called, will be aired by TV Tokyo at 1:35 AM, starting Tuesday, July 10 (Tue), fifty-one years after the creation of the original. Exactly why have they chosen to air the new anime late at night? Watching the promotion video will answer that question. To find out more about the anime's background, and the reasons for its edgy, borderline unairable jokes, we sat down with Yohei Fukui from the Anime Production company Pierrot Co., Ltd., and Genta Ozaki from Avex Pictures' Anime Production Department.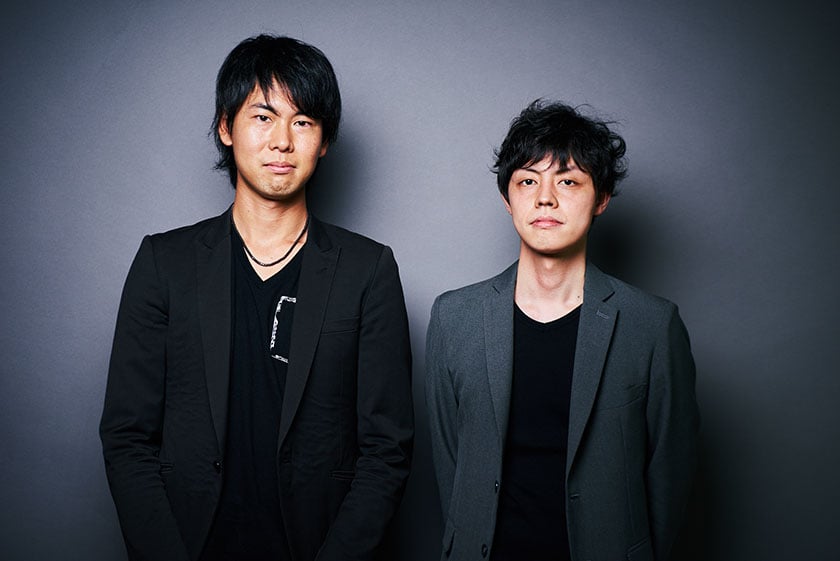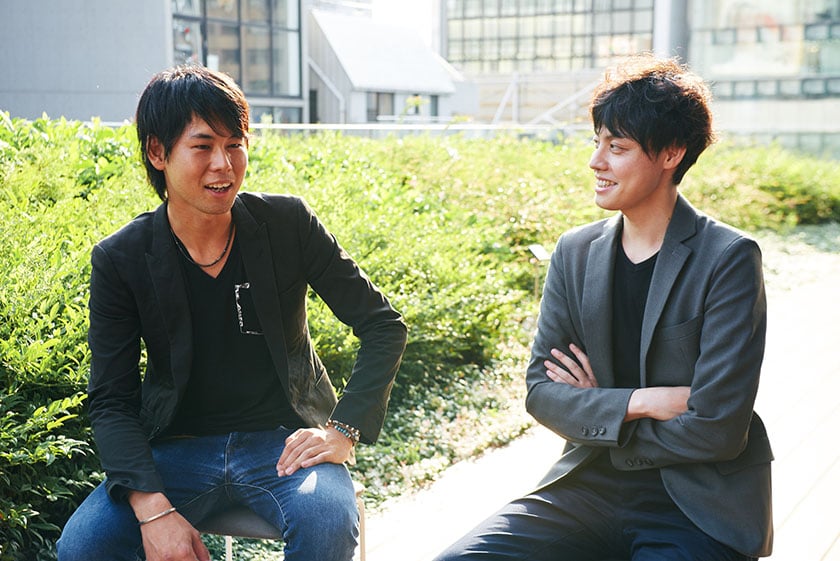 An immense project conducted
by Fujio Akatsuka fanatics a decade
after his passing
Just as many events were held last year to celebrate THE GENIUS BAKABON's fiftieth anniversary, the airing of this late night anime version celebrates the tenth year since the passing of its creator, the late Fujio Akatsuka. Rather than tears, smiles and laughs are much more suitable in paying homage to a manga often referred to as the "king of humorous manga." This was the reasoning behind the initiation of this year's project, conducted by two of Akatsuka's biggest fanatics, who have gained a mutual trust through years of working together.
"We've worked with Fujio Productions for many years, working on THE GENIUS BAKABON and Osomatsu-kun," says Fukui. "There was quite a gap in there, when we didn't have the chance to work with Avex for a while, but around 2012, we teamed up with them once again to work on the animation of Shirokuma Café. For that series, it was Toru Hosokawa who directed and wrote the screen play. Since then, Avex would get together frequently with our boss and the people at TV Tokyo to discuss what interesting thing they could do next. From those talks came the current project, LATE NIGHT! THE GENIUS BAKABON.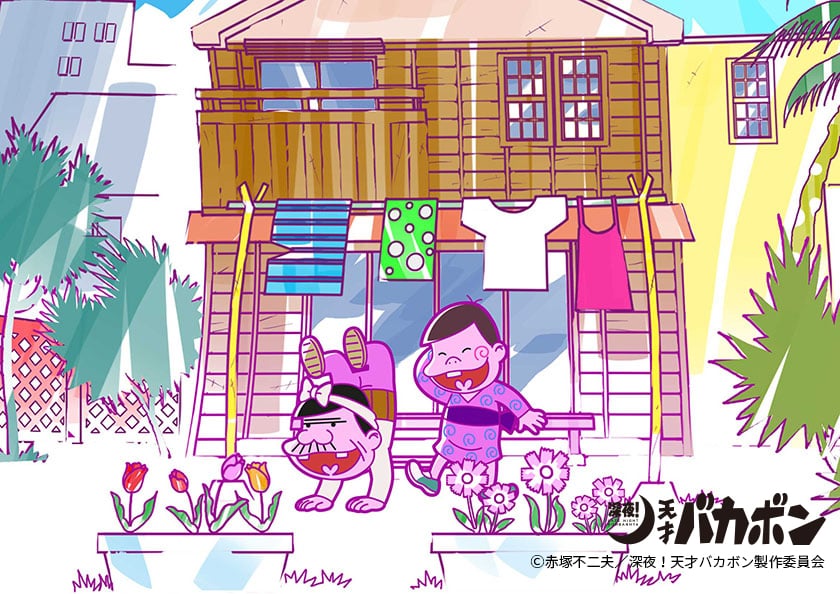 "Practically everyone knows THE GENIUS BAKABON, so it's a real honor to be working on this project. And there is no room for error," says Ozaki. "I really tensed up the first time I heard about the idea. It's the thirtieth anniversary of Avex and the tenth year since Akatsuka-sensei's passing, so the time was just perfect."
Fujio Productions, Daiichi Shokai, TV Tokyo, Dentsu Inc., Shogakukan Publishing and Pierrot came together to found the production committee for this project. They then invited Avex on board to help support the commercializing and music production, and to take care of the video packaging, and distribution for dTV. Lead by Hosokawa, committee members gathered to talk about what kind of stories would be best. Ozaki also participated in these discussions. The one thing that all participating members shared was a mutual passion for both Fujio Akatsuka and his masterpiece THE GENIUS BAKABON.
"I've wanted to animate THE GENIUS BAKABON and Osomatsu-kun for the longest time now," says Fukui. "Thanks to the hands of many, Osomatsu-kun came to be an unbelievably big hit. You really had to hand it to Fujio Akatsuka for coming up with such a story and such great characters. I couldn't help but appreciate what he did. So I really dug down and rolled up my sleeves in order to do this remake of THE GENIUS BAKABON. And after many talks with everyone, we came up with the idea for this animation — LATE NIGHT! THE GENIUS BAKABON."
"Toru Hosakawa has directed a variety of humorous pieces," added Ozaki, "and has even made stage versions of THE GENIUS BAKABON and Retsuragon, also created by Akatsuka, He is the best person to go to for projects like these. So I just kind of hopped on his boat and entrusted him with the creativity. I really had no doubts about whether the viewers would get the jokes or not... it was surefire."
"This project wouldn't have even taken off in the first place if it weren't for Director Hosokawa," stressed Fukui. "Everyone involved had placed their trust in the fact that he really was infatuated with Akatsuka-sensei."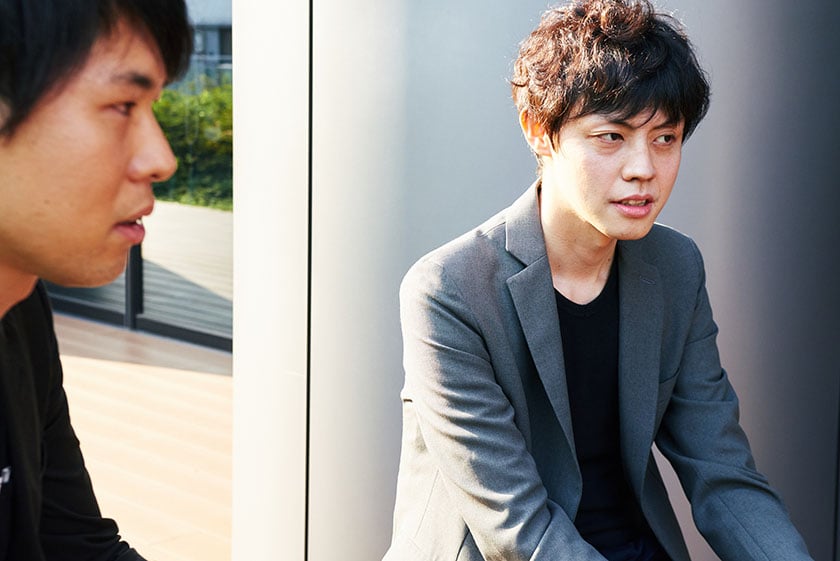 Leaving the venom undiluted
and edges unsmoothed
— the decision to go late night
The most important factor, the keyword for this animation project, was "late night." As a family oriented anime that would, in any normal circumstances, be aired in the evening or morning hours, it was a difficult decision and a real gamble to choose to make it a late night show. Behind this decision, however, lies the determination, strategic planning and hope of the production team.
"THE GENIUS BAKABON had been animated numerous times, but this is the first time it has ever been aired in the late hours of the night," explains Ozaki. "With THE GENIUS BAKABON, plus Toru Hosokawa, plus 'late night,' — I don't think you could find a better match for such a project."
Fukui commented on the original, saying, "I don't think you can really get the anime's edgy side across to viewers by airing it in the evening or morning hours. Of course we would love for it to be seen by many generations, but we're cutting it real close regarding airable content, and we think that by making the episodes as interesting and funny as they should be, we'll get, or at least we trust that we'll get a lot of young viewers. It was a pretty natural decision once we realized we didn't want to dilute what we were trying to get across."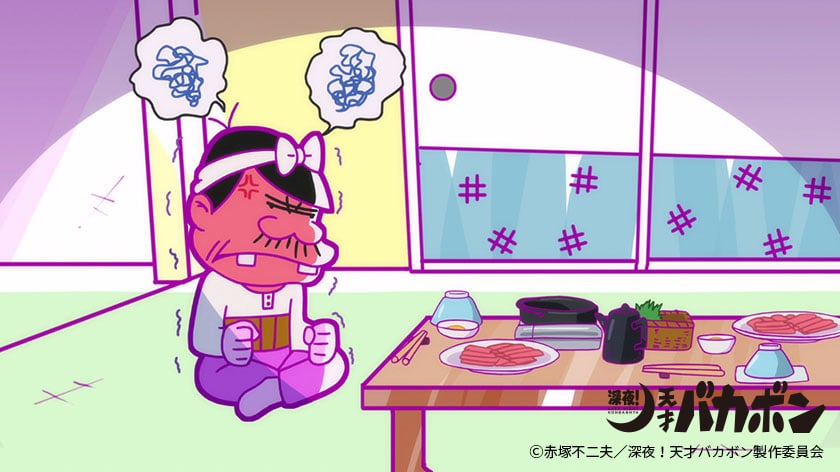 In the promotion video for the series, Bakabon's Papa says "Who cares about broadcasting ethics," to which Bakabon adds, "good boys and girls shouldn't watch," while Mama jumps right in to say, "there are some things that being late night allows you to do." Pretty sketchy, huh? A quick look at the short promotion video and viewers will most certainly be struck over the head with nostalgia and high expectations for an epoch-making show.
"Bottom line, we just hope viewers enjoy the show," says Ozaki. "That's the whole reason we chose to make it."
"The 'king of jokes and gags' made the story and characters, so viewers will laugh and have fun regardless of whether we push it on them or not," added Fukui. "And once the 'venom' starts to setting in, you're just whisked away to Akatsuka World."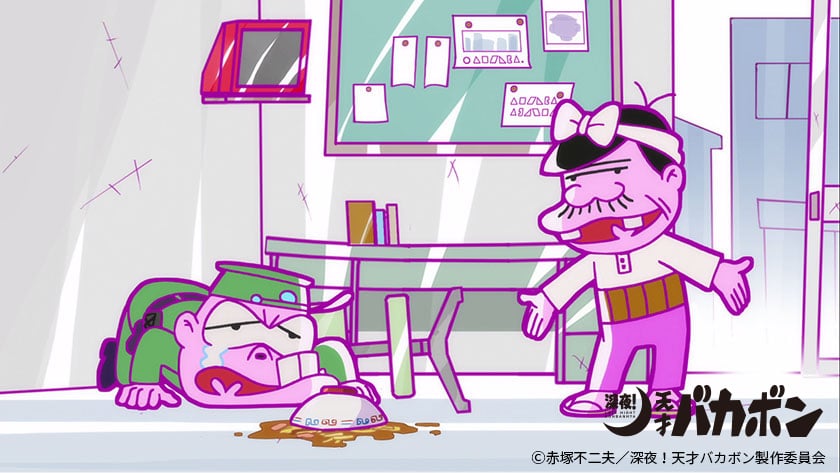 However, these venomous jokes and dialogue, as they explain it, are made possible thanks to the characters of this special world. In fact, they only work because of these very characters. Anyone else, and they probably wouldn't be allowed. It is this attribute and character building made by Fujio Akatsuka that instills the show with such charm and allure.
Promotion has also been done in a very unconventional way for this project.
Ozaki explains, "Usually with new anime, you make a promotion video, some posters and what not... but with this one, we purposefully left out the depiction of the characters' faces for our first video, and we still have much in store to release just before the airing date. I think this is a pretty rare way of doing promotion for anime."
"The show stays true to the world created by the original, but with a completely new story that the viewers will be surprised to see as they watch the first episode," added Fukui. "It would be alright to touch on the story in our promotion if it was more aligned with the original, but since everything will be uncovered for the first time when it is aired, it would take away from the viewers' enjoyment if we were to give away the story. So we tried keeping prior information to a minimum and focused more on visuals and music."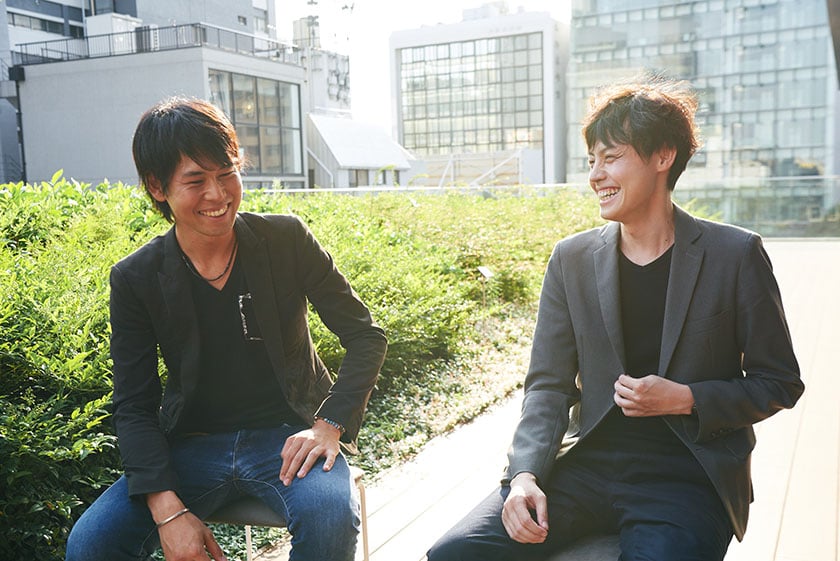 Uncovering the significance
in watching in real time
and what humorous anime has to prove
Choosing to do a late night show, may seem like a big gamble at first glance, but when it comes to truly getting across the charm of the show as best as possible, there is really no better strategy. This decision even includes a hidden message for the anime and TV industry as well as viewers; the significance in watching something "real time," — something that has been forgotten in recent generations.
"We'd much rather you see for yourself in real time, as opposed to hearing about the anime beforehand through Twitter or something," explains Ozaki. "I really think you'll be able to share more laughs and surprises by watching it in real time."
Fukui agrees. "It includes a lot of current topics," he explains. "You might think a certain news topic has absolutely nothing to do with this show, but you'd be surprised to see how much is actually in there... at least, that's what we're aiming for."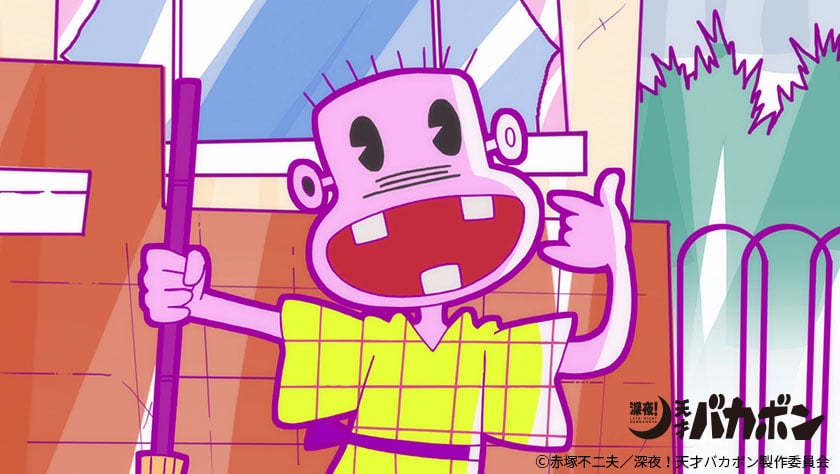 At this point in time, it is impossible to forecast just how intense the response will be after the show starts airing. One thing we can say for sure, however, is that LATE NIGHT! THE GENIUS BAKABON will show us just how much of an impact humorous manga and anime has had on Japan, and reconfirm the people's continuous love for the genre.
"We want to prove to everyone, through this piece, that humorous anime still has it," exclaims Fukui. "Unlike popular 'idols' and Japanese 'Moe' culture, anime loaded with jokes and gags has a hard time catching on overseas. It's a difficult genre and only a few shows have really done good in sales. We would love it if we were able to show the foreign audience that anime comedy is also a lot of fun."
Ozaki also points out that "just as Avex's motto 'Really! Mad+Pure' suggests," they also want to "take fooling around seriously." "As long as we're in the creative art business, we don't want to do anything half-ass. That's not interesting. I think that being serious and absurd at the same time is what really links this show and the motto of our company together."
Nowadays, there are more and more restrictions on things like media, and political correctness has infiltrated society more than ever. The receiving side has also come to shrug their shoulders, saying "well, that's just the times we're in." But, THE GENIUS BAKABON has come back, making a surprise yet intentional appearance in these very times. Its characters and dialogue, full of venom and thorns, may just prove to go beyond expectations and instill viewers with pleasure, putting their hearts at ease. Real-time viewers may just find themselves cheering on Bakabon with a smile upon their face.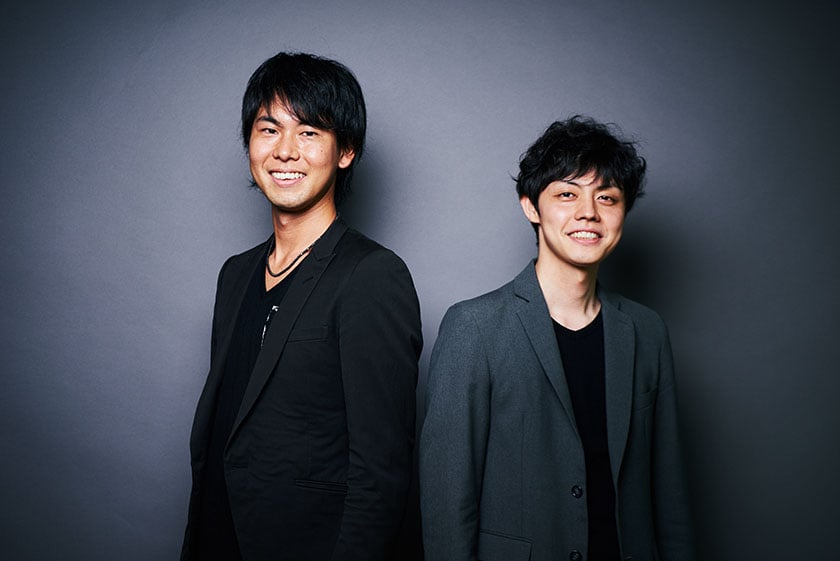 (Photo:Left)Avex Pictures Inc.
Anime Production
Visual Production 1
Genta Ozaki

(Photo:Right)Pierrot Co.,Ltd.
Business Development Team
Yohei Fukui