STAR ISLAND 2018 was held on May 26 (Sat) at a specially prepared venue at the Odaiba Seaside Park in Tokyo, marking its second year of "future hanabi entertainment." Despite last year being its world debut, not only was it completely sold out, it was also specially selected by the judges of the Cool Japan Matching Forum Award as a new form of entertainment in Japan worthy of world recognition. With all eyes on it after receiving rave reviews last year, what intoxicating and mystical performance did STAR ISLAND have in store for its 15,000 visitors this year? Let's take a look and find out.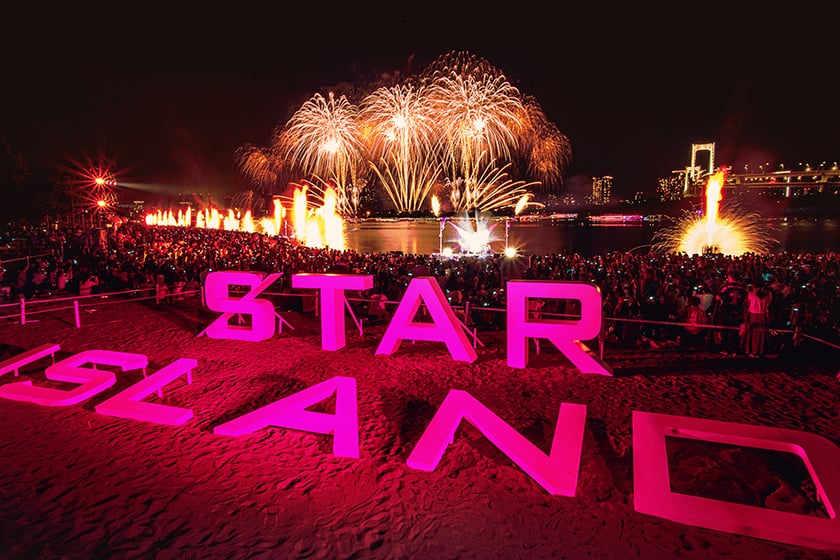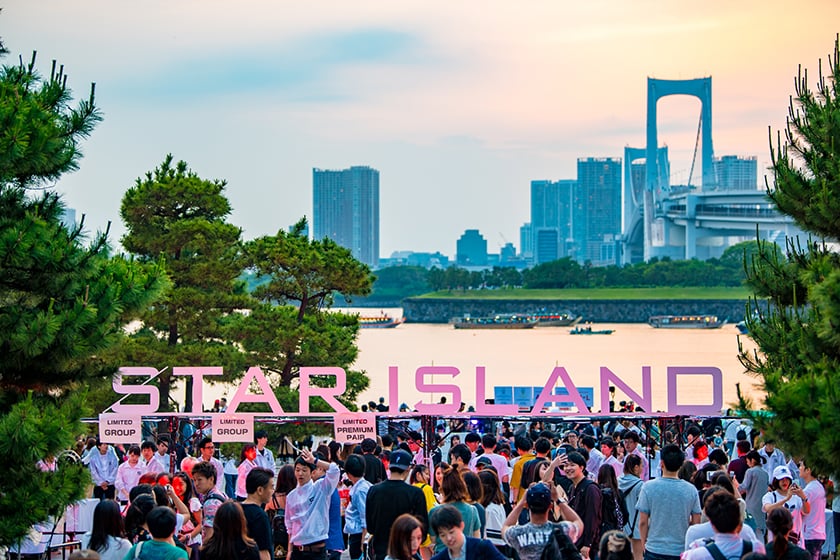 Visitors enjoy chilling out and relaxing in the open and spacious venue until the sun goes down.
The theme for this year was "One," and was split into four different chapters, Earth, World, Chaos and Love, as opposed to its theme "Seasons" last year that featured different musical arrangements for each chapter. This time it took on the mission of telling the grandiose story of our Earth, from its birth to the demise of the human race, instilling viewers with a completely different feeling of excitement than that of last year.
The event opened at 4:00 p.m. As it drew closer to opening time, the nearest station, The Odaiba-kaihinkoen Station, was overflowing with what seemed to be STAR ISLAND-goers. Upon further examination, the majority of the crowd seemed to be women. Not only women, but "adult" women dressed like they were ready for the beach. As you approached the venue entrance, however, you gradually saw more and more young couples and families.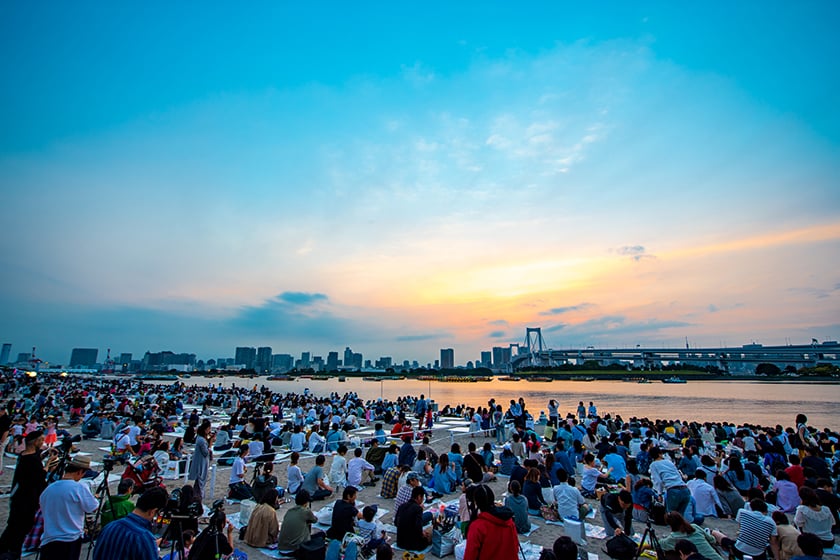 Upon entering, you are welcomed by a vast open bayside beach and soothing music. This "Chill Out Time" featuring 3D sound is made possible by 3D Sound Designer Katsuyuki Seto.
As you walk through the venue you're met with unique and original performances by members of the Performance Creative Company ICHIZA. In every corner of the park you can find people wowing event-goers with juggling, wheel gymnastics, acrobatics, jumping stilts, and much more.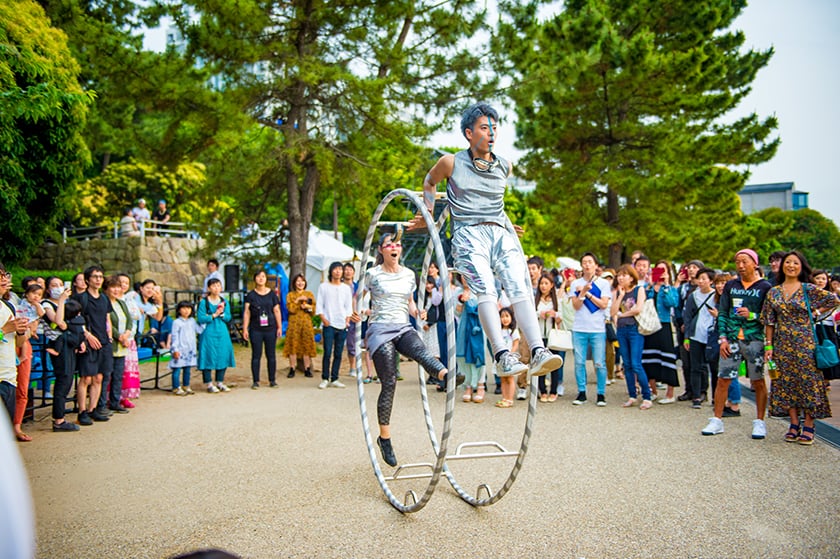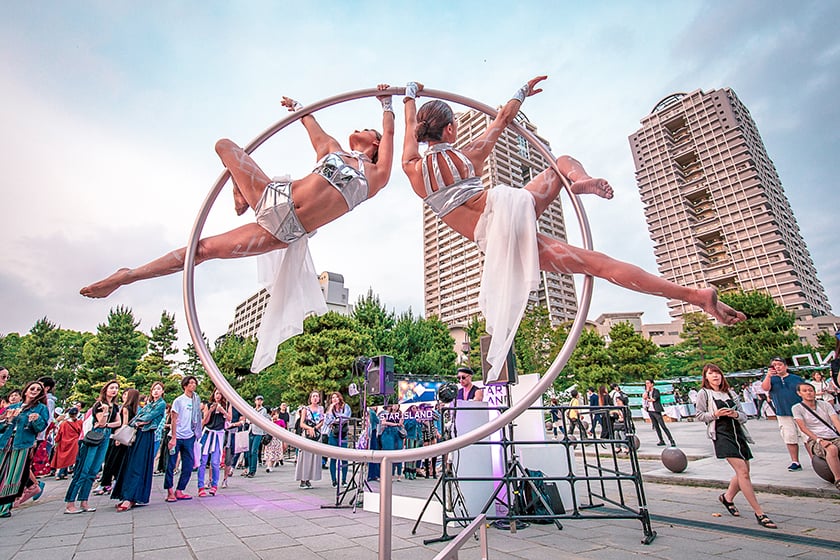 A fabulous roster of DJs including SHUYA OKINO from KYOTO JAZZ MASSIVE and SHINICHI OSAWA from MONDO GROSSO had visitors dancing with tunes perfect for the beach. Enjoying music in a wide open space like Odaiba and not in a club, is a special treat and a world of its own.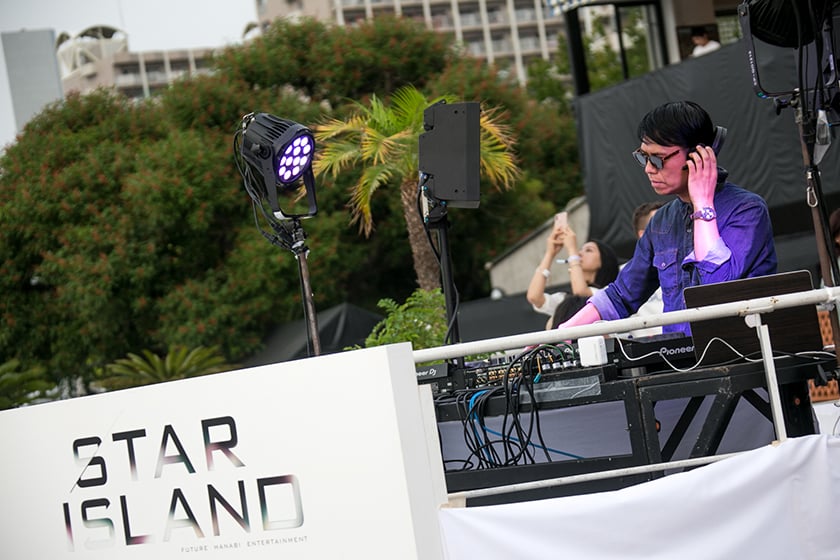 Everyone was enjoying the chill time at the beach in their own way, snacking and drinking while waiting for the fireworks or having family time at the Kids Area. This special pre-show time is also what gives STAR ISLAND its charm.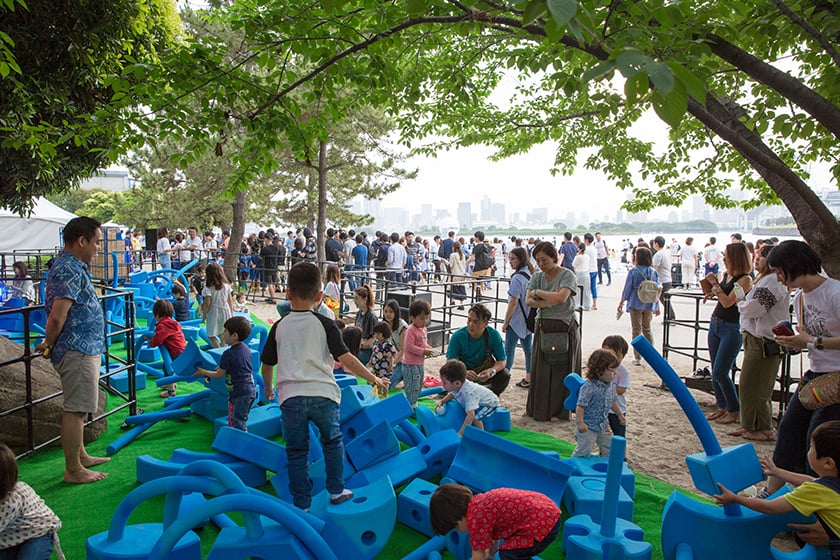 Earth, World, Chaos, Love:
A Marvel of Synchronicity
This year featured four new seating sections — the LIMITED STAR SEAT-BED for viewers to enjoy fireworks while lying down, the LIMITED STAR SEAT-DINNER for those who want to enjoy the show over dinner, the LIMITED STAR SEAT-PAIR, recommended for couples, and the LIMITED STAR SEAT-GROUP for friends and families that really want to get down, accommodating to even-goers with even more ways to view and hospitality than last year.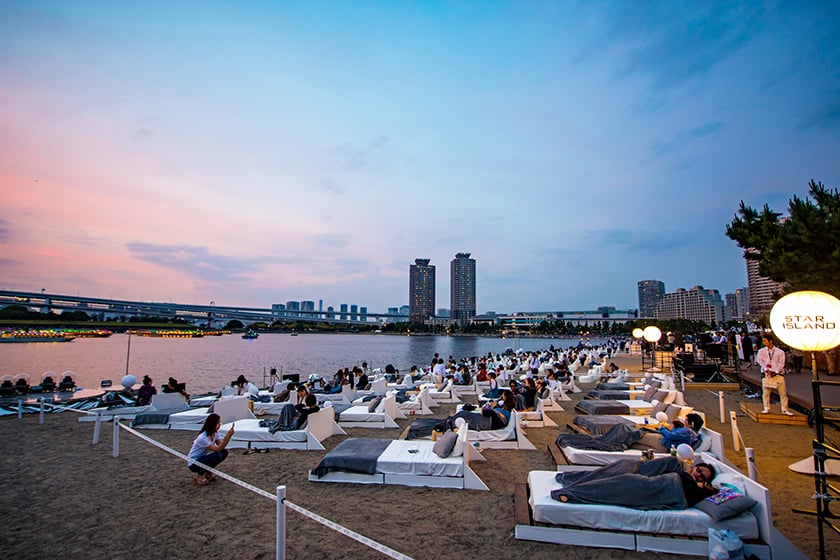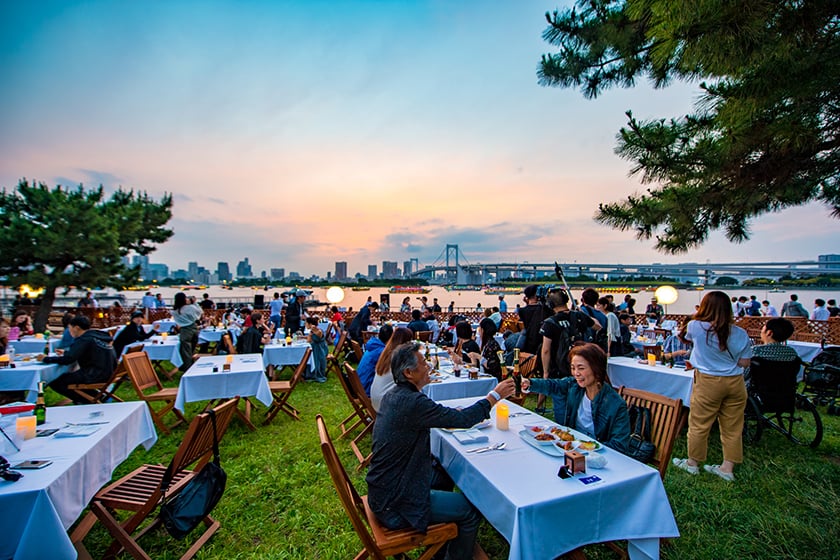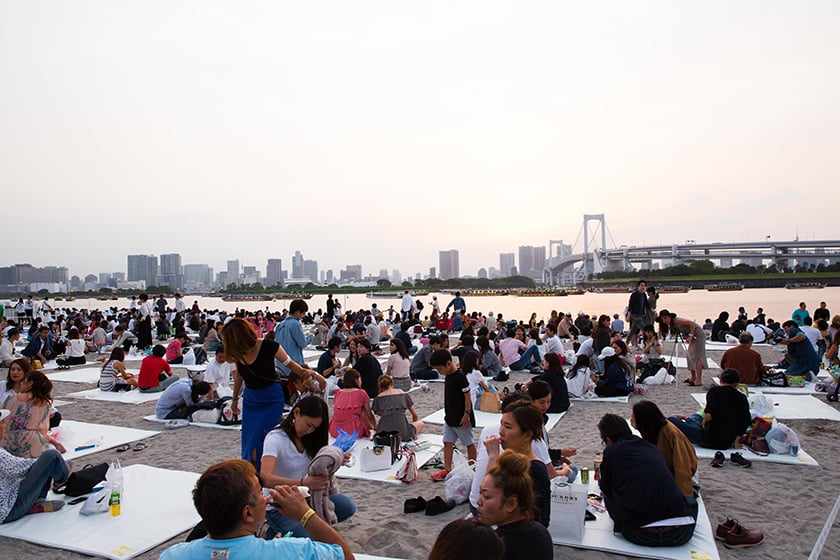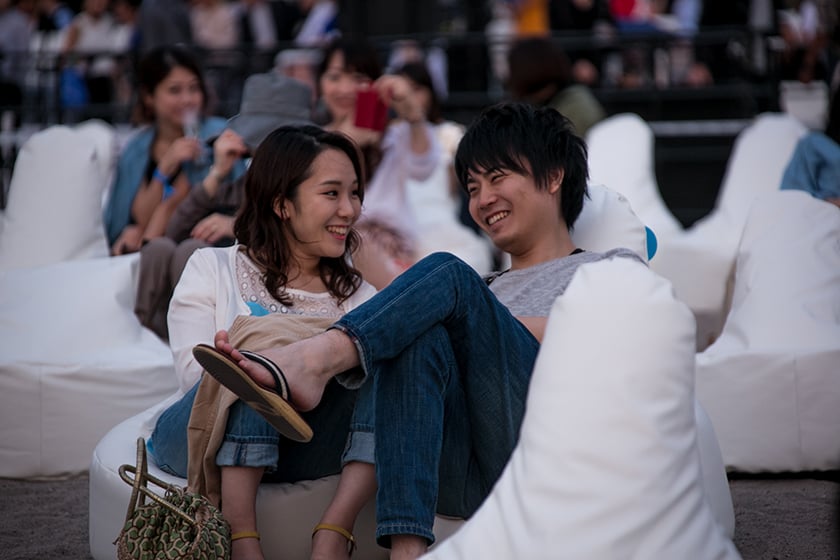 At precisely 7:20 p.m., the STAR ISLAND HANABI SHOW commenced
Over 300 speakers placed in precise locations throughout the venue gave visitors an overwhelming and one-of-a-kind 3D sound experience. Matched perfectly with a light performance by lighting artist AIBA — a specialist active in the major festivals of the world — you could feel the intense rise in excitement and anticipation in preparation for the ensuing show.
Next was the appearance of water performers off the coast and fire performers on stage. Upon looking to either side, you noticed that the buildings surrounding the venue were also lit up. It is at this very moment that you notice; everything in your field of vision is a part of the venue itself — and you realize just why STAR ISLAND is praised as "location entertainment."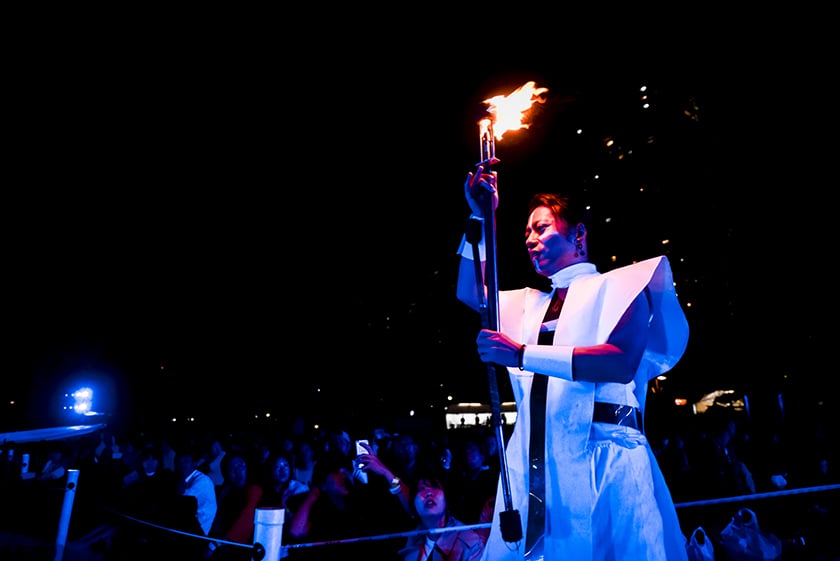 The fireworks were presented in chapters — Earth, World, Chaos, Love. A large variety of music synchronized perfectly with the colorful blasts. The first half of the show was full of catchy Pop, Rock and Hip Hop tunes, and was topped off with Mark Ronson and Bruno Mars' Uptown Funk for an exciting mid-show uproar. The latter half featured Björk's Hyperballad and the classic Swan Lake for a most beautiful and mystical scene synchronized with not only fireworks but lighting and dancers as well.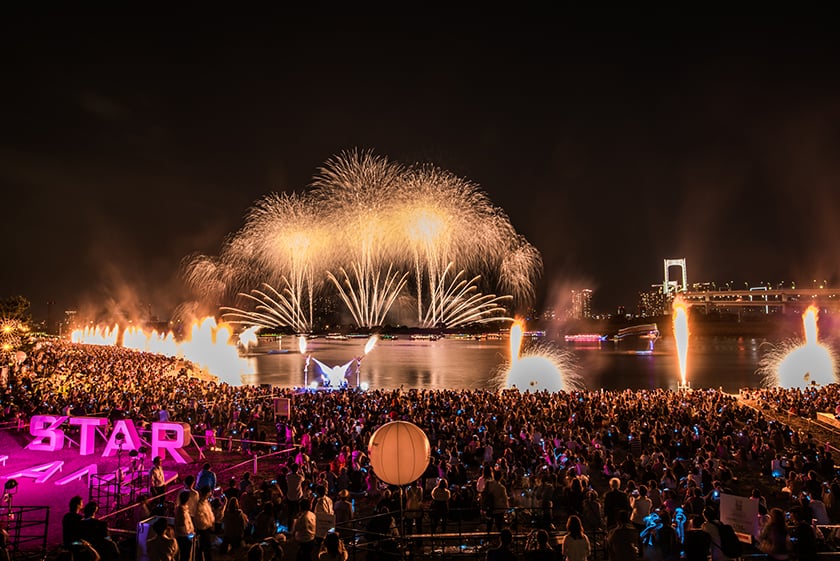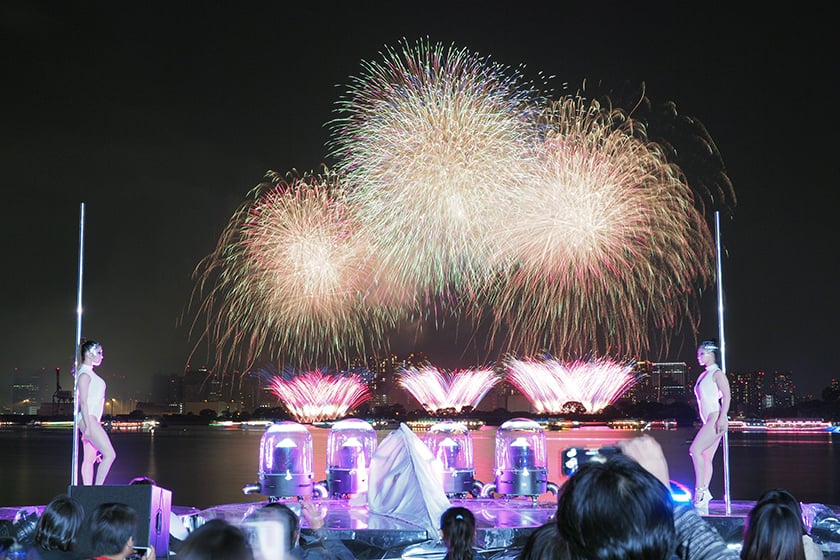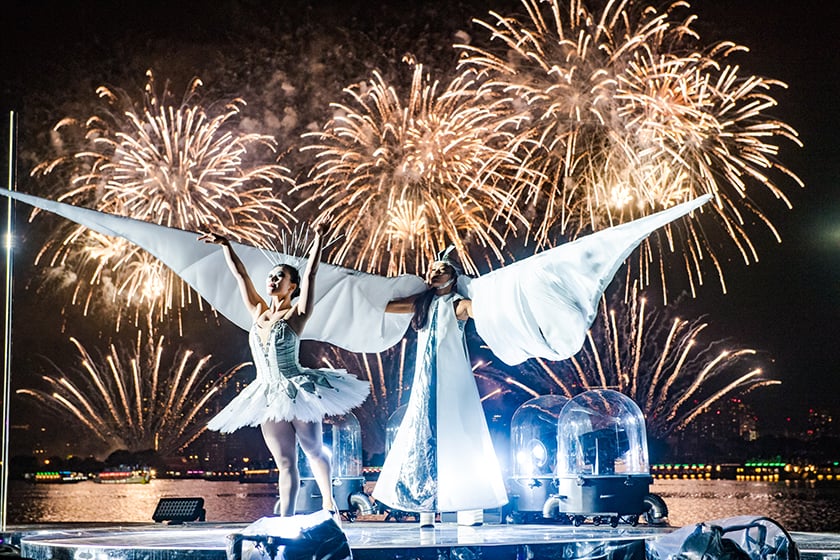 Performers included the fire and light performance company KAGUZUCHI, dancer KIKI, a frequenter of large-scale festivals, a world-level flyboard competitor Kosuke Yokoe and the professional ballet dancer REINA who performed for the grand finale. These top-level performers also play an important role in creating the multifaceted piece of performance art that is STAR ISLAND.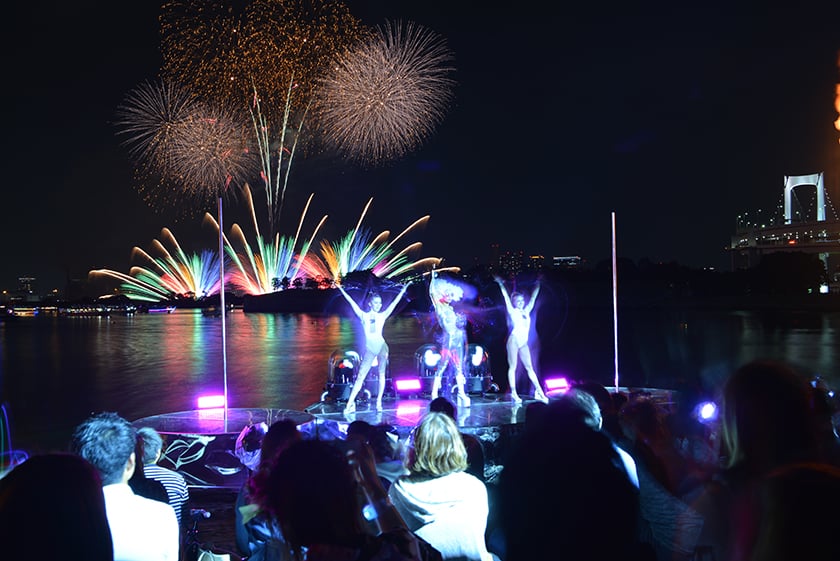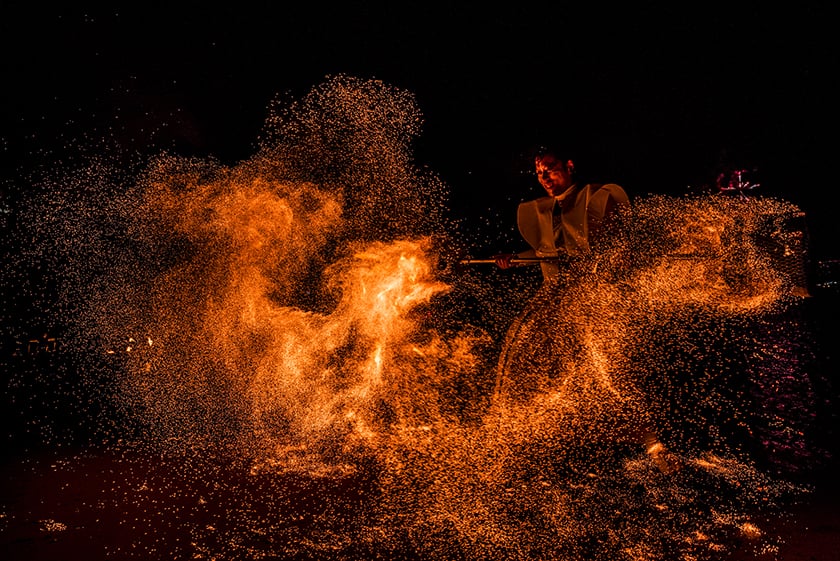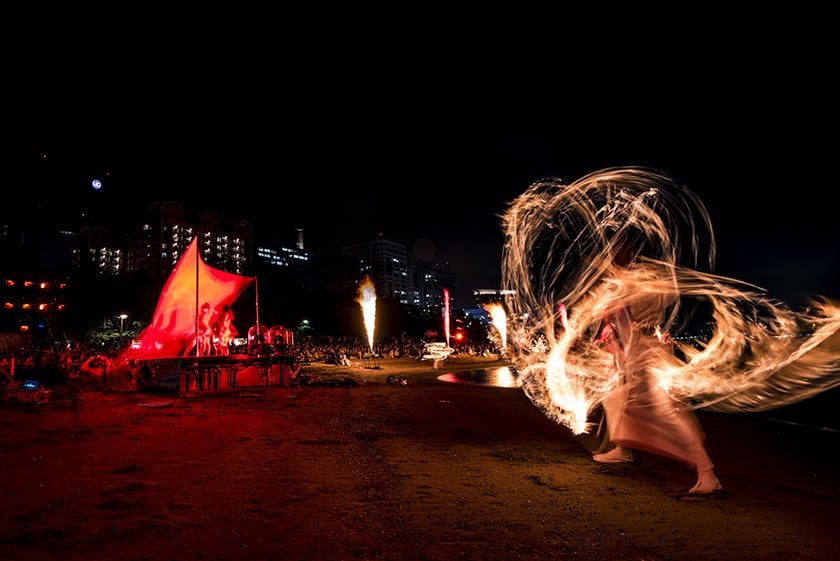 Visitors were given LED wrist bands that pulsated in unison with the music. During a break in between fireworks, the crowd all raised their bands as they waved side to side to John Lennon's Imagine, making for a most captivating moment.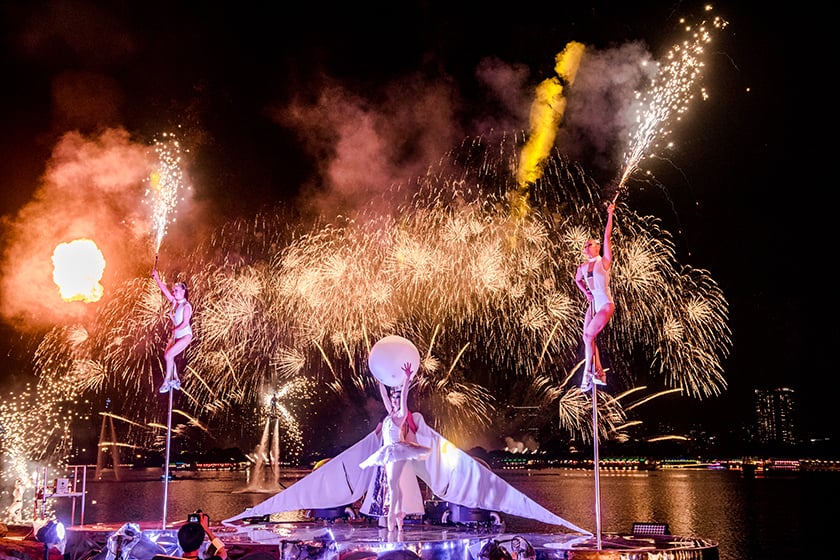 The spirit and resolution needed in arousing the imagination of 15,000 people.
This year, tickets completely sold out before the day of the event, promising a full turnout of 15,000 people. This form of fireworks differs from most previous shows in that it charges its visitors, however, thanks to the establishment of such an entertainment model, there was no need for organizers to fret over ticket sales, allowing the many forms of viewing, such as beds and dinner tables, to be a viable experience, while simultaneously expanding the variety of visitors.
The show itself had improved in quality while the new performances helped to show the value in further pursuit of firework, or "hanabi," entertainment. Furthermore, one could tell that organizers had put more effort into hospitality, with the introduction of a Kids Area, group seating and rooms for breastfeeding.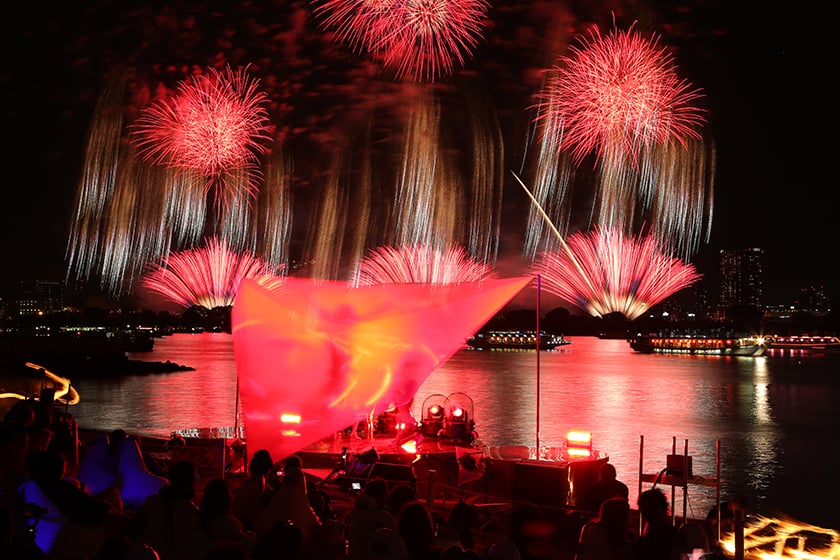 It was also a refreshing and heartwarming experience to see parents dance with children on the beach when Uptown Funk came on. Having a dance area might just be a good idea for future STAR ISLANDS as another way to enjoy fireworks.
STAR ISLAND 2018 had completely evolved in regards to the world it created and the extra-ordinary experience it provided its visitors. The theme behind the story undoubtingly instilled each and everyone one of its viewers with a world of imagination. Finally, upon witnessing the beach, Rainbow Bridge and the surrounding buildings all vibrantly lit up, it was easy to recognize, once again, the potential that Odaiba possesses.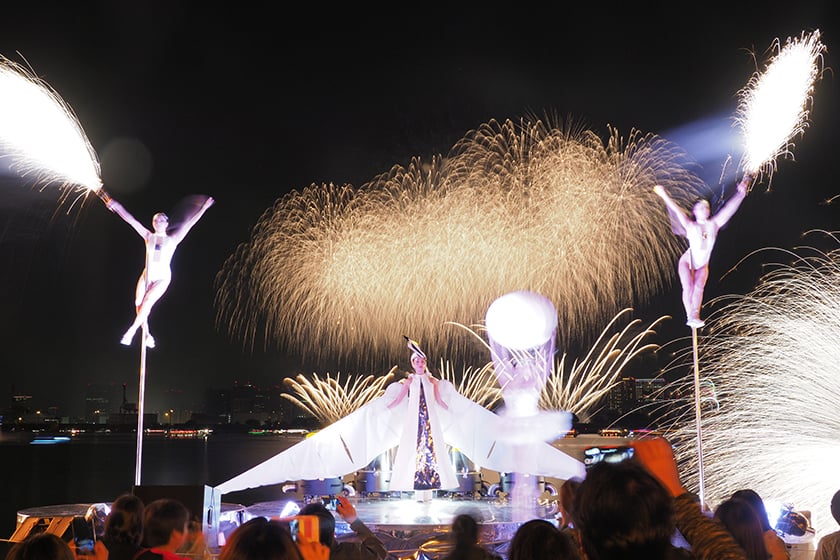 With that said, STAR ISLAND has just begun. It is sure to evolve even further as expectations for its third year rise, and expansion overseas are on the horizon. As the event came to a closing, one couldn't help but feel the spirit and resolution of its creators. The "future" in the name "Future Hanabi Entertainment" may just be referring to decades, if not centuries.