ULTRA JAPAN has first landed Japan in 2014 and mobilized 370 thousand people as a pioneer of Japanese dance music festival. This time to welcome its fifth anniversary was held grandly at TOKYO ODAIBA ULTRA PARK for 3 days, 9/15 (Sat), 16 (Sun) and 17 (Mon) which became a holiday. As previous years, numerous top artists such as ZEDD, DJ SNAKE, Armin van Buuren, NINA KRAVIZ and others gathered in Odaiba from abroad. ZEDD played as the final on the third day created a sense of unity and excitement during the heavy rain. It was a night to record a memorable page on the Japanese festival scene. We started exploring the evolving of ULTRA JAPAN and Avex from new initiatives that attracted attention at the venue, from the fashion that the audience shows and new trends etc. We explored the evolution of ULTRA JAPAN and Avex through new initiatives that attracted attention at the venue, fashion and new trends that the audience shows and such.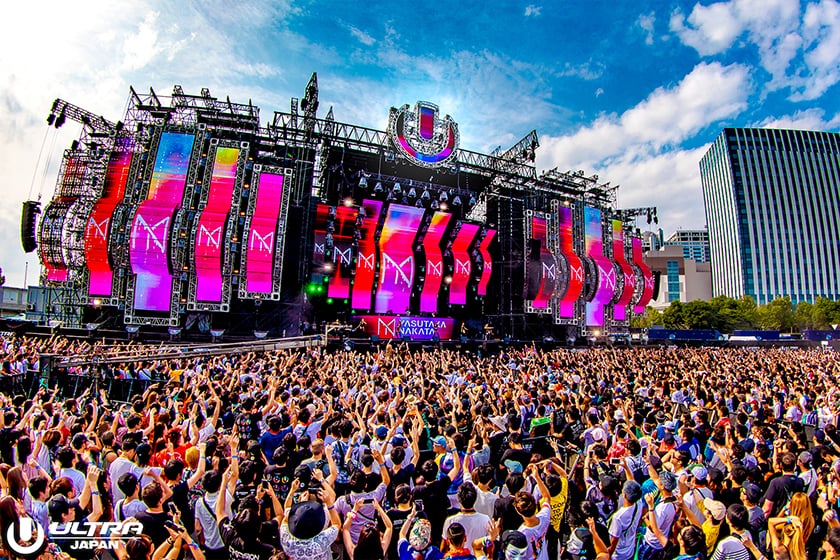 The festival that can
"make yourself a leading role"
with music and fashion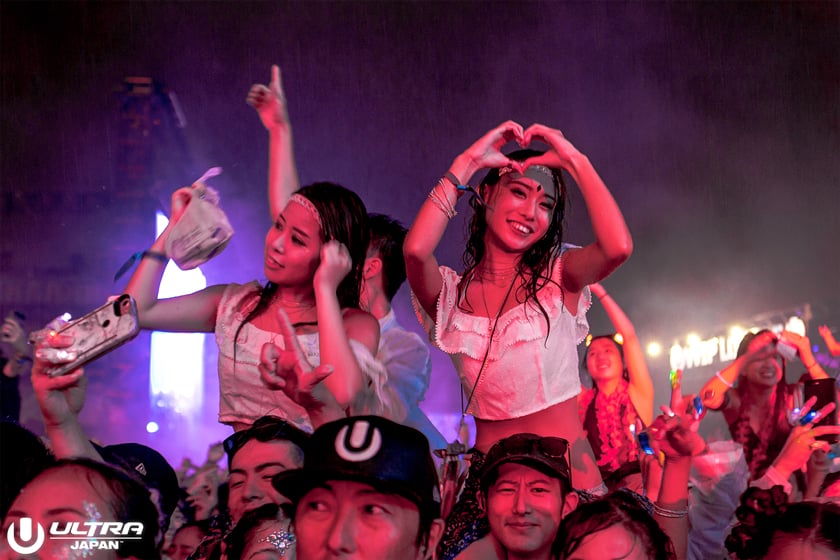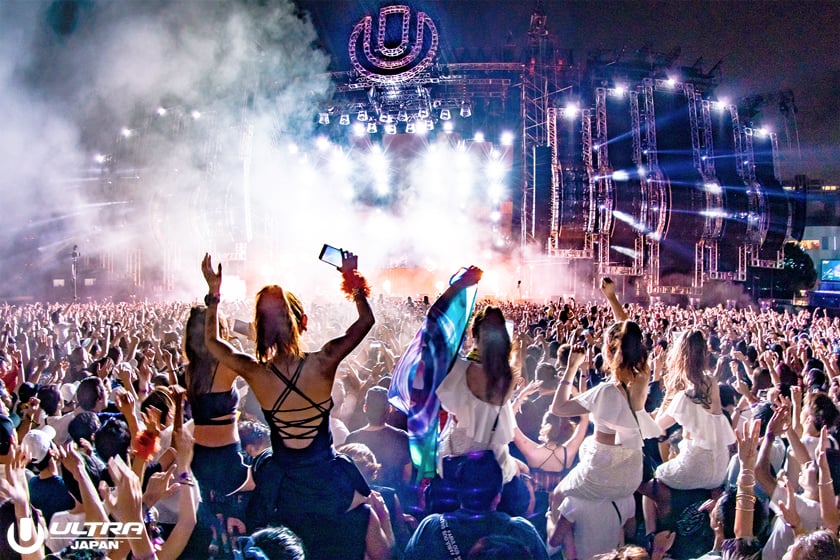 ULTRA JAPAN is a Japanese version of Monster festival, ULTRA WORLDWIDE which was held in 2017 worldwide in 20 countries and mobilized more than 1 million people. First of all, the big appeal is that ULTRA JAPAN is held in Odaiba, an urban area where audiences can easily go, as the headquarters ULTRA is also held in the middle of a high-rise building group in Miami. In addition, the overwhelming world of view created by the world 's best DJs, stages, and sound systems leads audiences to an unusual world.
Three consecutive holidays when the festival was held, Rinkai line towards Odaiba and Yurikamome are overflowed with people with ornate fashion that one cannot usually see. Mainly "girls" are conspicuous existence when they are in the trains or at the stations, but on the contrary, if you take one step into the TOKYO ODAIBA ULTRA PARK, those who are dressing conservatively would be prominent. It is one of the innovations that ULTRA JAPAN is a festival where you can experience the world standard dance music and enjoy special fashion at the same time.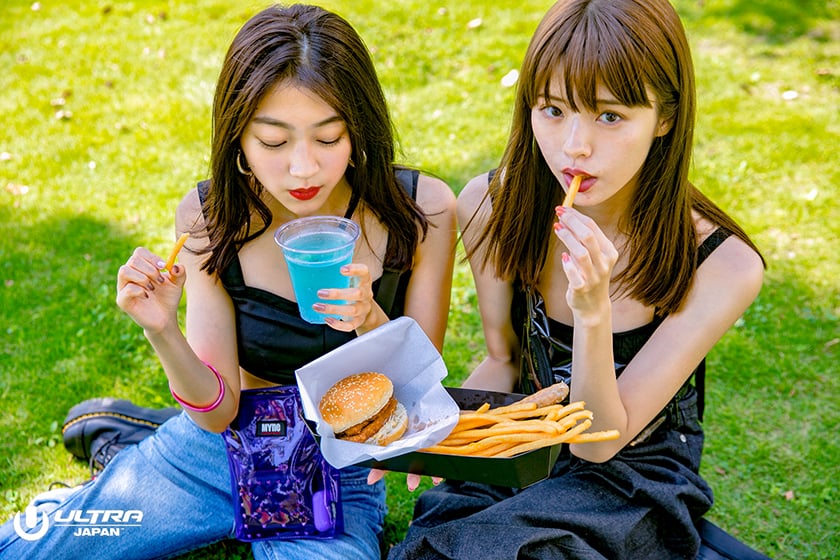 Such fashionable aspect may be caused because of the location, Odiba. If you live near Kanto area, it's a distance that you can visit by train, so you don't need much preparation. Besides, Odaiba has a moderate unusual feeling, so even in a fashion that seems to be a little hesitant in the city, people can let them be themselves as "Only today is special!"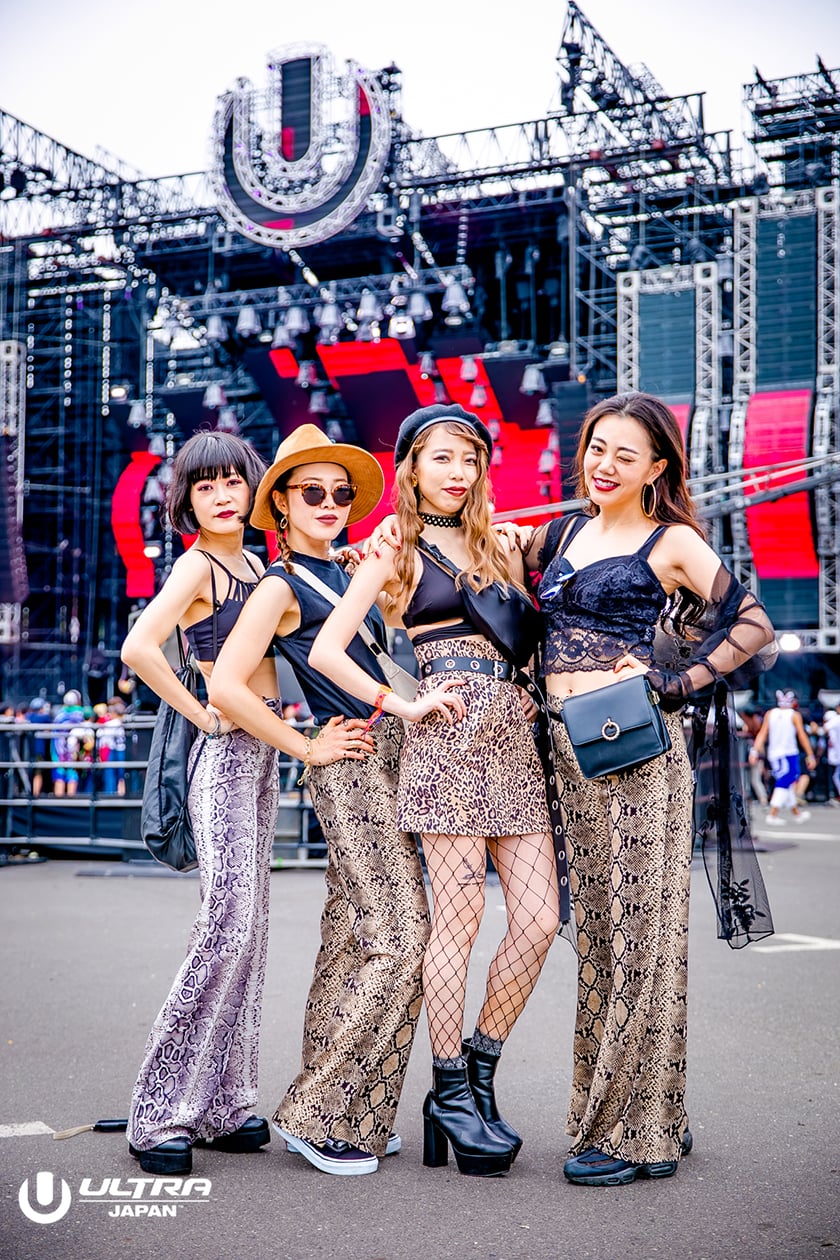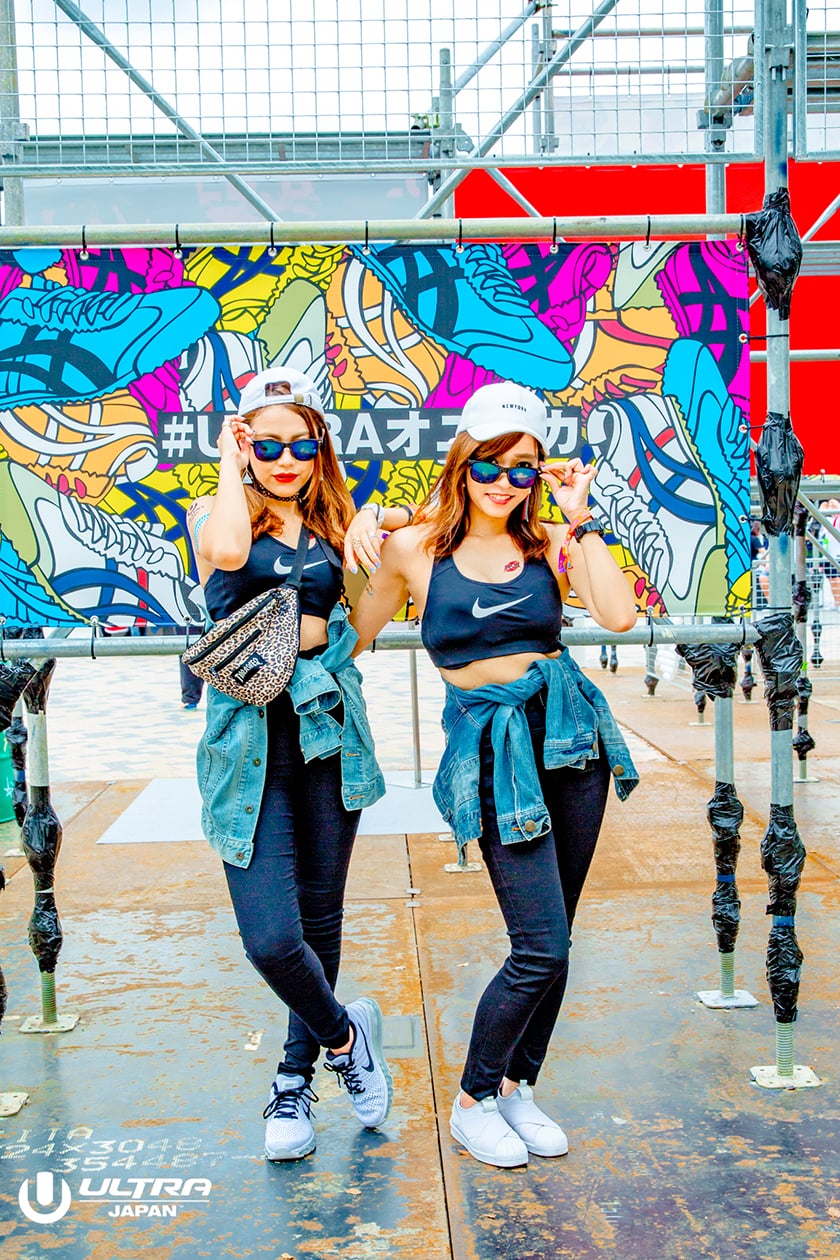 On this day, they will have a little bit of fun on Odaiba, they can make themselves the leading role by exquisite fashion among the best music – To provide the audiences with that value. This is the reason why ULTRA JAPAN is called "urban festival that you can enjoy by being fashionable".
SNS & Streaming
delivery gives
real-time live feeling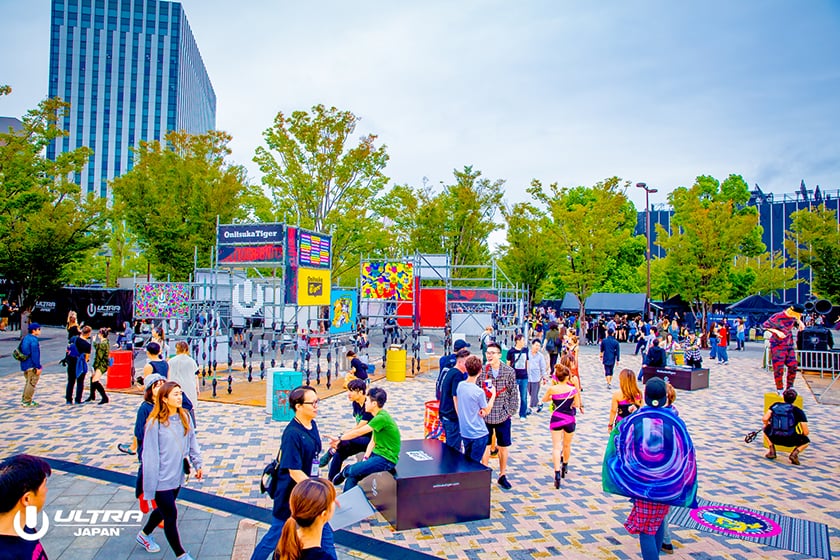 At the venue, Onitsuka Tiger Street in ULTRA JAPAN, which ULTRA JAPAN collaborated with Onitsuka Tiger since last year, welcomed the audience in the area right after entering the main gate. This area created by artists of various genres such as music, fashion, art, etc., is full of spots which are suitable for Instagram, including objects of huge shoes. Immediately after entering the venue, audiences start shooting one by one.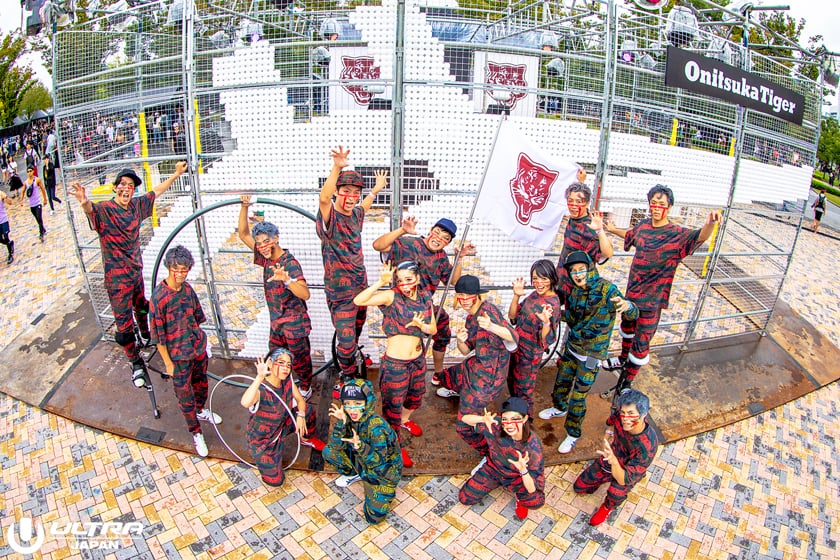 It is a part to link with fashion in the previous section, but existence of SNS is indispensable in ULTRA JAPAN. In the interview article introducing the circumstances that ULTRA JAPAN was to be held in Japan on this site, the person in charge said that "ULTRA JAPAN is a festival to be spread by SNS." According to his word, at this festival, photography with a smartphone is allowed inside the venue. As a result, the appearance of the festival, the fashions and snapshots on the scene are posted to SNS in real time and spread.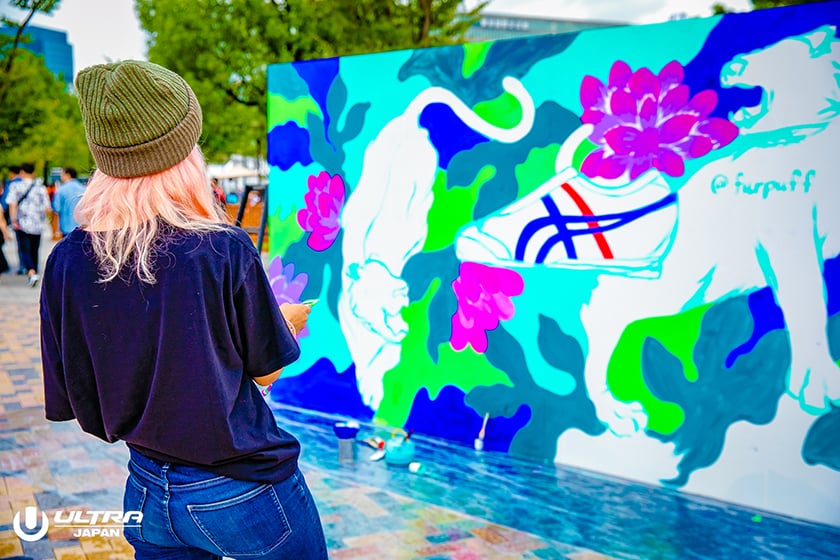 If you search by hashtag, you can see tons of scenery of that day lining up. In addition, audiences can appeal how they enjoy and show off their fashion by posting on SNS. Organizers, artists, audiences etc.. In particular it can be said that the uniqueness of ULTRA JAPAN is the strength of the unity that the audience creates.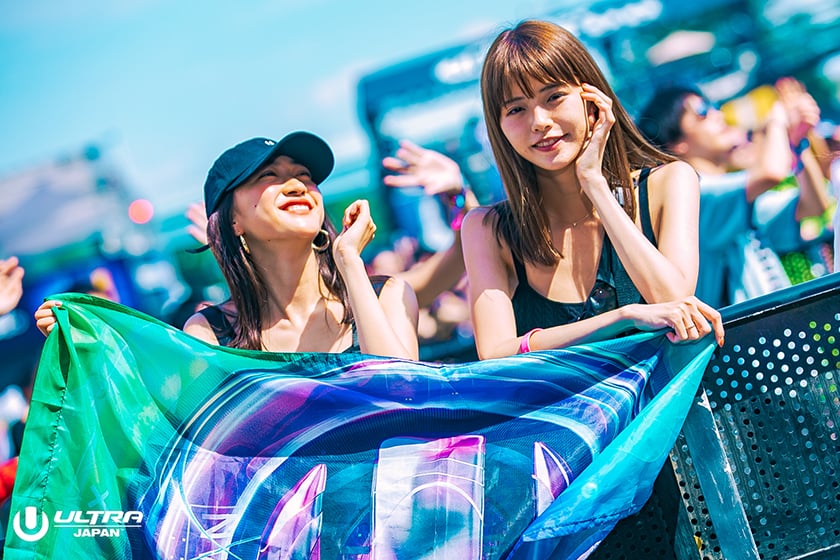 In addition to the live streaming at Youtube and LINE LIVE every year, Amazon announced that live streaming of "ULTRA JAPAN 2018" will be delivered on Amazon's ULTRA JAPAN special page as a new initiative this year. Also, this distribution was available for Twitch.
Regarding this as well, in the previous interview article, the person in charge said as below.
"The concerts so far were only seen by those who went to the venue. However, ULTRA made live distribution, creating an environment where overwhelming worldview can be seen by people all over the world. This event got bigger because of the people who saw those live distributions and felt as "This is amazing! I want to see it!" increased. ULTRA JAPAN did such trial for the first time in Japan.
SNS spreads the audience's voices, while Amazon and Twitch deliver live video ― Even in such a meaning, it can be said that there is no doubt that "ULTRA JAPAN influenced live entertainment afterwards".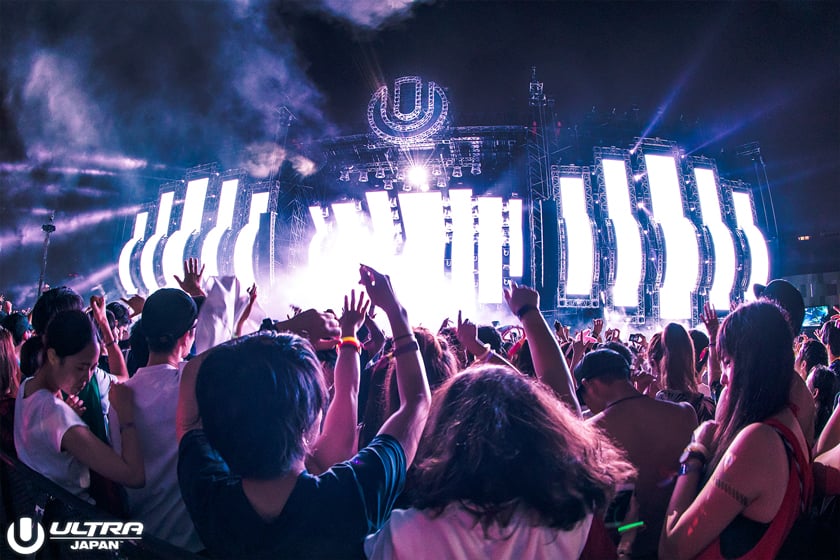 A new form of
dance music festival
that fits "Japaneseness"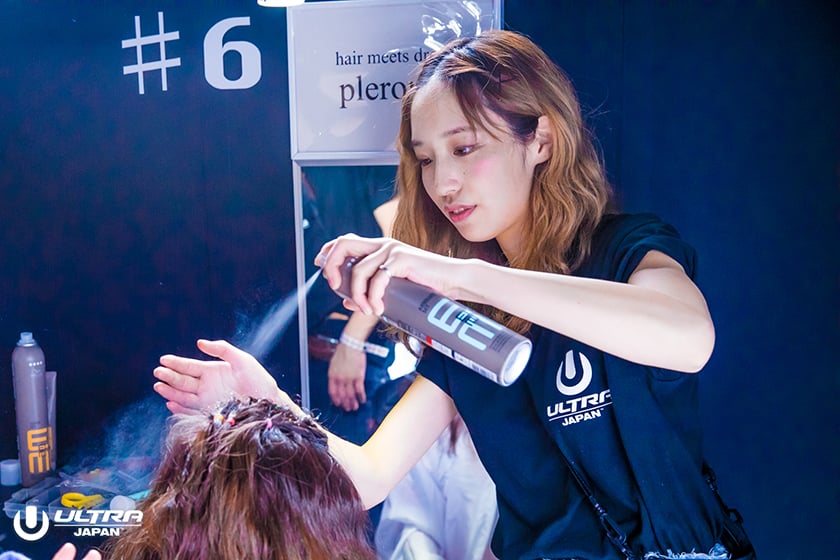 ULTRA JAPAN also has a full range of food and drink booths. Furthermore, fashion brands such as #FR2 and MILKFED. also developed festival specific items. "No towels to sell" is one of the image strategies of ULTRA JAPAN, but there were too many goods and items to supplement it. Also, the booth of the popular video application, TikTok, offered various contents based on "#ultratiktok" as a concept. There were plenty of contents such as video shooting lectures, photo shoots at special studio, and even novelty gifts such as mobile charger and body paint stickers. The dancer group, CYBERJAPAN DANCERS, also appeared twice a day. This attempt appropriate for this festival attracted visitors' popularity.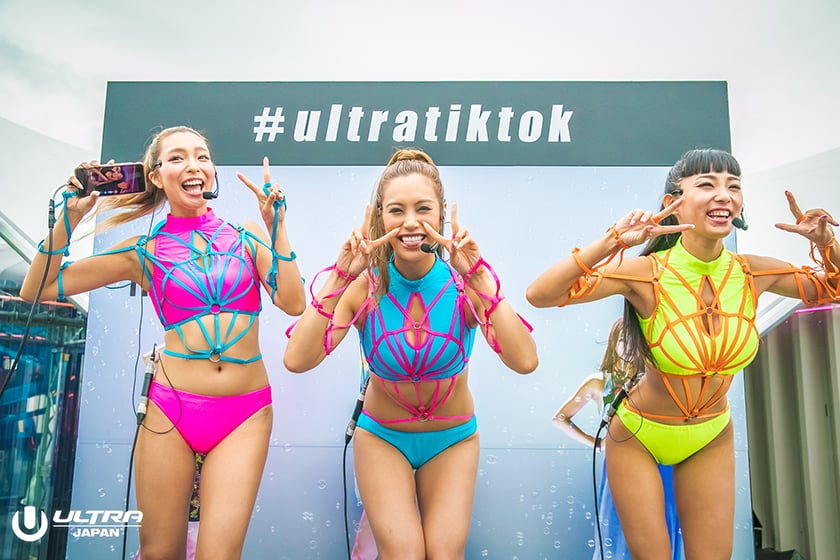 The big appeal of ULTRA JAPAN is, of course, to be able to experience the music of the overseas top artists. Although, in a sense, I saw everyone there enjoyed not only that but also to be a "main character" at the venue. And I felt that "This may be a new form of festival that fits the Japanese sense." Regarding festival, there are various cases in Japan, and the history has been established so far. However, most of them were for audiences to enjoy the artists' live shows, and the leading actor who created the festival was artists.
At the same time, the places where festivals are held were mostly apart from the city center. Therefore, it was not something everyone could easily go to, and the boundary between regulars and non-regulars was born. And for those who have never been, the hurdles to join were high. On that point, ULTRA JAPAN, held at Odaiba, where one can visit easily, has lowered the hurdle for new fans to participate. On that point, ULTRA JAPAN is held in Odaiba, where one can easily visit. As a result, the hurdles for new audiences are lowered. At the same time, by having not only music but also high fashionability, they succeeded in making people who are not very familiar with dance music join the festival as well.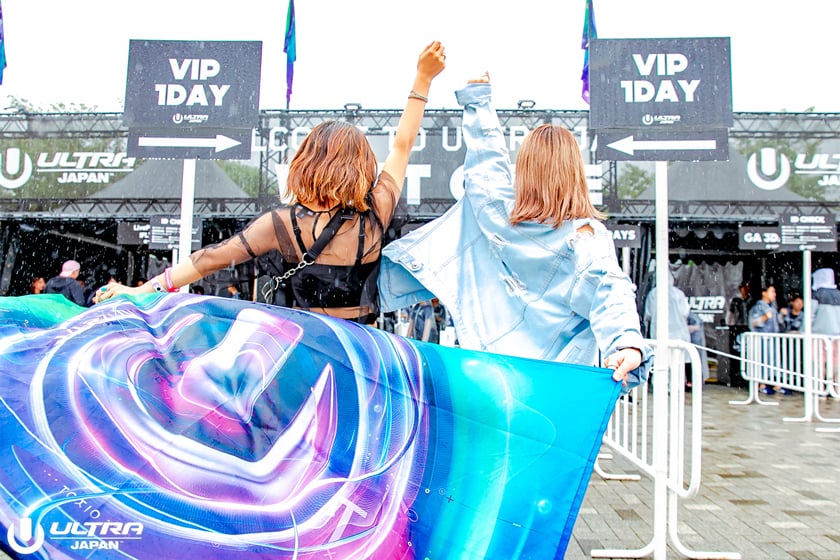 Initially, there is a festival culture represented by fireworks display in Japan. However, people who go to fireworks display like not only the fireworks itself, but also "place" where they can experience it, or "time" which they can enjoy fireworks with someone. If you replace it with a festival, in Japan, there should be more "places" where one can experience music and much "time" where one can enjoy music with someone. ULTRA JAPAN has become a hub connecting people with people through dance music and it can be said that it provides a new form of "place" and "time" to Japan.
It is inevitable that ULTRA JAPAN has been increasing fans year after year. There might people who thought "I like listening to music and dancing, but festivals are far and hard to go", or "Summer has gone too soon and I couldn't go have fun anywhere." Even those can be accepted by this festival. After actually experiencing the festival, I realized that ULTRA JAPAN is not just an event for mere music lovers. At the same time, at the root of this festival, there is a pure Avex style to deliver dance music to the masses without losing the core goodness of it.