WANDERLUST, the world's one and only wellness event to be held in sixty cities, seventeen countries including Canada, Australia and New Zealand — drawing in a crowd of over 50,000 in the US alone — was held in Japan for the first time on June 17 (Sun)at the Red Brick Warehouse in Yokohama. Avex, the event's organizers in Japan, have been running at the industry's forefront, providing eventgoers with new and creative experience-type events, such as STAR ISLAND and RAGE. Let's see why they chose to add WANDERLUST to their roster.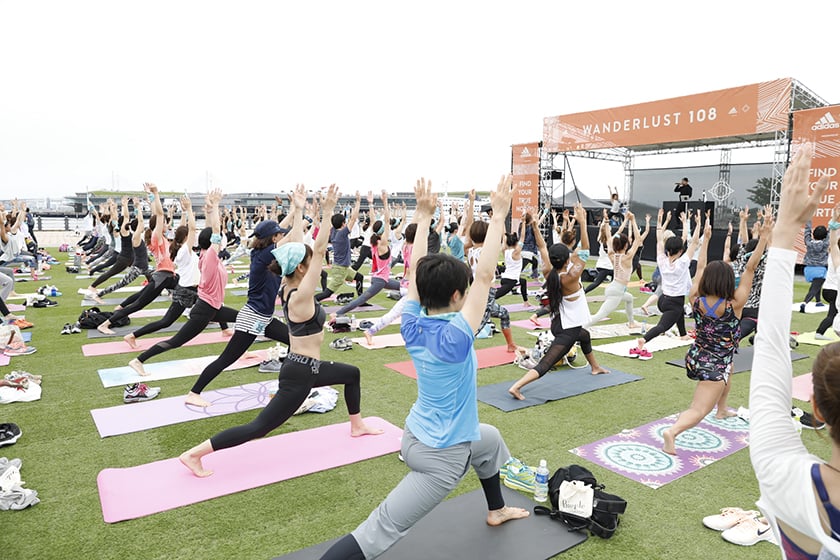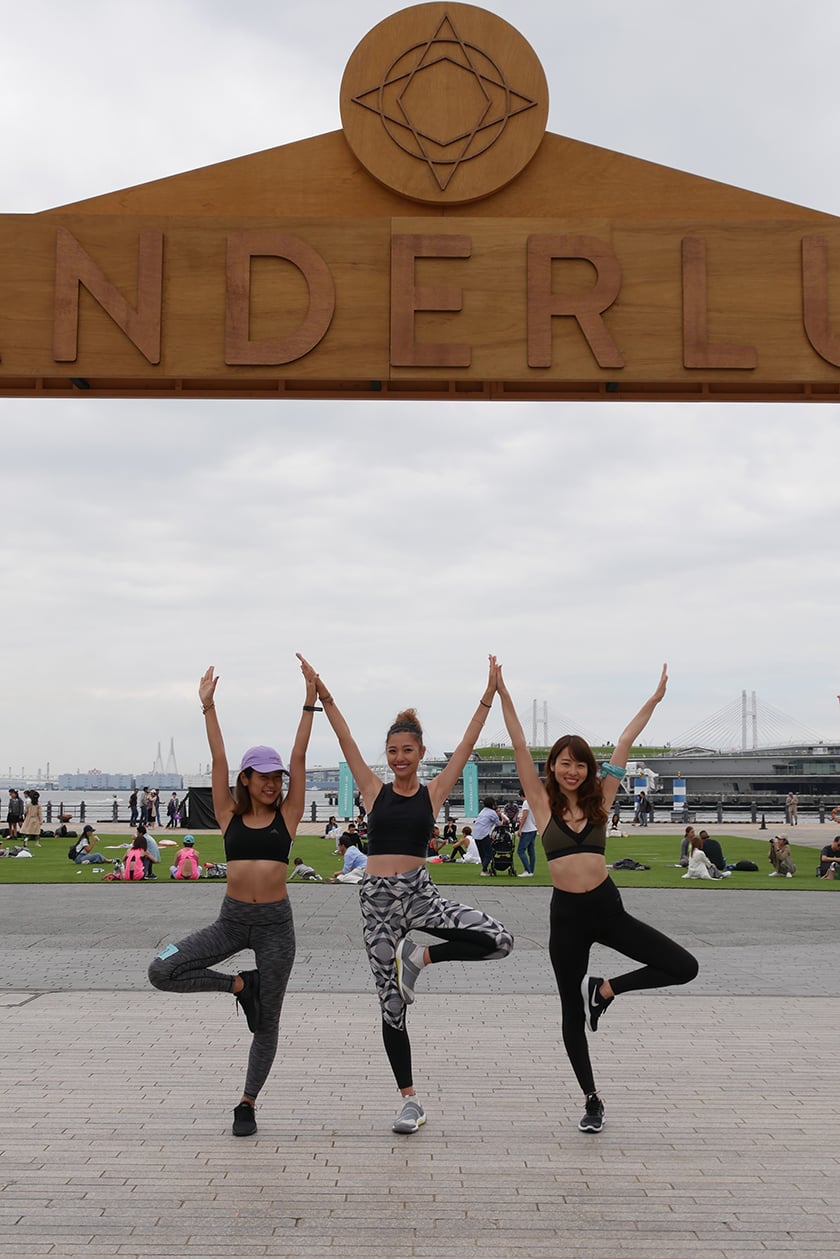 Roughly 1,000 people gathered
outside the Red Brick Warehouse.
An array of booths pleased
the mostly female crowd
Since the rainy season had come earlier than previous years, it rained the day before and the day after, but participants were lucky enough to enjoy comfortable, though slightly overcast weather on the day of the event. Many who had attended were avid yoga practitioners clad with the proper wear, both under and outer. There were indeed many who seemed to fit the target demographic — women in their twenties interested in health, beauty, work and hobbies. You couldn't help but notice the many slender instructors and yoginis sporting the latest yoga attire. There were also many couples, families, yoga lovers of young and old and even colorful, "edgy-looking" women, proving that the practice has reached the hearts of many.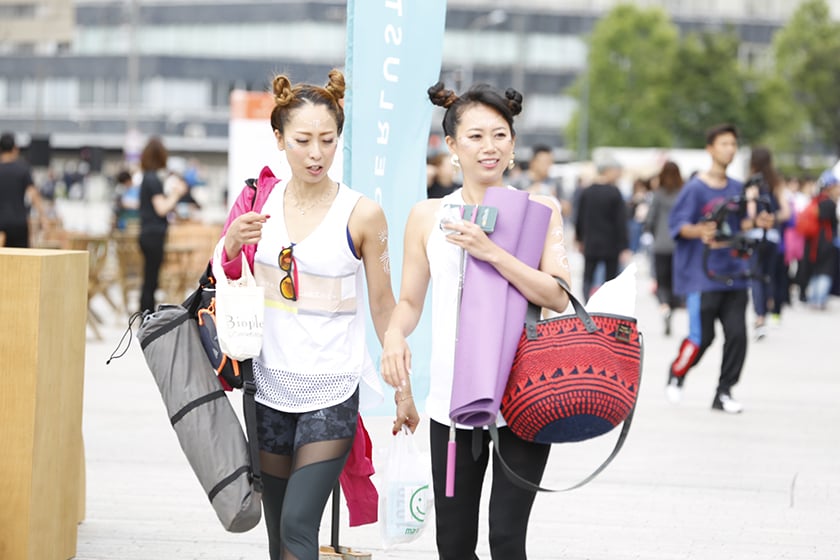 Participants received a number and a Fandana at the cloak by the entrance, with which they would tie their hair back or perhaps wrap it around their arm. This also made participants feel more like they were on the same team. There were also many booths selling products like mineral-rich foundation and supplements, aimed at the target crowd that was expected to attend.
Many of the participants joined WANDERLUST in hopes of becoming either a little more attuned with nature or able to implement yoga into their life style so as to discover a side of themselves they had not before. There were many people getting their body painted even before the event began. They asked for wings or flower pedals on their face or body — many of the images they had seen in WANDERLUST events that had been held overseas. There were even some people who drew matching pictures on each other. They were actively welcoming in the mood and diving into the concept of WANDERLUST.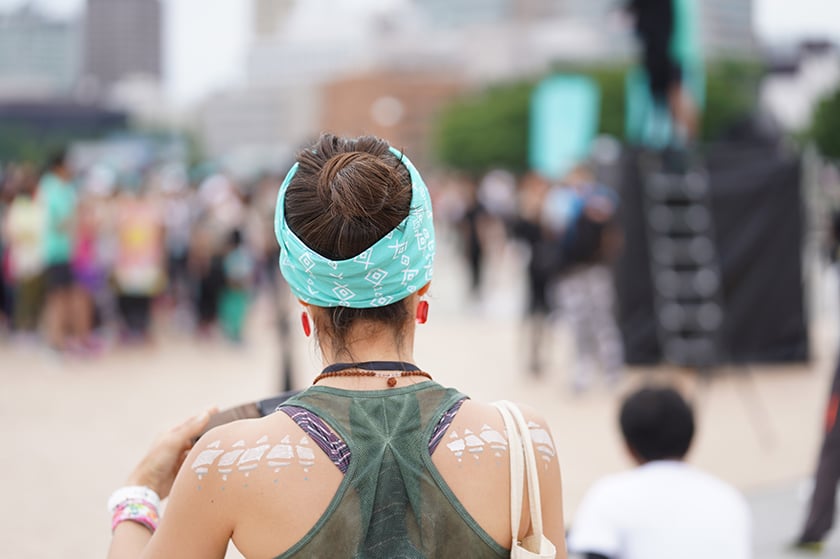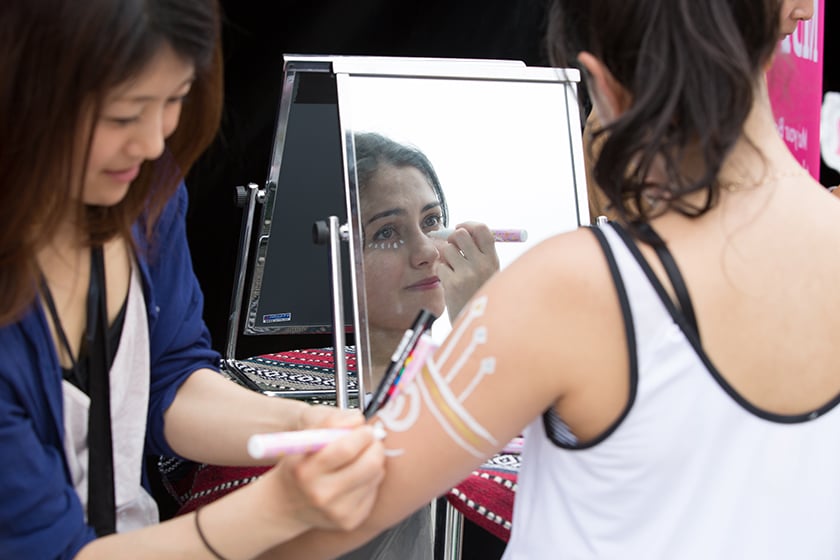 The grassy square at the Red Brick Warehouse is usually known for staging music festivals and offering recreational space for holiday fun. With an attendance of 1,000 people, it offered enough space for everyone to spread out their yoga mats with room to spare.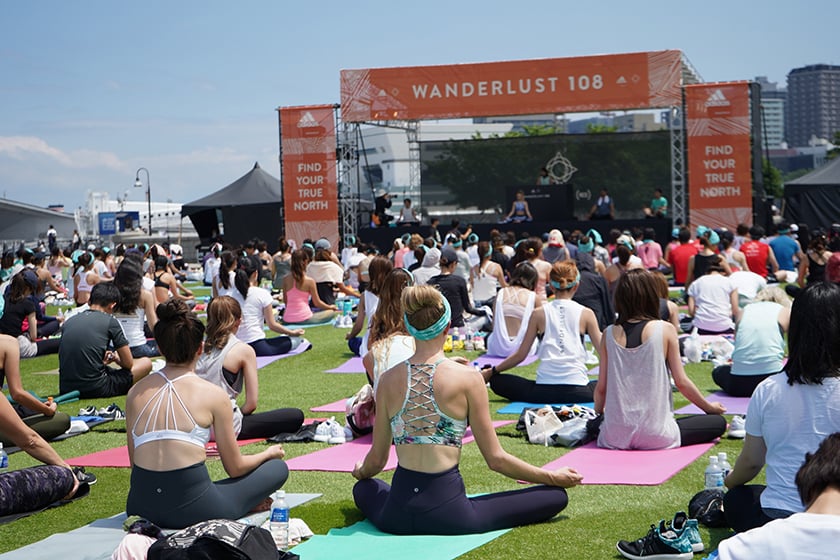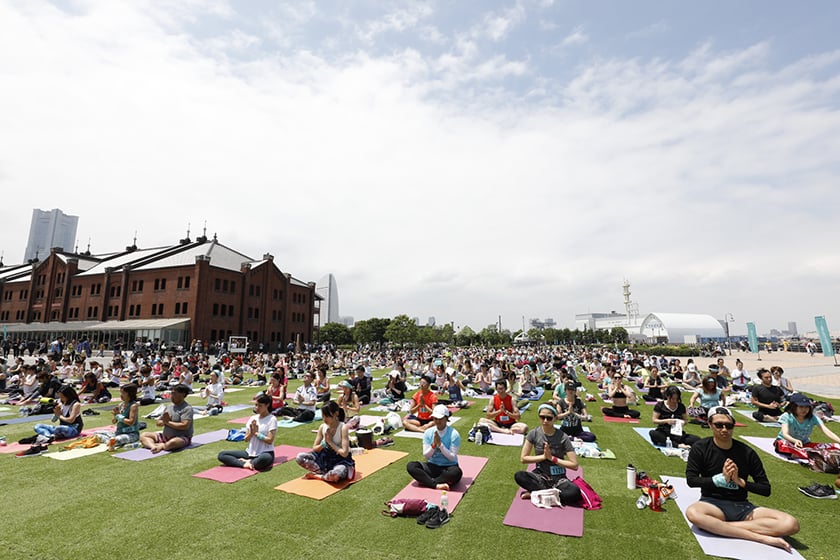 A full program and
an effective use of music
The program started off with a five kilometer run. Participants ran five laps around the one-kilometer long track in the ocean breeze. The MC YOGI was invited from the US and gave a fun and humorous lecture and talk during the warm up exorcises, after which people started jogging and walking in groups and with friends at their own pace. All throughout the course, you could see staff cheering on the participants while giving high-fives here and there. Everyone finished the five kilometers before the yoga started, with time to spare, which let you know that most individuals are very active to begin with. It was also impressive to see everyone smiling and having fun as they ran, as it was anything but a race. Though it was the first time most people had attended a mindfulness event, they all understood the meaning behind it. The MC and event staff were also very helpful in creating a mood that allowed people to take part and enjoy the activities at their own pace.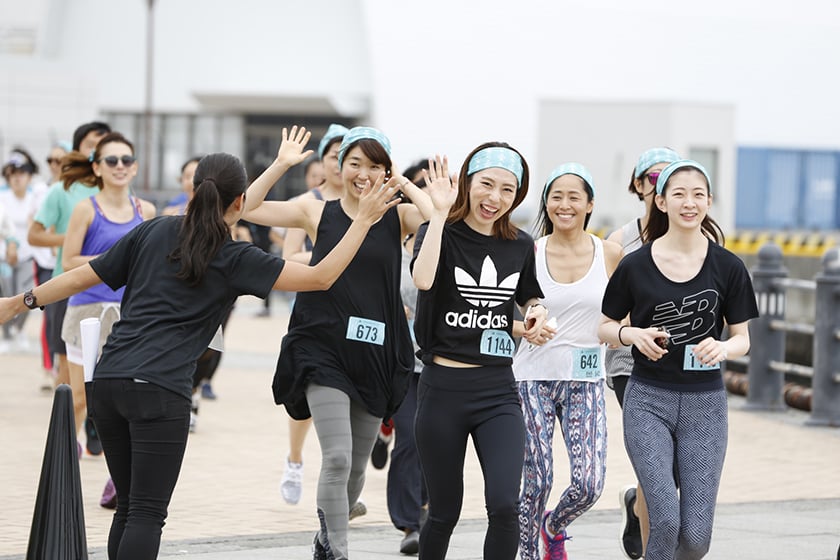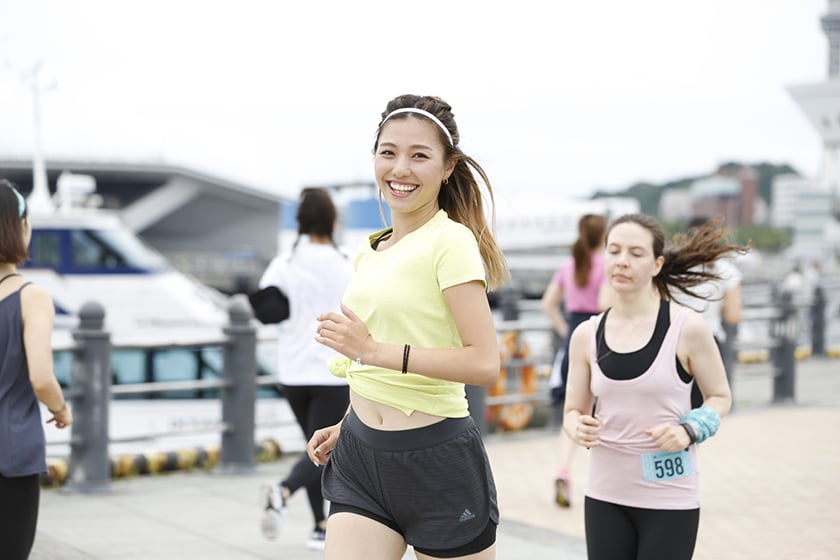 The yoga session, which most people came out for in particular, started with an energetic intro from MC YOGI and one big high-five between participants. Nearly 1,000 people went through easy poses like the Sun Salutation and the Warrior Three as relaxing music echoed from venue's speakers. Being able to enjoy simple and relaxing poses in a large crowd outdoors is what really makes this event something special. Smiles naturally appeared on the faces of attendees as they struck a variety of poses, and wrapped arms around neighbors, many of whom were complete strangers. It was also a time for bonding. This, along with the spacious open feeling of the venue, must have allowed people to forget the fact that they were all attending an event for the first time. After a while, MC YOGI went into MC mode, gave a quick self-introduction and performed some of his own tunes. People gathered up front and the event took on the atmosphere of a music festival.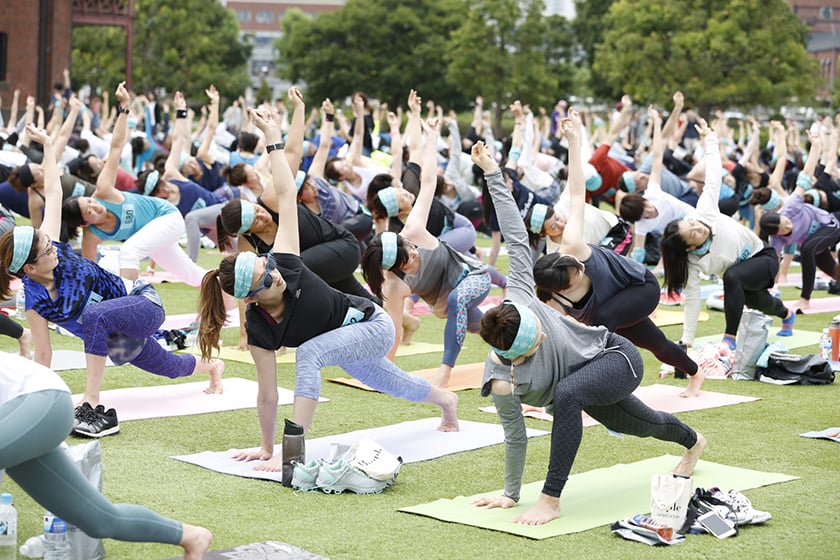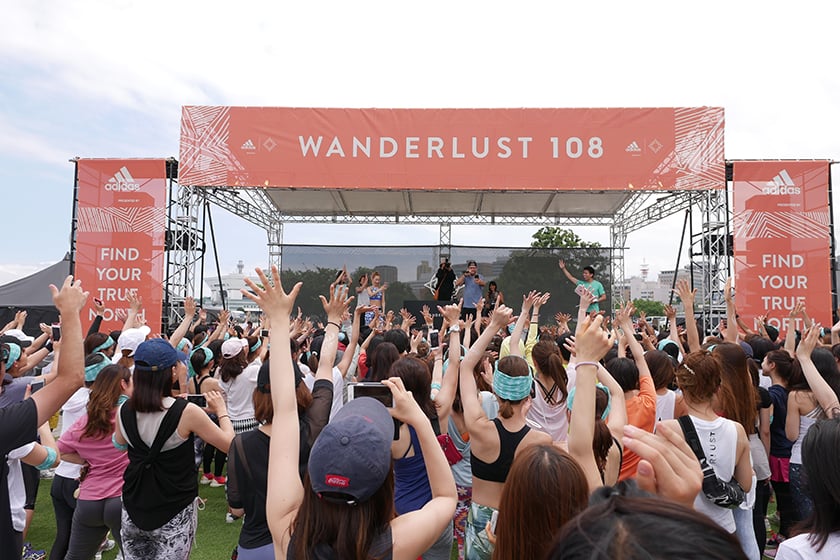 The program was wrapped up with a meditation session, led by the popular "yoga creator" Aya. Aroma oils were passed around to further relax participants and allow for concentration, calming both body and soul after an exciting run and yoga session. The choice of music was also on point, featuring artists like Sigur Ros, perfect for relaxation. Ultimately, Yoga is closely entwined with the workings of the universe and often entails very spiritual moods. This event, however, offered a different angle to yoga, focusing more on the mindfulness that so many seek these days which is obviously quite different. It did, however, do a great job in offering that experience in a neutral fashion with a sense of congruity.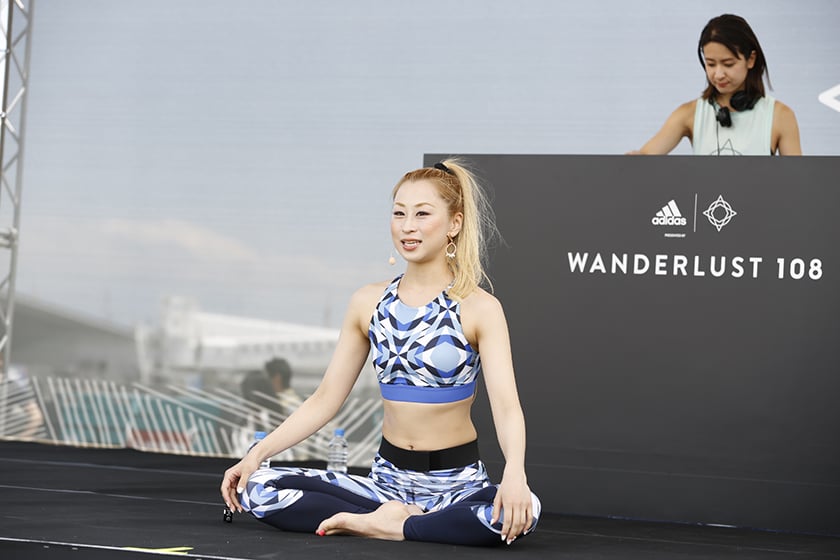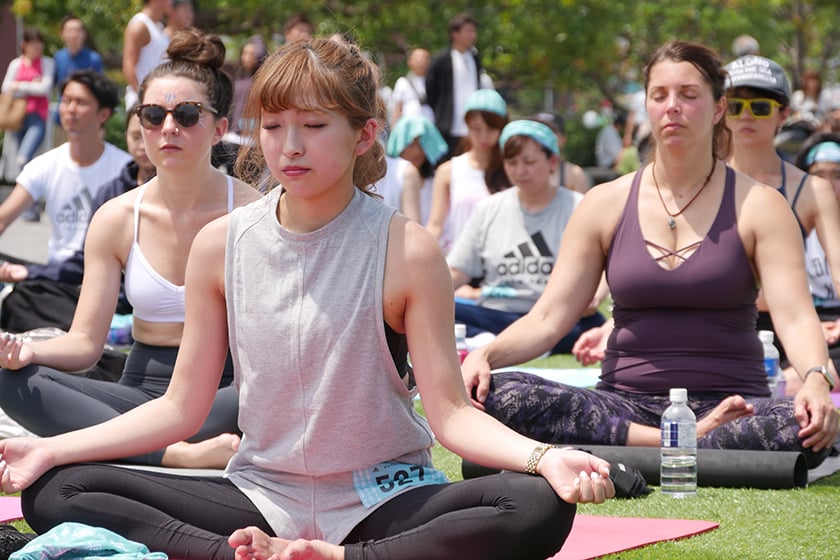 After the three main programs came to an end, people went for lunch, attended one or several of the seven pre-reserved workshops, and visited stalls and booths offering merchandise and beauty/inner beauty tips. All in all, the program menu offered much more value than the event's ticket price. The workshops were especially tuned to people's needs, offering opportunities for people to do further meditation, and even try AIReal YOGA, a type of aerial yoga based in New York that allowed people to try acrobatic poses that they would otherwise be unable to do on ground. There was also a workshop called BREAKLETICS, a workout based on breakdance moves, and an Avex Dance Workout, based on special Avex dance methods. People participated in these hard exercises to break an even further sweat. This extra selection of workshops, matched to meet different levels of physical conditions and preferences, really accounted for extra brownie points amongst attendees with strong interests in wellness.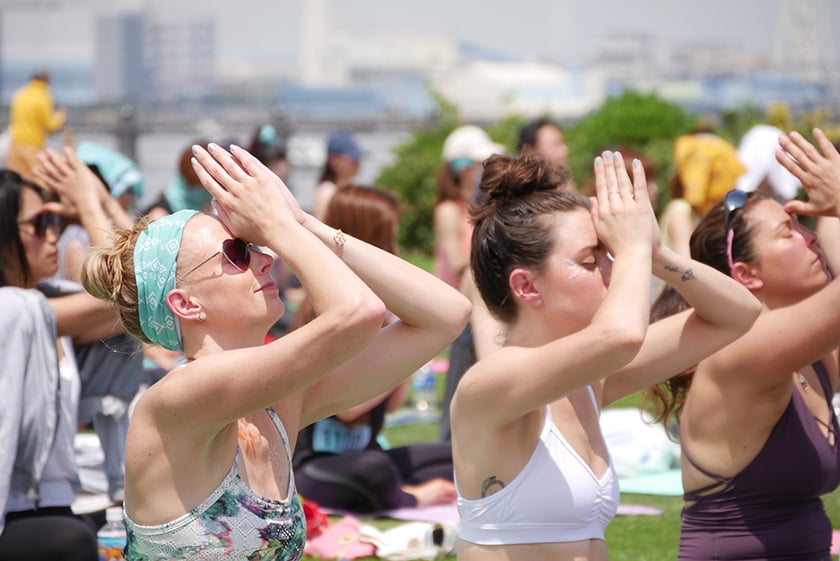 Localizing:
Can WANDERLUST evolve
even further?
The venue was stylish with a black color theme. The DJs on the mainstage really did a great job of song selection, from the pre-event time and running time featuring soft dance music, to the meditation session featuring just the right calm western music. This type of mood making really made it easy for participants to relax and keep from getting nervous in an environment much different from that of their daily lives. The PA system, the MC's explanations and the oh-so important clear and soft tone of voice during the meditation session also worked wonders. The audio quality was well kept despite the close vicinity between the many workshops, making for an interference free environment, easy on the ears — a thoughtfulness based on skill built by years of Avex's experience in music events.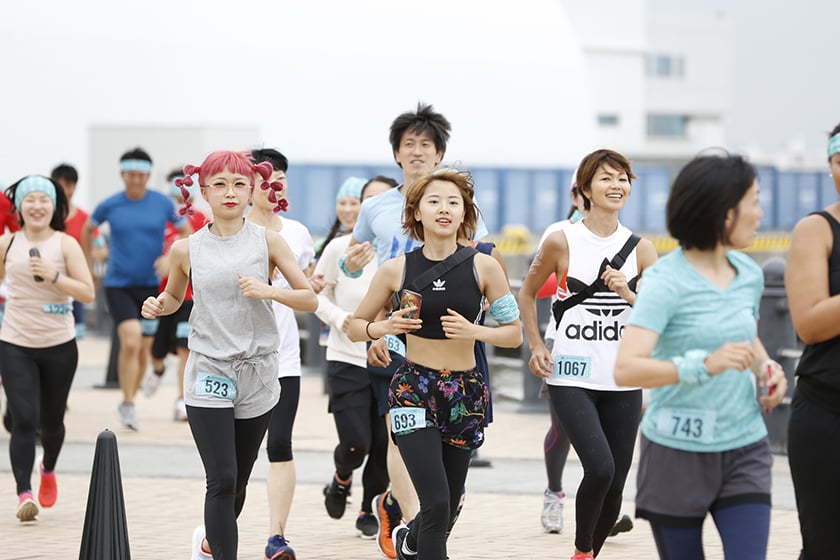 Even if participants had information about previous WANDERLUST events held overseas, the majority were experiencing it for the first time. Nevertheless, just the right amount of hospitality and the right combination of activities made it possible to successfully satisfy the many yoga instructors and daily practitioners that the organizers had aimed to please. It offered a situation where people could get their body and soul moving freely and naturally cooperate with many others. This outdoor event was much different than your average music festival, in that, the main act is none other than you, the participant.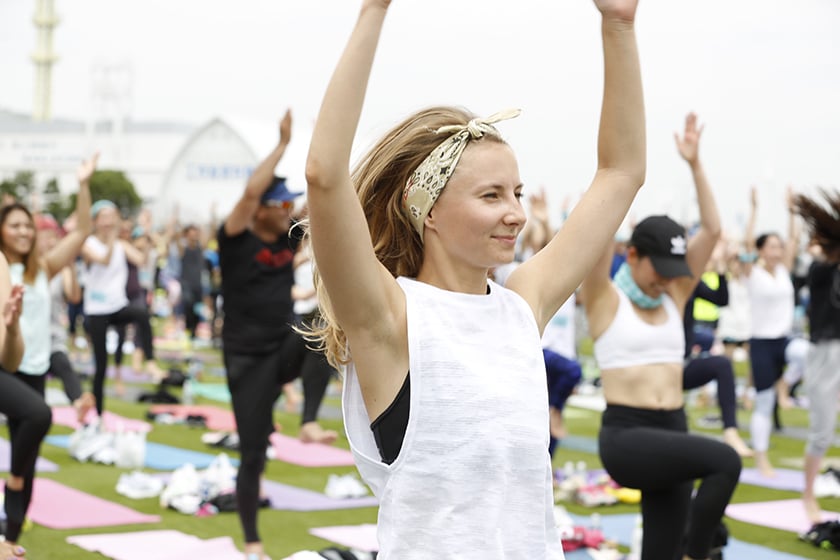 Considering the diversity of the crowd that showed up, Avex will more than likely put more thought into their merchandising as well as venue location. This event, however, did leave the impression that the majority of the Japanese WANDERLUST participants were very fashion-conscious females and very dedicated to fitness. Seeing as how even expensive brand yoga fashion lines are already very popular, one can expect to see Avex come up with new collaborations as well — whether that will be with clothing or super foods that enhance one's inner beauty or whatever, we'll have to wait a little longer to find out.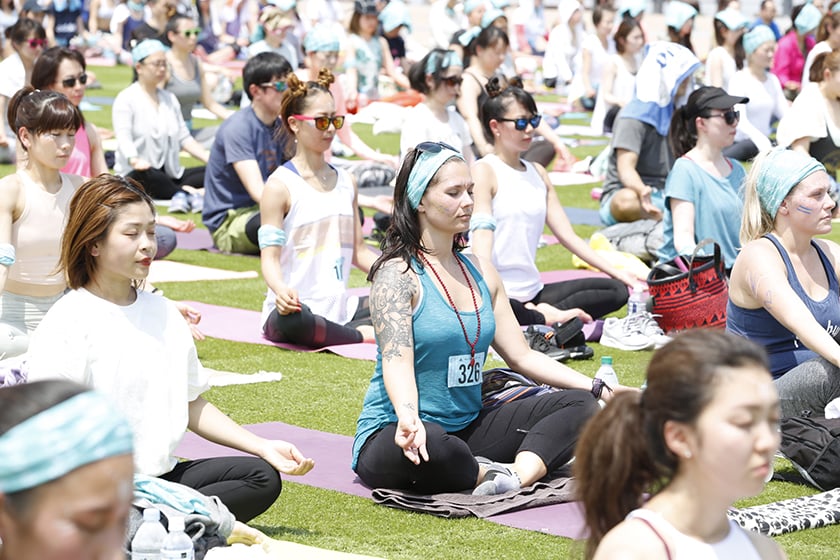 Images of a "cool WANDERLUST" were shared all over Instagram, such as the photos taken at the photo booth, high level yoga poses and yoginis in matching outfits. There were of course many people who attended that are not into the whole Instagram sharing thing, but the stylish and fun-loving pictures that micro-influencers posted on their SNS feeds played a big part in the branding and marketing of the event.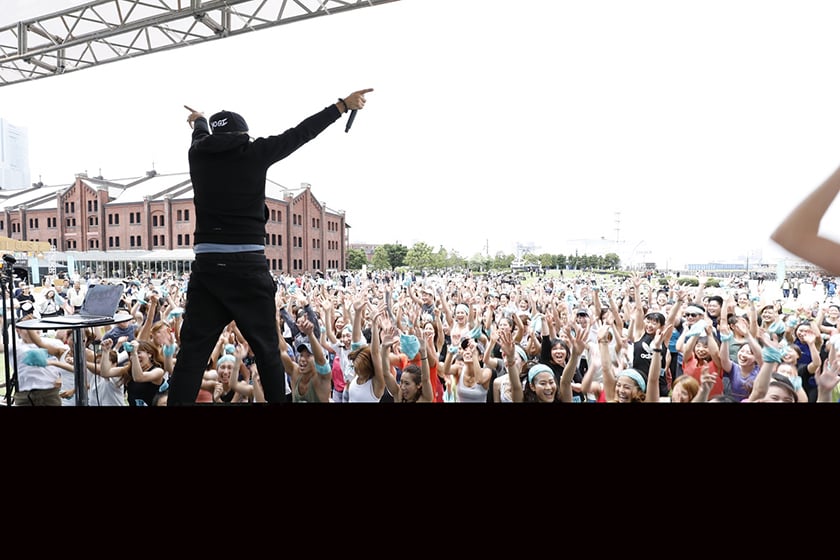 And since the event has already achieved its goal of becoming localizable, they had announced that it would be later held in Fukuoka and in Nagoya as well. Let's hope it lasts for a long time. It will be worth looking out to see how WANDERLUST evolves as a wellness event and what direction it chooses to take, especially regarding its ability to not only answer to but also reflect the times, each and every time. Let us see where Avex's skills take WANDERLUST in the future.