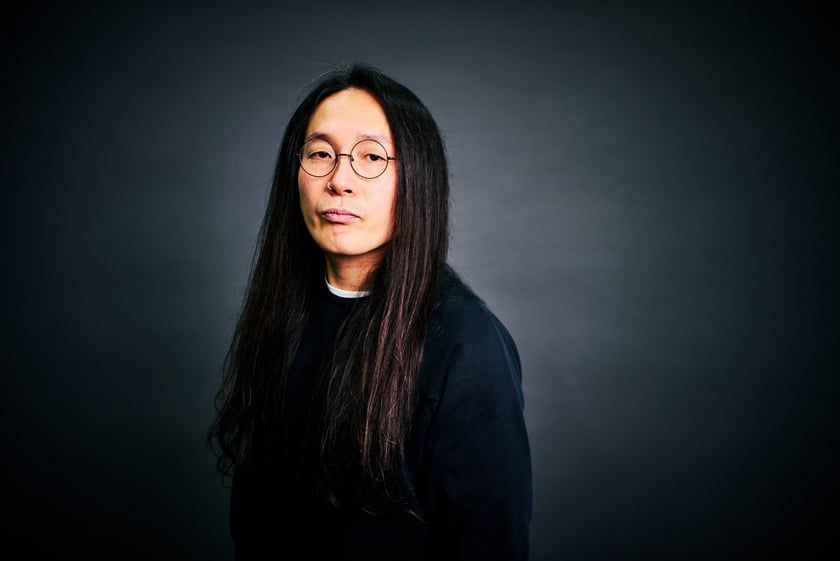 As Panasonic celebrates its 100th anniversary and Avex its 30th, the two companies have partnered up to participate in CES 2018, held in Las Vegas, Nevada this year in January. At Panasonic's booth visitors witnessed a futuristic entertainment experience set in the year 2025, called ACRONS. We asked one of the Creative Directors, Shogo Nakamae, for some insight on what went into creating this experience that so harmoniously utilizes the strongpoints of both companies — the technology of Panasonic and entertainment knowhow of Avex.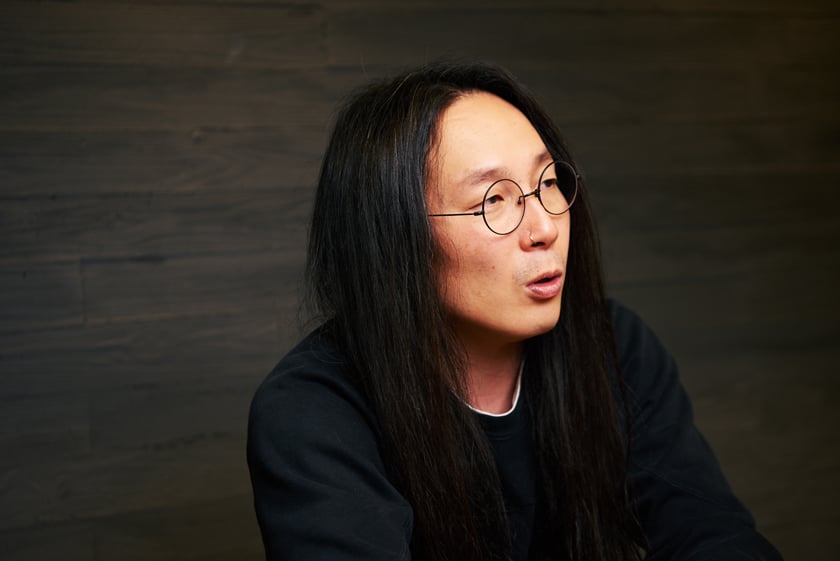 Over 4,500 companies assemble
for this leading-edge technology fair
CES is the massive international tradeshow for consumer technology held annually in January in Las Vegas, Nevada, offering a stage for over 4,500 enterprises to showcase their latest state of the art innovations, to over 170,000 visitors.
"CES was originally the kind of exhibition that showcased the predeveloped products of its participants," says Nakamae. "It was more of a 'These are the amazing things we have now, please try them out' kind of fair. It was a slightly different breed from, say, South by South West and other fairs with strong experimental elements that exhibit ideas for the future. But things have changed in the past few years, as organizers have been actively inviting more and more startups. It now offers both tangible exhibits as well as ideas for the future. I think the best demonstration of that would be TOYOTA's unveiling of their new mobility service concept vehicle, the e-Palette, which won this year's BEST OF CES award. Just like ACRONS, it may not be realistically possible or practical now, but it shows tremendous promise as an idea. After witnessing these kind of phenomena with my own eyes, I realized just how much more there will be out there for Avex to do."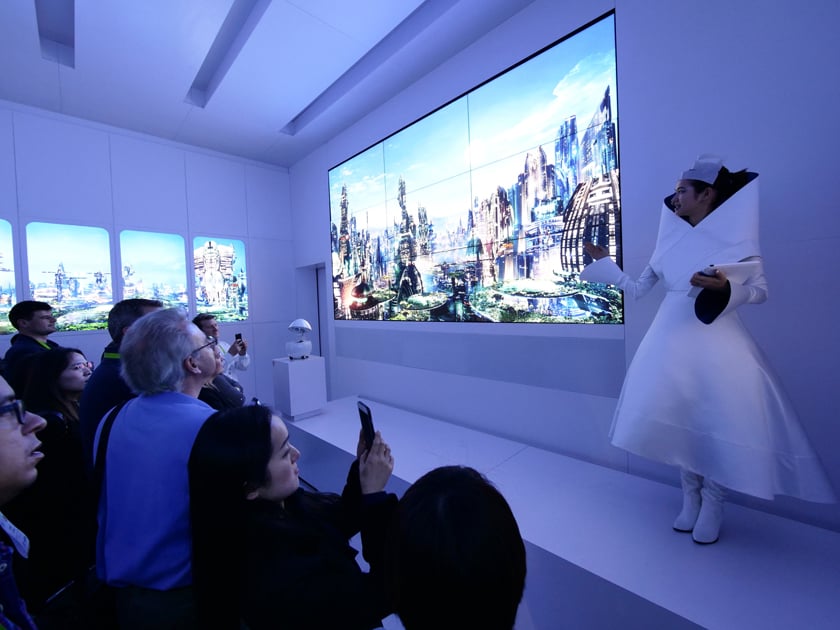 Photo by Panasonic CES 2018
Nakamae says that it was after partnering up with Panasonic for this project that he actually started taking notice of CES. They approached the project as a team effort. Taking in a vast array of inspiration that Panasonic had to offer in the realm of technology, the team at Avex put their heads together about how to incorporate it all into the realm of entertainment.
"We took care of the entertainment and artistic side of things, while our partners took care of the tech side. The important thing about the kind of 'EnterTech' we're doing is the ratio between the two. In most cases, technology tends to take on a larger presence, but the creators at Panasonic were really conscious about the balance. I was really impressed at how innovative a company they were. It really reminded me that we should be more open and show more curiosity towards technology."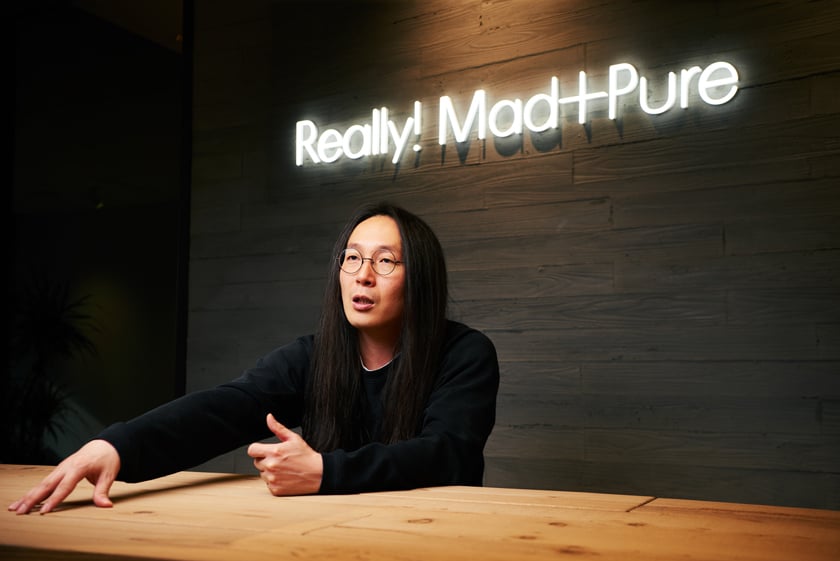 ACRONS is an EnterTech
for the Galactic Market
A futuristic city landscape became the whole stage for Panasonic and Avex's coproduction, ACRONS, providing a futuristic concert that viewers experienced through virtual and augmented reality, made possible by 3D scanning technology, encoding and transmission technology and spatial production technology.
"The most important thing for ACRONS," says Nakamae, "was that it showcase just how well EnterTech could be implemented in a practical way. Except, in this case, 'practical' doesn't refer to feasibility in a physical world. The layer [level of awareness] we're on right now when talking about how we feel towards virtual reality in regards to music concerts is, "we'd rather see it live in real life." In other words, say, for instance, we weren't able to attend a concert, or, we wanted to go to a concert but there was none. Then we might choose to see it in virtual reality. That's how low of a layer virtual reality is on right now. To us, it's nothing more than an artificial interpretation of a real experience. The biggest reason for that is that we haven't had sufficient technology. Ultimately, there is no market for us to go seize, hence the negative spiral we've been in. But that's just how things are now. With the advancement of technology in the future, if we're able to bring virtual reality or augmented reality concerts and shows up to par with, or even up to a higher level than real life ones...[then things will change]. In fact, after working on this project with the Panasonic team, I'm almost sure of it. It's just that the world doesn't see it as a viable market that we should have already. I call this a "Galactic Market." We don't have it yet. And that's exactly why we should start working on it now. I think this kind of revolution in our level of awareness will be important."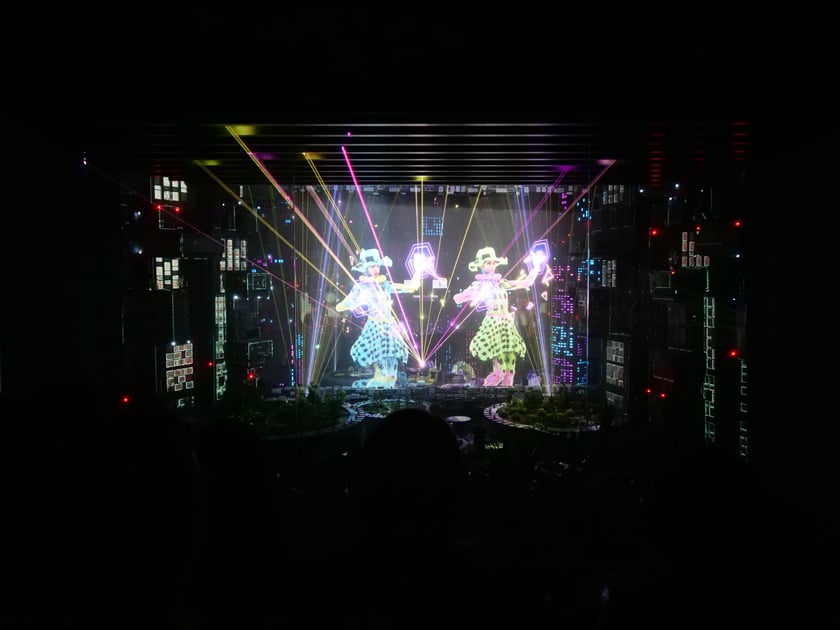 Photo by Panasonic CES 2018
ACRONS was a first attempt on part of Panasonic and Avex to shine light on this new discovery of a "Galactic Market." Nakamae also commented, saying, "I wanted to bring about an age where people have trouble deciding whether to go see a real life concert or a virtual one."
"As I said earlier, the reason that people might go see a virtual show of a certain artist, does not reside in the fact that it's virtual. When we're able to get to the level where people want to see a virtual show exactly because it is virtual, or where they'd rather see it virtual, that's when people will start to choose, or at least, want to see both. I wouldn't necessarily call it creating a new market. It might be more fitting to say that we've only been using half of what we had. ACRONS is a form of EnterTech that tried conveying that we ought to seize this new found Galactic Market as pioneers and establish superiority.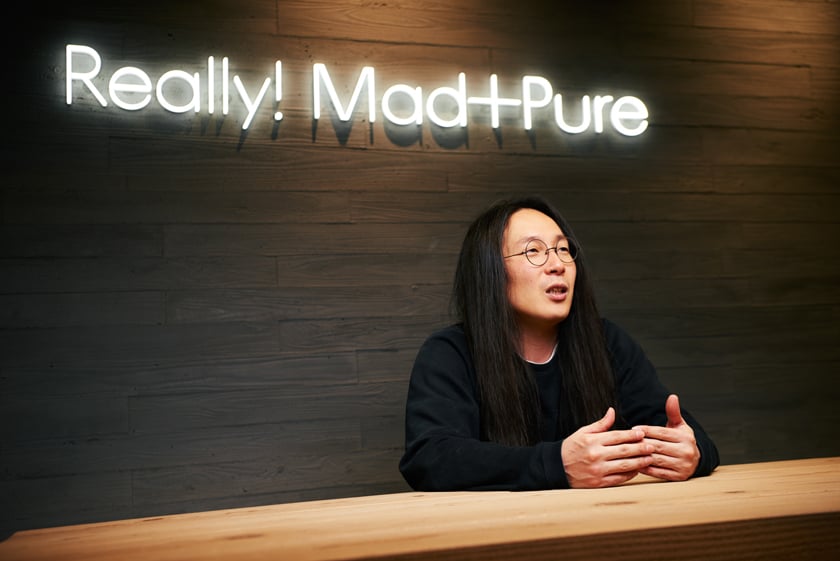 The spirit of 'Made in Japan,' EnterTech
and the potential they both possess
After spending so much time working on ACRONS with Panasonic, Nakamae commented on how he was so impressed he had to change his mind about a few things.
"Like many others, I've always thought that foreign companies were cooler, but after working on this project I've totally changed my outlook. If I had to sum it up — 'Japanese salarymen are pretty darn cool.' This may just be me being bias though. Back in the day when Panasonic and other Japanese companies were really going hard, you know, I think they were really selling goods and services with pride in proving what the Japanese heart and soul was made of. This was also, of course, not long after the war. It wasn't the products they were selling that they were proud of, but rather the 'Made in Japan' spirit. I'd never thought of it that way. It was actually because of this kind of spirit, that they didn't want to make anything lame. I'm pretty sure that most young people these days think that we now have this made-in-Japan reputation because we had high technical skills. But, in fact, it's the other way around. We have our high technical skills now thanks to our 'Made in Japan' spirit."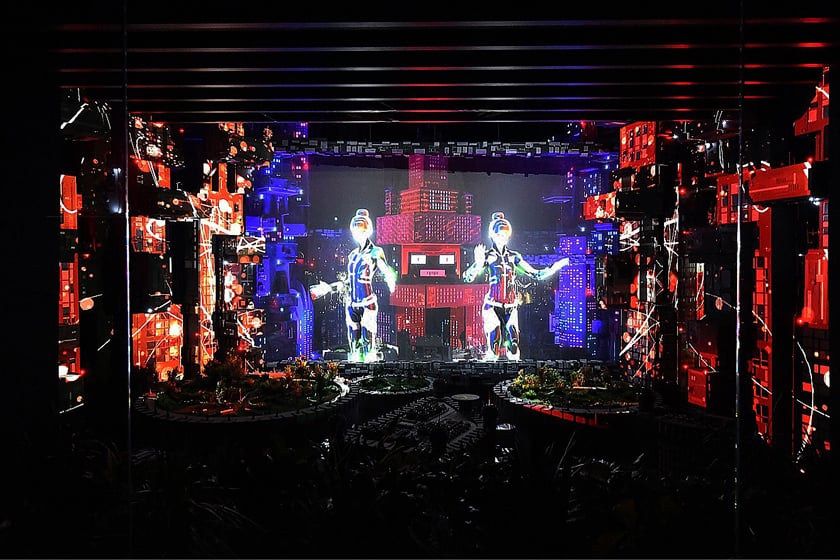 Photo by Panasonic CES 2018
Panasonic's booth at CES not only expressed this spirit thoroughly, it also acted as a declaration of the company's stance for the next 100 years. As for the Panasonic team, Nakamae had this to say: "I thought they were really cool. It was the same kind of feeling I had when watching my father as a child."
Since both companies saw eye to eye philosophically when approaching ACRONS, all there was left was to present their take on the future to the world. It was not an issue of what color should go where, or what technology should be implemented. The underlying essence of ACRONS was never in the details. Not once had they argued over anything regarding output early on.
"The important thing with ACRONS was 'What are we aiming for? What message do we want to get across?'" says Nakamae. "This was the essence of entertainment and art, the essence of technology that we had to stick by. Whether we used projection mapping or a display, that wasn't important. Basically, it's like, if two people want to eat, it doesn't matter if it's sushi or yaki-niku, as long as it tastes good, there is no reason to argue. But if, say, one person wants to eat, and the other wants to go running, there is no point in going over the details. Ultimately, our art could have been anything, as long as it tasted good. So the creative direction for this project was really easy. I had a lot of fun on this project too. I'm pretty sure that Panasonic had fun too," he said with a smile.
Technology and entertainment. Two top runners of their respective industries had utter and complete trust in each other, thanks to one underlying principle; "No presenting anything that 'tasted lame.'" And indeed, ACRONS did just that at CES by properly conveying the spirit behind 'Made in Japan' and the future of EnterTech.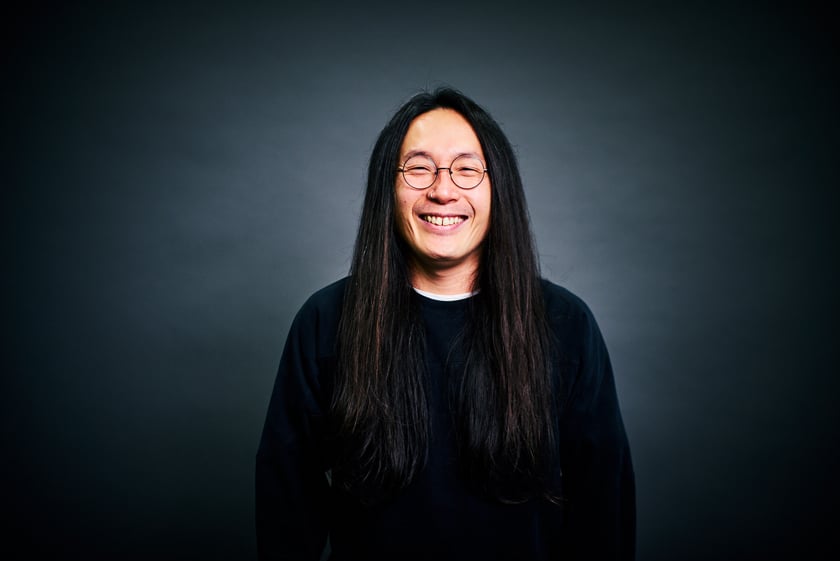 Avex Entertainment Inc.
Music Label Division, Creative Director's Group
General Director Shogo Nakamae
photo by Hayato Ooishi