Not only does Avex Classics International Inc. — the world's latest major classical music label — record their own original music, they provide concert planning and production as well as artist management. Known for cultivating a young talented roster like Nobuyuki Tsujii and Fumiaki Miura and landing them the theme song for the popular Japanese TV series Sanadamaru, avex classics International is changing industry standards by bringing their music far beyond the ears of classical music fans. We sat down with Hiroyuki Nakashima, the label's CEO since its founding in 2011, along with Tsujii and Miura to find out about their views regarding the potential that classical music possesses as a form of entertainment as well as what sets avex classics apart from the rest.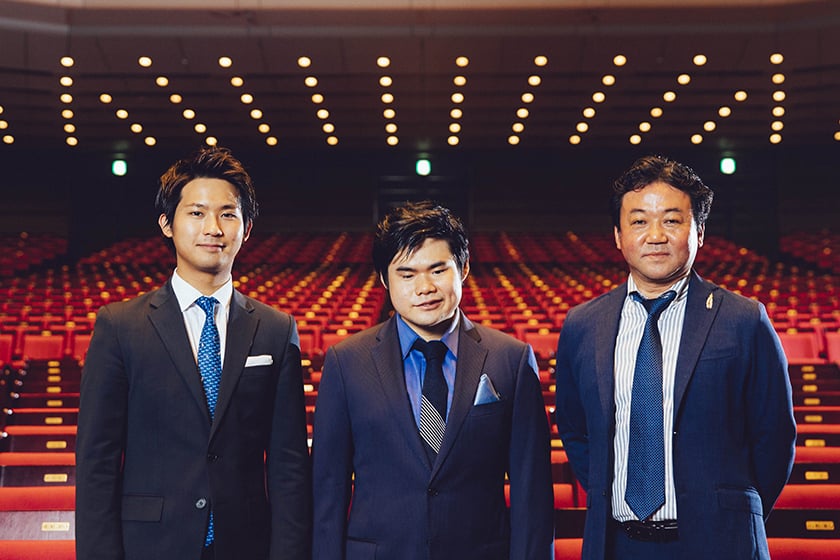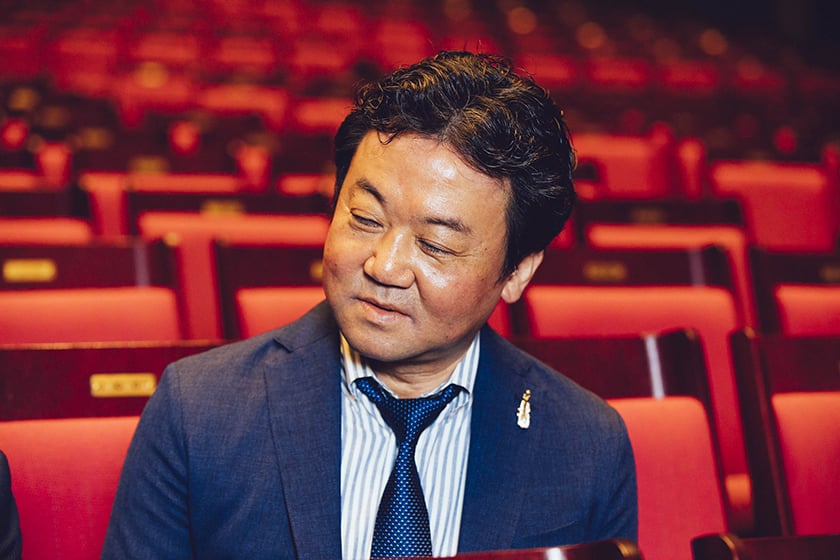 Breaking stereotypes is
what makes the challenge so much fun
Nakashima has made a name for himself through his work in the 1990's as the head of the classical music branch for Warner Music Japan (Warner Music Pioneer when he entered in 1990) and his work with Daniel Barenboim, The Three Tenors and Yutaka Sado. He joined Avex in 2003 to handle their classical music department. In 2011, when the company broke off the classical department and made into the all-around subsidiary that it is now in order to produce concerts and manage artists, Nakashima became the CEO. One might think that he was chosen for his achievements, but in fact Nakashima had already been "drawing up plans for classical music events to be produced by Avex," since two years prior, for "some reason," says Nakashima.
"About fifteen years ago, Avex had almost nothing to do with classical music. When I started working with them, everyone was like, 'What is Avex thinking of doing this time?' I rather liked that. The challenge of getting the charm and appeal of classical music across to a bunch of people who know nothing about it seemed enticing, so I was looking forward to the whole process from the very beginning. Ultimately, it could be classical, pops, Western music, Japanese music, the genre of the artists doesn't really matter — it's an exciting and joyful thing to have fascinating artists in your company. It was around this time that Nobuyuki Tsujii had won his contest [Van Cliburn International Piano Contest. First Japanese to do so.] and his CD had become a big hit."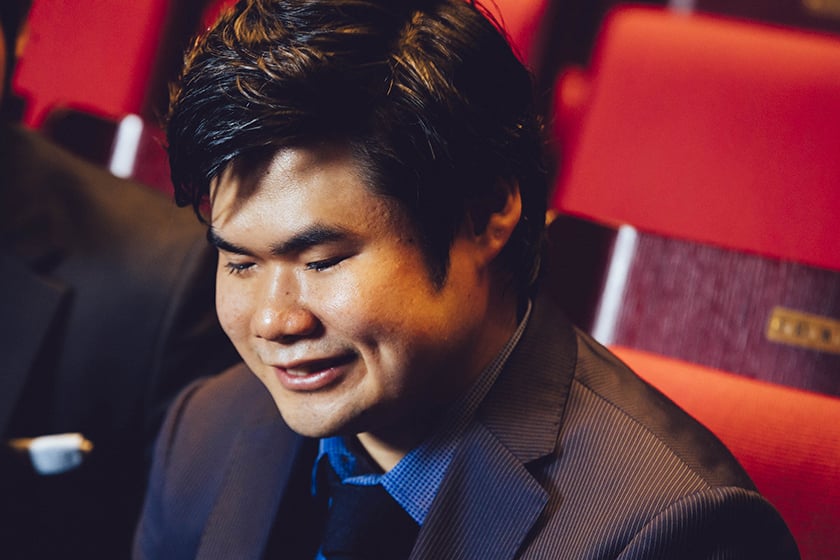 Meeting Nobuyuki Tsujii, Fumiaki Miura and their overwhelming young talent.
Nakashima says that he first encountered Tsujii's amazing talent when Yutaka Sado took him to a small concert hall where Tsujii was performing Debussy at the young age of thirteen. "When I listened to his performance, I couldn't stop crying," says Nakashima. "This might sound a bit extreme, but it was like hearing Mozart play Debussy. That's how amazing it was. Sado was also right next to me, crying his eyes out. You could just tell that this thirteen-year-old artist genuinely loved playing piano. That's why I didn't want to launch his debut album with the catchphrase "genius kid." I can't speak for others, but I didn't want to."
As a side note, you won't find a single word in any of Tsujii's bios mentioning his visual impairment. It was out of respect for the artist. They wanted to introduce him to the world as the amazingly talent pianist that he is. Tsujii had tremendous respect for Sado who had also told him that if he wanted to make a debut album, it should be done with Nakashima. Likewise, Nakashima was impressed by Tsujii's trust for Sado.
"I didn't want to be introduced as a 'completely blind young genius pianist," says Tsujii. "Physical impairments have nothing to do with music and I wanted people to see me for me. So I'm really happy that I was able to put out my debut album with Nakashima -san."
Tsujii's dream was to include his own original music in his debut album and Nakashima made that come true. The second disc in his debut album debut was comprised of five of his own compositions.
In 2009, the same year that Tsujii won his title, Fumiaki Miura also won the Internationale Joseph Joachim Violinwettbewerb, Hannover, one of the three major world violin competitions, at the young age of sixteen. Before his release with Avex, Miura had released an album that was more or less aimed at his own fan club. Nakashima considered Miura worthy of much more and decided, in hopes of bringing out the best in the young artist, to record an album with the Deutsches Symphonie-Orchester Berlin, conducted by Finnish Radio Symphony Orchestra's chief conductor Hannu Lintu, playing a concerto of Tchaikovsky and Mendelssohn.
"Nakashima challenged me with such a high and prestigious hurdle from the very beginning," says Miura. "So I could really feel just how serious he was."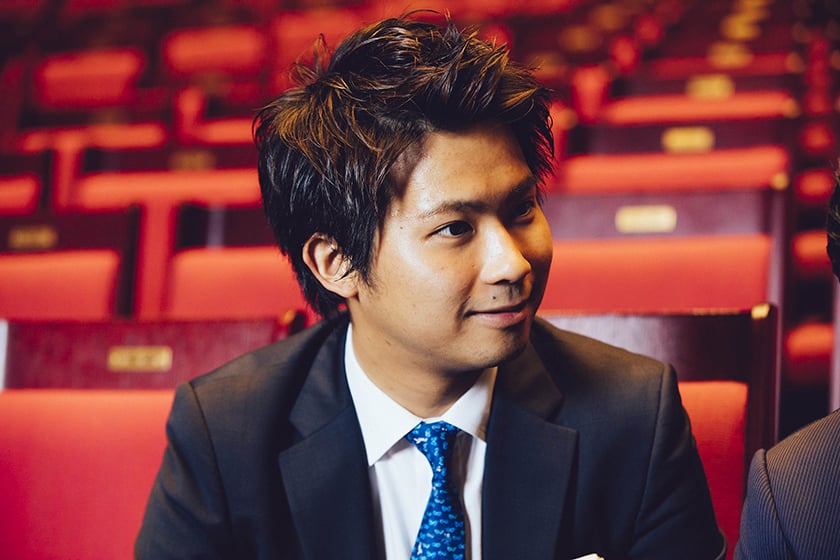 Expanding listeners by tag teaming with prestigious classical music halls and making programs that defy common sense
As for the relationship between Nakashima and these two young leading talents of the classical world, Nakashima commented, saying "Though we're quite far apart in age, we share many of the same values. We often have talks about our next projects or deep conversations about music in general at, say, a bar with great sound and great records. We're friends. Of course I'm not a performer myself, so it's hard to relate when we listen to Horowitz and Tsujii says something like "I could top that," but, I am able to say things like, "I'm sure you and I could make a much better album." It's easy to see just how trustworthy of a relationship they have. This trust also leads to the growth of the young artists, and the creation of programs that defy the common sense of conventional concerts.
"The most expensive ticket for our show today (May show with Royal Liverpool Philharmonic) is 21,000 yen," says Nakashima. "That's not cheap, indeed, but it's an amazing show, so we needed to make it a full house and create a program that would attract as many people as possible. For instance, we prepared two songs with the orchestra instead of the usual one. By classical concert standards, some people would say, "how can you put so much burden on the performers?" But we have to make people think, "Seriously?!" you know? "I've got to see this!" I have confidence that the people who come to the show will be more than satisfied. Who knows, this show just might stay with them for the rest of their life. I want people to cry like me the first time I saw Tsujii play. Whatever it takes, haha."
These young and talented two are creating their own program as the artistic leaders for ARK CLASSICS' autumn concert, selecting fellow artists with whom they wish to collaborate on stage.
"I realized just how fun it is to play chamber music [classical music composed for a small group of instruments] when I did a duet with Miura-san last year for the first time," commented Tsujii. "It's fun having a conversation through instruments. I almost always play the piano alone, but I love to play and create with other people, so I hope to get that enjoyment across when we perform together."
"We had the pleasure of performing together last year," added Miura. "I'm looking forward to making more and more friends through music, like I have with Tsujii. ARK Hills is right in the center of Tokyo and though it's a classical event, it's also sort of like a festival too, so I hope we can make that kind of fun, festive atmosphere as well."
Nakashima spoke about how high his expectations are for this event. Since the show will be held at the prestigious Suntory Hall, and has the total support of the Mori Building Company, it really has the potential of gaining world attention, which will surely lead to the growth of the producing ability of Tsujii and Miura.
Managing artists that are both star material and have friendly, likeable qualities is one thing that sets avex classics apart from the rest, but their ability to bring the music of these two musicians to the living room of the common household is the real game breaker. Miura's solo in the theme song for Sanadamaru may just be the most popular violin solo phrase in Japan at the moment.
"The composer, Takayuki Hattori, is a real force to be reckoned with," joked Nakashima. "It's the first time anyone has composed the theme song for a prime time TV serious, using only a violin solo. I'm sure Hattori-san had a hard time deciding on that one. But he chose to go with Miura. After that, Tsujii did the theme for Sanadamaru Kiko, and then they did the piano version together and were invited to play on NHK. I think they've got a really good flow going."
Tsujii also has a show with the Iceland Symphony Orchestra, this November, led by Vladimir Ashkenazy.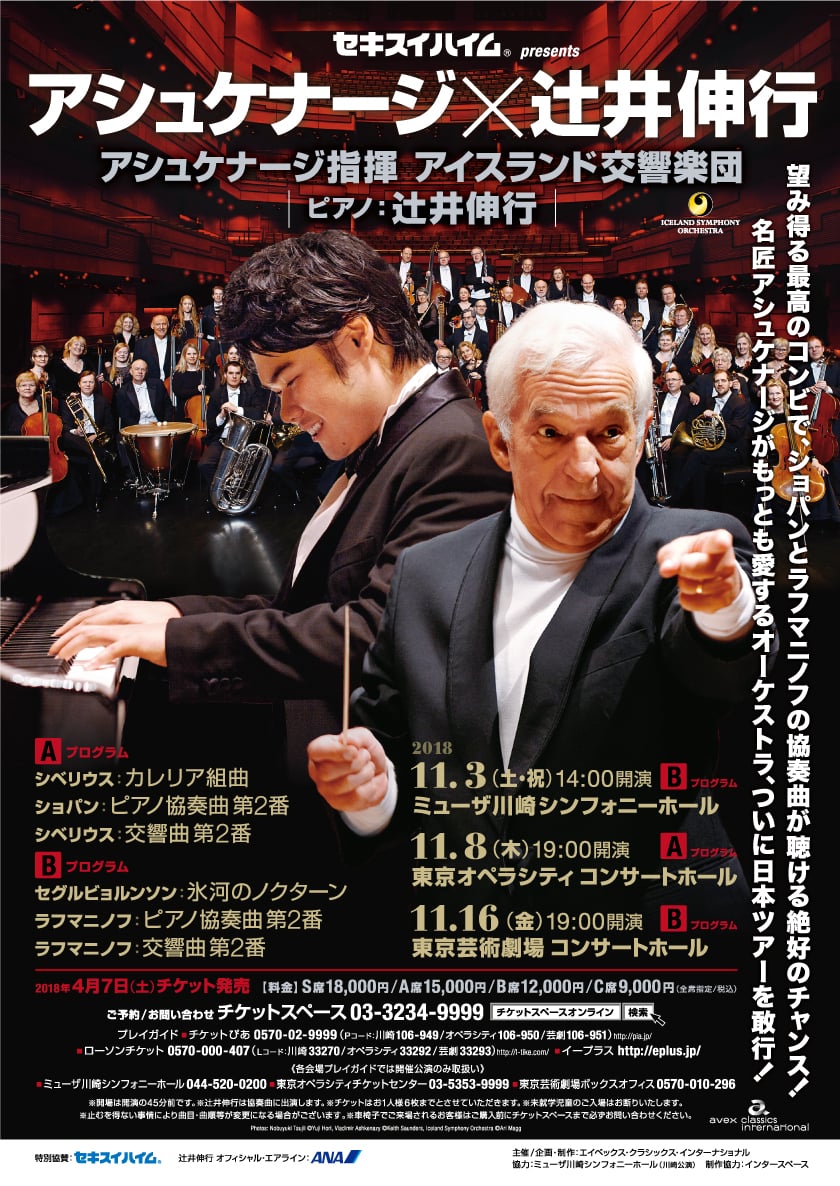 "Ashkenazy is eighty-one years old now," says Nakashima. "Classical music is really intriguing. Tsujii and these other young artists are playing with people in their grandfathers' generation. I don't think having the young generation around is the only thing that brings liveliness to an industry. I think that pertains to companies and corporations, but really, someone's age has nothing to do with feeling young. The feeling that people young at heart have is very important. I mean, Fedoseyev is almost ninety, right? But I'm sure he thinks that he can top anyone else out there too. That's the intriguing part of classical music."
With a program that defies conventional thinking, held at such a infamous hall as Suntory Hall, and many other past examples of projects that have thrown the classical music industry for a spin, Nakashima still swears by his principles for unwavering quality.
"You must not steer away from ideals and serious thinking in the name of ticket sales. Even if you play at a hall that can seat 6,000 people, if the acoustics are no good, there's no way the piano solo will be. No matter how good the performance, I don't want to compromise those factors. And Avex isn't the kind of enterprise to let that happen. If you're not moved, then looking at it from a business aspect, it's a mistake."
Bringing classical music to as many new listeners as possible, and making those first encounters, whether it be a CD or concert, the best they can be — in other words, lowering the threshold while ensuring quality; that is the stance of avex classics. It is safe to say you can expect an increase in listeners of classical music, but whether they realize it themselves, is another story.