MONDO GROSSO 's first album in 14 years "Nando demo atarashiku umareru (I will be born again and again)". It has taken Hikari Mitsushima, Asuka Saito (Nogizaka 46) and such as feature vocals and adopted the approach to write lyrics of all tracks in Japanese. It's still fresh in our minds that this album, which became an epoch in the music scene of 2017, recorded its personal-best rank with both of physical and distribution, and the topic reached out of its existing fan base. This resurrection play was launched by Avex Entertainment Inc., A&R director of MONDO GROSSO, Nao Koseki. What underlay there in the strategy that arrowed through the time with its vocalists' casting, much-hyped music videos, appearance at Fuji Rock Festival and such?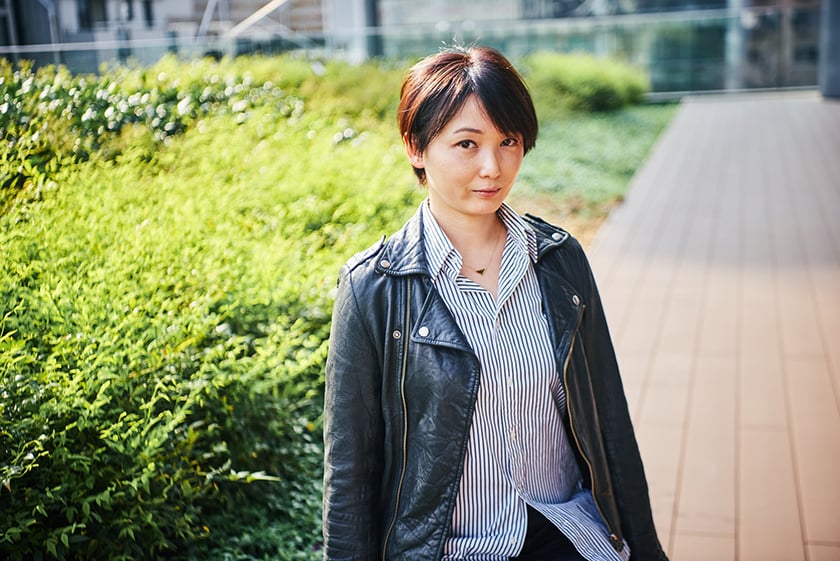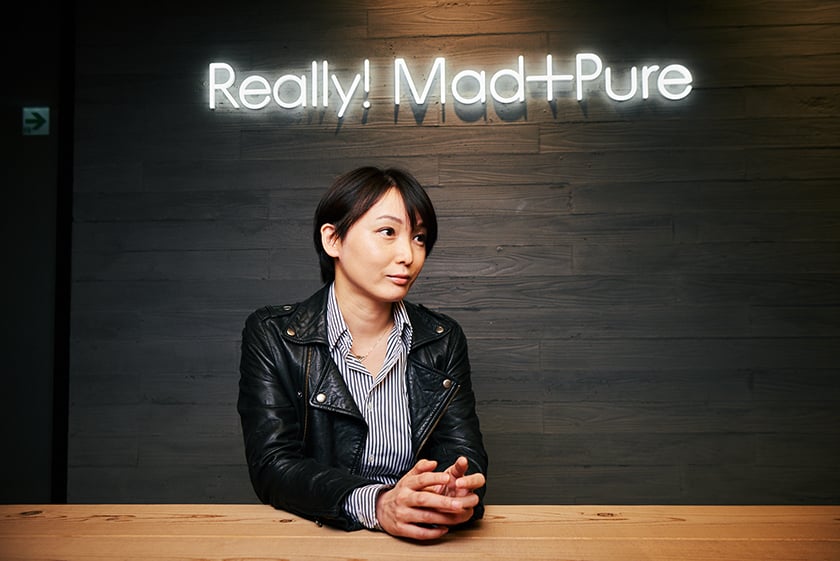 One year before setting the theme of the challenge to write lyrics of all tracks in Japanese
As symbolizing Avex in the 00's, Koseki has been involved as a promoter of Namie Amuro, MAX, m-flo and such when she entered the company. Afterward she has been involved in production. The artist with whom she shared experiences from the live house era to the Budokan and the Arena was Daichi Miura. This experience had been applied in the project of MONDO GROSSO.
It had been more than 10 years since Shinichi Osawa belonged to Avex. When he was mainly involved in producing work and DJ including overseas performances, Koseki was suggested to be in charge of his A&R.
"As I had been influenced by Mr. Osawa who was devoting himself to new music in the 90's in real time, it was an intriguing feeling to work with that person. It was his manager, Mr. Hatayama (in charge of Shinichi Osawa from Sony era) and me, who suggested to restart as MONDO GROSSO anytime soon."
Since Koseki knew Shinichi Osawa's talent and time sense, she fretted about MONDO GROSSO's new music and the way to launch it.
"Since it is a historical project that has been expressing various kinds of music such as acid jazz, house music and Brazilian music, etc. during the long career, It seemed Mr. Osawa himself also struggled to decide how to present the music today as MONDO GROSSO for about a year. And during the process that we made various sketches, the first track that he made and we said "Maybe this is it." was "Labyrinth". We hadn't decided the vocalist at that stage, but we thought that it was interesting and might be a challenge to make all tracks in Japanese, and the theme was decided. Then we focused on production work."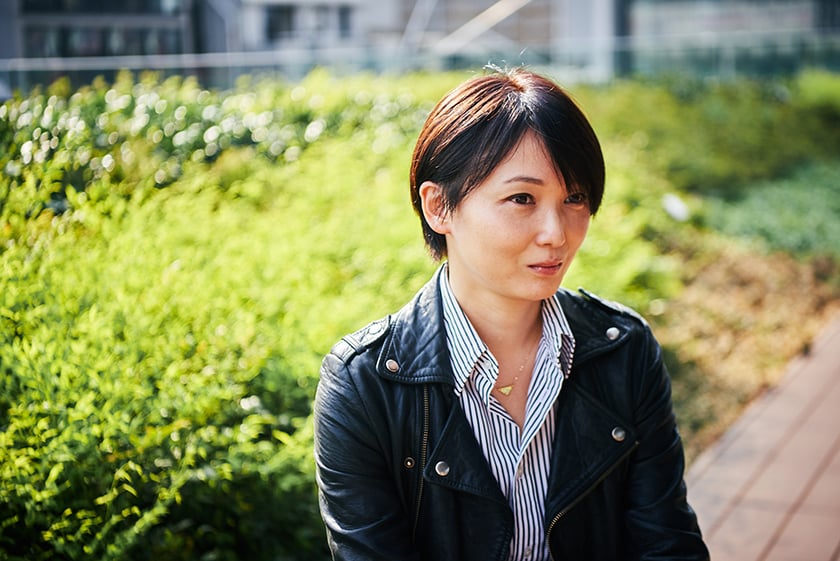 Delivering to the new generations by featuring vocals and MV matching
It was the first new song since 14 years ago. Who does sing "Labyrinth" which plays the core of the project? The reason why Koseki offered Hikari Mitsushima that role was inevitable.
"Since I was in charge of Daichi (Miura), I also saw the stage of Ms. Mitsushima who was a former teammate of his. And what I was so impressed was "100 man kai ikita neko (A cat who lived million times)" produced by Israeli choreographer, Inbal Pinto, and co-starred with Mr. Mirai Moriyama. When I saw it, I got to know her delicacy of expression which I couldn't know from movies. At that time, when I saw the TV commercial of "Calorie Mate" (a cover of "Fight!" by Miyuki Nakazima), I also realized her singing talent and the strength of the power to arrow through the words. And I wished we could collaborate on some music someday, so I thought 'She is the one.' and asked her to sing."
Koseki's intuition was brilliantly resonated with general public. When they announced that Hikari Mitsushima is the first featured vocal at the same time as the resurrecting work of MONDO GROSSO, it became a big topic also for the generations which never listened to MONDO GROSSO before. However, prudence of this project was not only the varied and unexpected vocalists.
This is a music video of "Labyrinth" that broke through 10 million times of playback so far. It was filmed on the high-rise apartments in Hong Kong and such, and it has high perfection level as video as well.
"We had 6 or 7 patterns of ideas before we got to that plan, but nothing made us feel right. After a few discussions, a Hong Kong plan came out. We wanted to make it something absolute, and the theme of "Labyrinth" were dreamy and chaotic, so it seemed perfect. It was also certain that we could take strong pictures. While I thought it might be difficult to shoot overseas, when I sounded Ms. Mitsushima out about the Hong Kong plan, she answered "OK!" immediately. And I was impressed by that."
The director and the camera operators entered the site and went location hunting four days before shooting. Koseki arrived the day before shooting, and rehearsed that one camera, one scene movements with the director etc. on site. Mitsushima arrived in Hong Kong on that day, carried out speedy and tense shooting which lasted from the evening to 5 o'clock in the morning, and returned to Japan the next day.
In addition, Gillian Mayers, who was an assistant choreographer of "La La Land" and also a cast, was in charge of the choreograph of this work.
"It was also some kind of destiny that I could ask Gillian. She had some workshop in China at precisely the same time, and cleared her schedule for two days for our shooting and flew to Hong Kong. Choreograph itself had been already shot in L.A., and the camera work was also pretty much drew on Gillian's image. Besides, she made some kind of improvisation part, which means an arrangeable part, which Ms. Hikari could move as she liked."
The last scene in which dignified but tender character of Hikari Mitsushima was impressive. The rain that had been falling stopped in the early morning and it made possible to shoot an ideal picture of wet asphalt. Including those facts, the work which "got even miracle and luck to its side" was completed. And then, "Labyrinth" arrived to fans of MONDO GROSSO, Hikari Mitsushima, furthermore to those of music, and a new demographic which was fascinated by the matching as a video.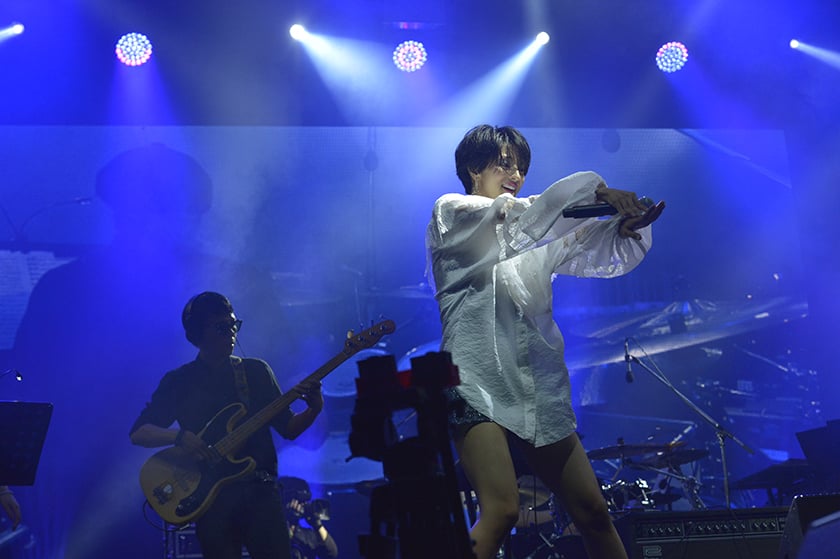 Continuous news hooks such as first appearances on Music Station and Fuji Rock Festival
Thanks to the versatility of the participating vocalists, it was able to deliver the news weekly before, on that day, and after the release of the album. It also brought about the effect that made conscious of an album for the first time in 14 years continuously. In addition, an appearance on the TV asahi "Music Station" for the first time about one week after the release of the album became a positive factor to inform TV viewers the existence of MONDO GROSSO beyond the existing fan base.
"When I made a chief of TV promoter (Megumi Ota) listen to it, she said 'sounds good! I'd like to promote it'. Then I talked to Mr. Osawa. I thought that maybe he wouldn't like or felt uncomfortable to appear live on the show, but he enjoyed like "It may be once in my lifetime. My parents might be pleased. (laughter)".
While events and topics were spreading beyond the album release, a highlight of last year was Fuji Rock Festival which became the first appearance in MONDO GROSSO's career history. Moreover, this dramatic appearance was not because of the offer from the organizer.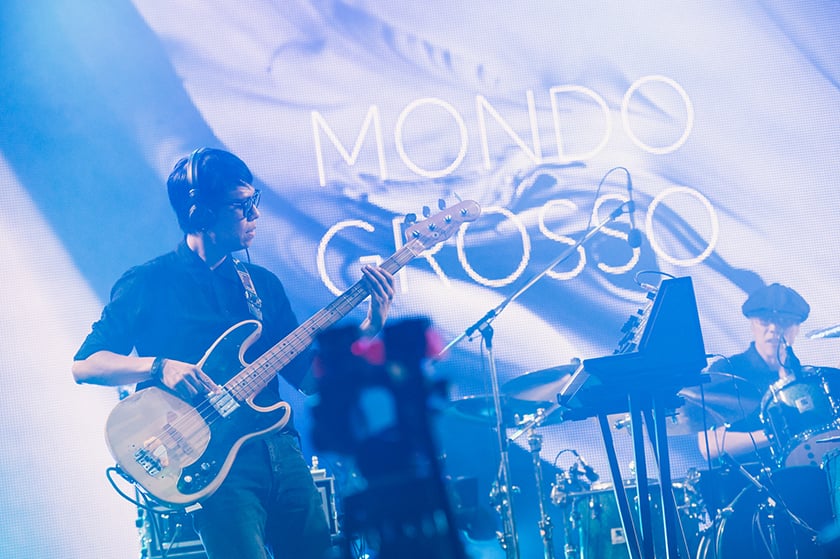 "I was the one who went to tell them that 'Fuji Rock Festival should absolutely be our first live show, so please let us appear.' At that time, only two or three tracks had been created as a framework of the album. But as I wanted to make it a legendary night appropriate for the comeback after 14 years, I could only think of Fuji Rock as its venue."
Thus, not only music fans who were on site, all the media picked up a surprise appearance of Hikari Mitsushima, and it successfully continue to make the peaks even after the album release.
Importance of the context necessary for veteran resurrection
And as a sequel to "(Nando demo atarashiku umareru (Reborn again and again)", the newly-released "Attune / Detune" has just released the other day. As a main feature of this album, it became a topic that Aina The End from BiSH, which is "a punk band that doesn't have instruments", participates in "Itsuwari no sympathy (fake sympathy)".
"It was also me who suggested to feature her, but before that, quite a number of vocalists were on the list. However, I also wanted to collaborate with young artists in the company whom we couldn't feature last time. So I made her come to the test recording once, and Mr. Osawa was also inspired by her singing voice. Then we decided to feature her immediately."
"Itsuwari no sympathy (fake sympathy)" was selected as an insertion song of TBS series Tuesday drama "Kimi ga kokoro ni sumitsuita (You settled down in my heart)" before the release. It is said that the evaluation of the previous work had a huge effect on this tie-up. It was the result that the artist power and the sense to feel what's in season of MONDO GROSSO promoted internal collaborations as well.
"But on the contrary, the previous work couldn't meet any tie-up. Since it had been released and became a topic, next offer would come. It works like that sometimes. I realized that, no matter how we conveyed "There is an exciting story waiting", it was difficult without past results of numbers. There was that kind of aspect."
This resurrection drama of MONDO GROSSO, which revived the veteran artist who firmly maintains certain support and evaluation in a new context and also succeeded in sales. How Koseki summarize this work as of this moment?
"As an A&R's characteristic 'combination man', I could squeeze nothing more. There was a pleasure that I could reflect the things that I have done so far, and the reaction from everyone to the project was also my pleasure. The live at Fuji Rock was an unforgettable moment in my music life."
She says that, from now on, while progressing other projects of Shinichi Osawa, MONDO GROSSO wants to be a channel that can transmit flexible and free creations.
"When involving this time, I wished that this project could make people who haven't known the sounds like MONDO GROSSO catch sensitive sounds and words, or notice various things. It led to a sense of accomplishment that the works which could only be created by artist, Shinichi Osawa, and the teamwork with staffs who involved with him were created and known to many people.
Not just the attitude about the era which the core work takes, it also required the knowledge and personal connections that supported the story making to sublime artist's resurrection to a certain phenomenon phase. That's the dynamism of work called producer. This was an example that fused an instinct of a musical individual with her know-how accumulated in the past work in high dimensions. It is also a hope for artistic entertainment in the future.
Avex Entertainment Inc.
Music Label Division
Creative Director's Group 2
Nao Koseki